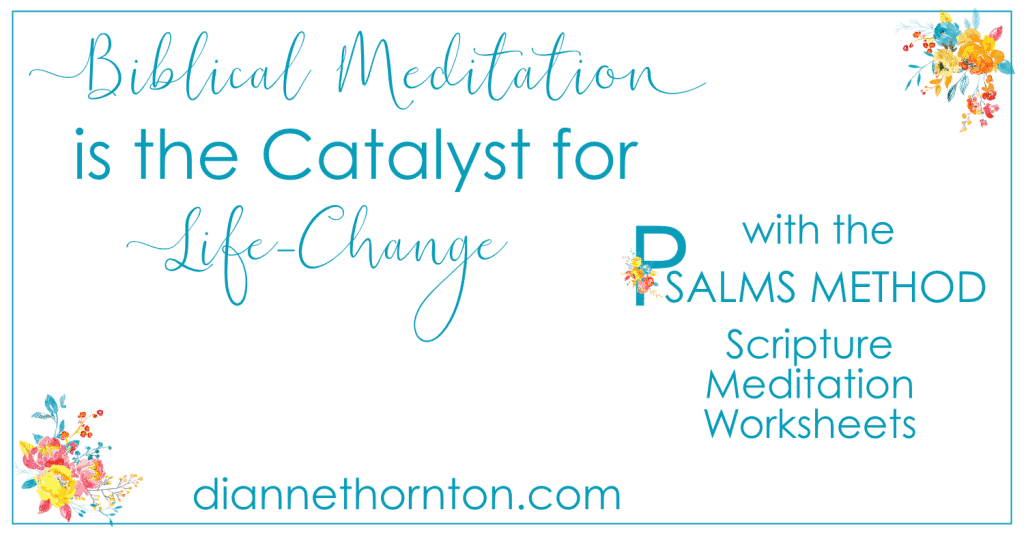 What comes to mind when you think of meditation? The first image that pops into my head is someone sitting cross-legged, eyes closed, palms facing up on their knees. The next word that comes to my mind is, hard. Because I tend to think meditation takes work. But I don't think "work" is what God had in mind for biblical meditation.
What is meditation?
Simply stated, meditation is thinking deeply about something. It doesn't necessarily take work, but it does take focus. Outside of the spiritual realm, we might call it evaluating or analyzing. If it's time to review our budget, we look at our income vs. our expenses and make sure we are using our money wisely. This evaluation may bring to light areas where we have been careless with our finances. It may also show us timely investment opportunities. We continue our evaluation in light of our discoveries and make life corrections based on that.
If we have a troubling situation or relationship, we may find it difficult to fall asleep because of the crazy thoughts running through our minds. Or we may find ourselves talking to our steering wheels as we run errands or our bathroom mirrors as we wipe them clean. (If only it were that easy to erase things from our minds!) Left unchecked, these thoughts can move us from evaluating a situation to absolute obsession! On the other hand, these thoughts can lead us to reconciliation and forgiveness.
Biblical meditation is similar, yet different. It is deliberate and focused thinking about God or truth in His Word. The result is how it changes the ways we think, speak, and act. It may reveal sinful thoughts or actions, but it may also help us understand what we think about who God is. Which, in turn, changes how we view ourselves and others.

Biblical Meditation Is not the Same as Bible Study
Where Bible study covers a larger section of Scripture (a chapter or an entire book), meditation focuses on a small portion of Scripture. The smaller the better. In our search for understanding, we break down the larger sections of our Bible study into bite-sized pieces. After studying, we place the smaller sections into the larger context as we finalize our findings.
Once we've gained understanding, we meditate on those truths and ask, "How does God want this to change me?"
From time to time we may rush through our Bible study. We skim the text. Fill in the blanks in our workbook. Searching desperately for something of value we can contribute to the upcoming discussion. I've done it. I'm guessing you have, too. But it's not possible to rush through meditation. Its very nature requires us to go slowly.
You see, meditation is an essential element of Bible study.
Let's break it down.

Meditation is Deliberate and Focused Thinking
Much of the meditation we see today is actually an emptying of our minds. As believers, we never want to empty our minds. We remove distractions, but we fill our minds with God's Word. Through this process, we replace our thoughts about a particular issue with God's thoughts about it.
Deliberate Thinking
Whether it's notifications on our phones, the week's grocery list, or the latest family crisis, without a plan, our minds will wander. In meditation, we must have a plan for discovering what God is saying to us. Simply "thinking about" a verse, or rehearsing it mentally or orally, is not enough. Many people emphasize different words or phrases as an intentional plan of focusing on a verse one word at a time. I, too, have a plan. You'll find it at the end of this post!
Focused Thinking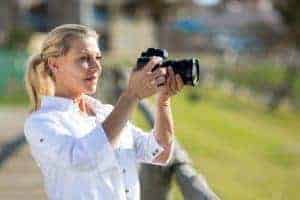 When you first look through the lens of an SLR camera, everything is blurry. But then you aim your lens toward your subject and adjust the focal ring. As your subject comes into focus, everything else blurs. The foreground and the background may be interesting and may be the subject of a different photo. But for this picture, you focus on the one thing you want to emphasize.
It's the same with meditation. If we choose a lengthy passage, we will become frustrated with all the information in front of us. It's too much. Our attention shifts from one paragraph to another. And though all of it is good and worth our time, narrowing our scope allows us to discover the most out of our small portion. Then we don't become overwhelmed.
Within our narrowed scope are details we don't want to miss. A plan helps us purposefully sift through these details and guides our discovery. This leads to understanding what God is saying in His Word.
Biblical Meditation Focuses on God or Truth in His Word
When we meditate on God, we focus on one aspect of His character, one of His attributes, or something He has done. Psalm 77 is an example of meditating on what God has done. Asaph, the author of this Psalm, was in distress and recounts God's mighty deeds through the history of Israel to bolster his faith.
I remembered you, God, and I groaned; I meditated, and my spirit grew faint. (Psalm 77:3) [The NLT says he was overwhelmed with longing for God's help.]

I remembered my songs in the night. My heart meditated and my spirit asked …(Psalm 77:6)

I will remember the deeds of the Lord; yes, I will remember your miracles of long ago. I will consider all your works and meditate on all your mighty deeds. (Psalm 77:11-12)
If we want to meditate on God's love, we might select 1 John 4. But we narrow our scope even further by choosing one or two verses at a time.
The Result of Biblical Meditation
So now we know what biblical meditation is and what it's not. Why should we do it? Since the Bible is the focus of our meditation, let's see what it has to say.
When we meditate on God's Word, we can obey it, which results in a life that pleases God. It certainly doesn't mean life is easier, but we do avoid some things that make life more difficult. (Joshua 1:8)
Meditating on God's Word keeps our faith strong (Psalm 1:2-3). When we see what God has done in the past, we are encouraged that He will continue to be faithful (Psalm 77).
Biblical meditation helps us become wise and insightful (Psalm 119:97-99).
Proverbs 15:28 says the heart of the righteous weighs its answers. The word weighs is the same word for meditate. When we meditate on Scripture, we are slower to answer to ensure that we speak God's truth into situations.
Biblical Meditation Reveals the Need for Life-Change
The Holy Spirit is our Teacher. He illumines truth to our minds and gives us understanding. As we become convinced of the truth, what's in our heads moves to our hearts. This is when life-change occurs and is the goal of every encounter with Scripture.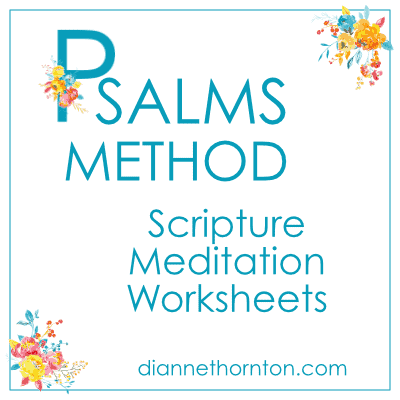 A plan is helpful for meditating on God's Word, so I designed these Scripture Meditation Worksheets to help you slow down. When you engage with God's Word you will experience life change. The worksheets provide simple questions to get you thinking about your passage. Additional questions follow to guide your meditation so you can link what God reveals to what's going on in your life. This is not heavy Bible study, just thought provoking questions. 
You can find them in my Shop.
Let's remove distractions and deliberately engage with God's Word. When we meditate, we will come face to face with the truth of God's Word and can experience life change!
---
Mosts Posts on Meditation
Making Space to Hear
Do You Skim or Do You Soak?
3 Ways God's Word Cleanses Us
(Visited 582 times, 1 visits today)