Book Recommendations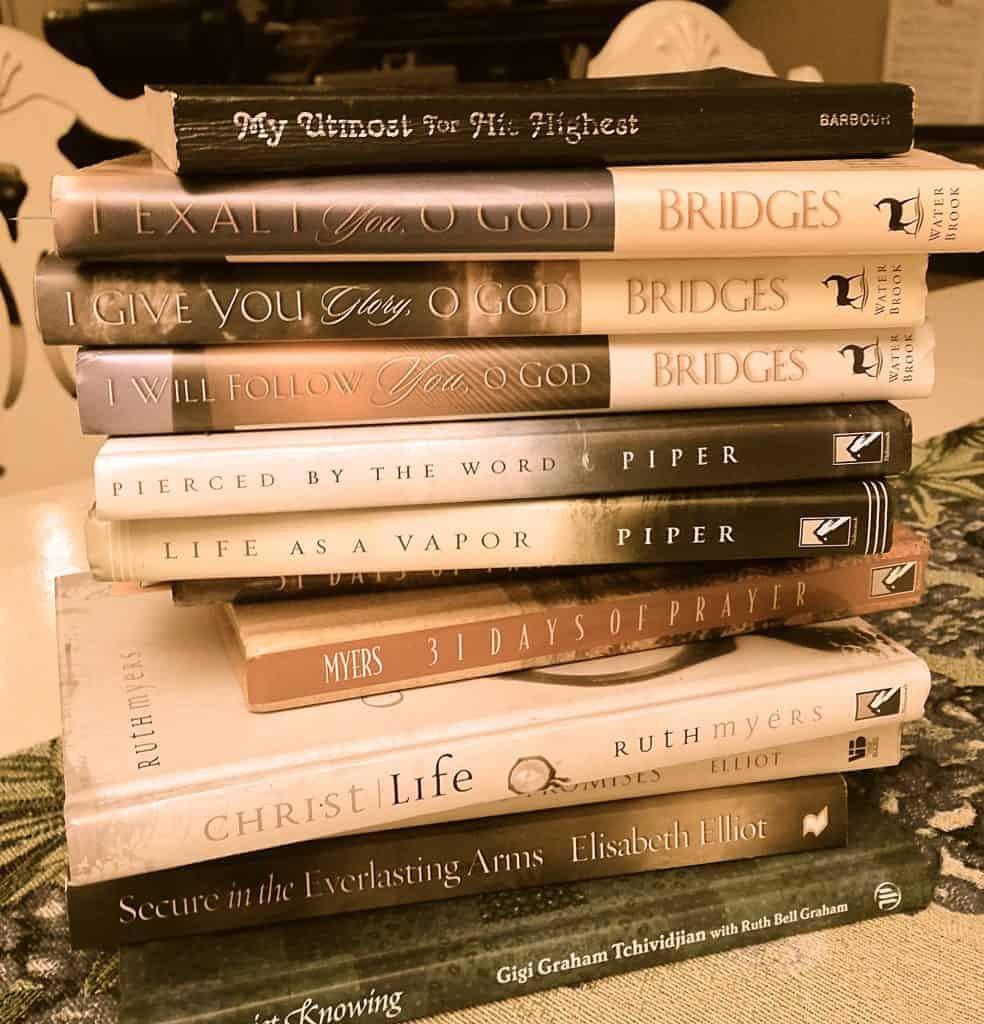 I have enjoyed rich quiet times with many authors. Below are my favorite book recommendations. Some are classics, some are newer.
To begin with, I love reading one Proverb a day. There are 31 chapters, which easily coincide with days of the month. I have read through Proverbs countless times and always find fresh insights.
One year, I read through the Psalms using One Year Book of Psalms. It was a refreshing change of pace.
Ruth Myers
31 Days of Praise
31 Days of Prayer
ChristLife: Embracing Your True and Deepest Identity
Jerry Bridges
I Exalt You, O God:  Encountering His Greatness in Your Private Worship
I Will Follow You, O God: Embracing Him as Lord in Your Private Worship
I Give You Glory, O God: Honoring His Righteousness in Your Private Worship
John Piper
Pierced by the Word
Life as a Vapor
Stormie Omartian
The Power of a Praying Parent
The Power of a Praying Wife
Jennifer Kennedy Dean
The One Year Praying the Promises of God (co-authored with Cheri Fuller)
Pursuing the Christ: 31 Morning and Evening Prayers for Christmastime
Elisabeth Elliot – These are excerpts from her newsletters
Secure in the Everlasting Arms
Music of His Promises
Others that I Love
A Quiet Knowing: Anchors for the Heart in the Turbulence of Life, by Gigi Graham Tchividian
My Utmost for His Highest, Oswald Chambers
Knowledge of the Holy, by A.W. Tozer — This is not a book you can rush through.  The chapters are short, but very rich.
Quiet Moments for the Heart and Soul, by Emilie Barnes
This one is very special to me.  I grew up having regular quiet times, but I went through a time in my adult years that I set everything aside.  This book was recommended to me as a way to "start fresh" and set things right again.  God used this devotional to rebuild intimacy with Him.  The devotions are not very long, but they are very practical.
I have two favorite books on the What's, Why's, and How to's of quiet times.
Six Secrets to a Powerful Quiet Time: Discovering Radical Intimacy with God, by Catherine Martin
A Place of Quiet Rest: Finding Intimacy with God Through a Daily Devotional Life, by Nancy Leigh DeMoss
If you are interested in more in-depth study, the following two books are excellent:
Knowing and Loving the Bible: Face-to-Face with God in His Word, by Catherine Martin
Living by the Book, by Howard Hendricks
I also highly recommend Precept-Upon-Precept Bible studies. Similar to the method taught in Living by the Book, you will learn how to discover truth for yourself in God's Word. It will change your life!
(Visited 999 times, 1 visits today)