Some mornings when I am having my quiet time, I think it's going to be a gentle, quiet time of reading and prayer. Sometimes I even think it might be somewhat benign. (I know, sounds awful, doesn't it!) But then I read a verse—and ZING! God shows me something in my life that needs attention. I have a choice. Am I going to obey? Or am I going to keep reading and move on with my day?
Later, I read a different passage or verse—and ZING! That same issue. I may have yielded that issue in my head.
Yes, God. I know you want me to stop doing this particular thing, or get rid of that destructive habit.
Not really taking it to heart. Not really changing. But God is loving and faithful. He wants to make sure we get His message. To know when He's really speaking. So He zings us again with truth.
Maybe I really did give this issue over to God, but it's been painful to keep saying no. Again God gives a Word in Scripture to confirm that decision.
Yes, Father. I will continue to obey You in this. Thank You for encouraging and strengthening my heart so I can keep doing what You want me to do.
This is the cleansing process of God's Word.
Christ loved the church and gave himself up for her to make her holy, cleansing her by the washing with water through the word. (Ephesians 5:25-26)
God's desire is for us to be conformed to the image of His Son (Romans 8:29). And the way that happens is by spending time in the Bible. A lot of it. Transformation doesn't happen overnight. It's a long process. God gently guides us through His Word and prepares our hearts to hear His message. When we yield, we take steps in becoming the person God wants us to be (2 Corinthians 3:18).
3 Ways God's Word Cleanses Us
The Bible is rich with truth. Unlike any other book, we can read a verse or passage repeatedly and gain new insight each time. As we delight in His Word and meditate on His truth, God's Word cleanses us.
First, God's Word helps us understand our true thoughts and attitudes.
The Book of Hebrews tells us that God's Word is alive and active.
For the word of God is alive and powerful. It is sharper than the sharpest two-edged sword, cutting between soul and spirit, between joint and marrow. It exposes our innermost thoughts and desires. (Hebrews 4:12)
When we read it, the Holy Spirit goes to work on our inner person, helping us to understand our true thoughts and attitudes. Which, sometimes, are hard for even ourselves to discern. The Bible Knowledge Commentary says this:
…it is able to discriminate successfully between what is spiritual in man and what is merely "soulish" or natural (it penetrates even to dividing soul and spirit), and does so even when these often-contradictory inner elements are interwoven as closely as joints and marrow. The inner life of a Christian is often a strange mixture of motivations both genuinely spiritual and completely human. It takes a supernaturally discerning agent such as the Word of God to sort these out and to expose what is of the flesh.1
Second, God's Word reflects our obedience or disobedience. 
(Ouch! I know!!) It's like I mentioned earlier. We read the Word and hear what it says, but do we obey? The Book of James says this:
But don't just listen to God's word. You must do what it says. Otherwise, you are only fooling yourselves.  For if you listen to the word and don't obey, it is like glancing at your face in a mirror. You see yourself, walk away, and forget what you look like.  (James 1:22-24)
Honestly, when this Scripture passage "shows up" in my quiet times, I brace myself. Inevitably there is an outstanding issue between me and God–and He means business. (Right now my eyes are tearing up. I didn't intend to go here with this post. But God did. And as I write this, God's Word is probing and reflecting. It's not so much my "issue," it's what's coming next!)
Third, God's Word sets us free.
As parents, we discipline our children. We correct them. When our kids move into the teenage years, (usually) they resist correction more. Because we love them, we keep at it. We know what's ahead. We know the pitfalls they will fall into if they don't listen and learn. Our goal is for them to become responsible, independent adults. In essence, we want them to live in freedom.
It's the same with God's Word.
But if you look carefully into the perfect law that sets you free, and if you do what it says and don't forget what you heard, then God will bless you for doing it. (James 1:25)
God blesses our obedience when we look carefully into His beautiful Word and do what He says. I don't know why I sometimes act like a teenager and resist God's (usually) gentle instructions. Especially when I read beautiful truths like this:
God's perfect law, His beautiful Word, sets us free! (James 1:25)
God's perfect law, His beautiful Word, sets us free! (James 1:25)
This is what He wants for us! He doesn't want us trapped by sin and all entanglements that go with it. God's Word cleanses us so we can be free!
The next time I sit with God's Word and He ZINGS me with a verse exposing my sin, I want my first thought to be–Christ died so I could be free. That changes everything!
For further reflection:
Psalm 19:7-11   John 8:36   John 15:3   John 17:17   1 Corinthians 6:11
---
1Zane C. Hodges, "Hebrews," in The Bible Knowledge Commentary: An Exposition of the Scriptures, ed. J. F. Walvoord and R. B. Zuck, vol. 2 (Wheaton, IL: Victor Books, 1985), 789–790.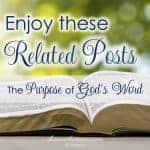 The Purpose of God's Word–Relationship (First in Series)
God's Word Always Accomplishes Everything He Intends
Water Works Wonders
(Visited 23,216 times, 1 visits today)