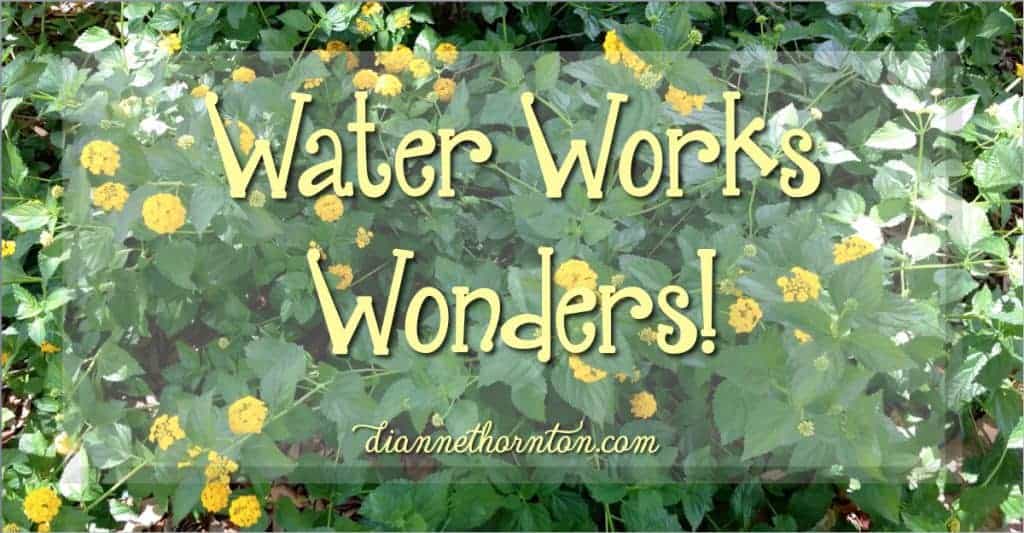 After several years of decreased rainfall, this spring, we had two months of deluge after deluge. The reservoirs and lakes were almost full again. Plants that were recovering from winter began to flourish. We had to mow our lawns at least once a week.
My lantana was deep and full of blooms two months ago. Today, not so much.
Its' been another two months since our last rain. We are dry, dry, dry.  I have not been watering like I usually do, and several of my potted plants are, to quote George Biddle, "Dead. Dead. Dead."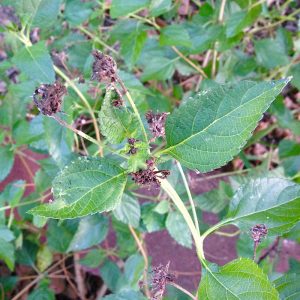 That's how our relationship with the Lord is. When we spend time with the Lord–every day–the soil of our hearts stays soft. Our spiritual roots are able to grow deep to receive the nutrients from God's Word.
The seed is the word of God … the seed on good soil stands for those with a noble and good heart, who hear the word, retain it, and by persevering produce a crop. (Luke 8:11, 15 NIV)
Water Works Wonders!
We can be as the psalmist described:
They are like trees planted along the riverbank, bearing fruit each season. Their leaves never wither, and they prosper in all they do. (Psalm 1:3)
That's one reason that Jesus said He was the Bread of Life. We need to eat daily. Just like a newborn baby.
Like newborn babies, you must crave pure spiritual milk so that you will grow into a full experience of salvation. Cry out for this nourishment, now that you have had a taste of the Lord's kindness. (1 Peter 2:2-3)
But when we "take some time off," our hearts begin to harden,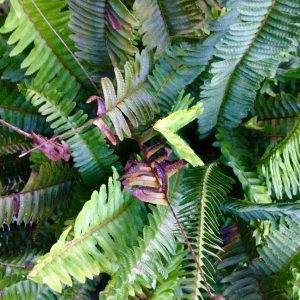 and we become dry and crusty. That crustiness is expressed in the negative things we think, say, and do.
It's been so hot and dry here, my ferns actually have some burned fronds on them. It's amazing, though, what a little water can do. Just a few days of consistent watering, and already fresh life is springing forth.
The Word of God is water to our souls. We desperately need it every day if we are going to thrive in our relationship with Him.
If you are feeling a little dry and crusty, it doesn't take much for God to begin a fresh work.! Take 5 minutes and meditate on a few of your favorite verses. Do it again tomorrow.
They will be like a tree planted by the water that sends out its roots by the stream. It does not fear when heat comes; its leaves are always green. It has no worries in a year of drought and never fails to bear fruit. (Jeremiah 17:8 NIV)
(Visited 240 times, 1 visits today)