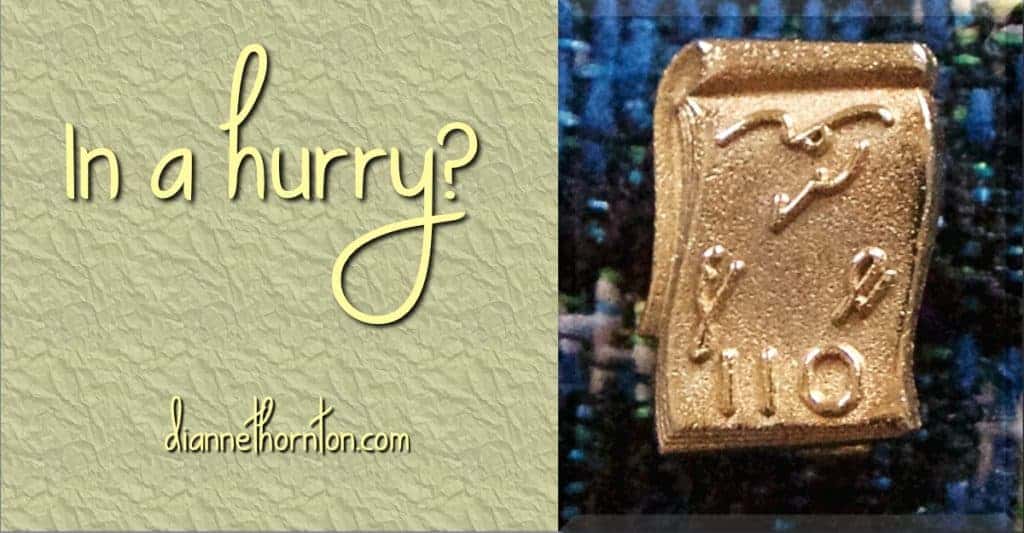 While my friends lettered in athletics and academics, I lettered in shorthand. (Some of you are asking if that's even possible. Others are asking, what in the world is shorthand??) Shorthand goes with my personality. I am wired to get things done, get them done fast, and get them done right. Obstacles to these goals cause me a great deal of frustration.
I am a doer. I make things happen. I write lists. I check items off my list. I accomplish. I get a lot done in a short amount of time.
While speed and accuracy are great pals and have their place in some aspects of life, they are not pals when it comes to our time in God's Word. This is my current life-lesson.
(Here's my Paul-like litany … you can read about his in Philippians 3.) I've known the Lord for 40 years. I had the blessing and privilege of growing up in a family with God-fearing parents and attending a solid Bible church. I went to a Bible college for a year. I've led countless Bible studies and written two of them. I study all the time and I love it! God's Word is alive, active, and always speaking to us.
For the word of God is alive and active. Sharper than any double-edged sword, it penetrates even to dividing soul and spirit, joints and marrow; it judges the thoughts and attitudes of the heart. (Hebrews 4:12 NIV)
With all of that, I've found myself comfortable with the Word of God.
It's good to know your Bible. It's good to know where to get the answers you are looking for–for yourself and for those you counsel.
But it's also dangerous. While reading Bible study or devotional material, I found myself skimming over the Scripture. Why? Because I already know what it says. I'm in a hurry. I have my list. Things need to be done, done now, and done right.
But am I doing Scripture right? Sadly, for a little while, the answer has been no.
Soooo … I've been consciously slowing down when I come across a Scripture passage, reading it thoroughly. Soaking in it.
When I came downstairs this morning, my thoughts were … Lord, do you want me to work on my Bible study or to read a simple devotional? His answer to me was, it doesn't matter as long as you take your time and listen to Me. Meditate on what I give you.
I skimmed Facebook as my coffee percolated. Then it was time. Without thinking I picked up a small devotional book and read. Jeremiah 15:16 was one of the Scriptures.
When your words came, I ate them; they were my joy and my heart's delight, for I bear your name, Lord God Almighty. (Jeremiah 15:16 NIV)
Rather than skim over that verse, I soaked in it. I ate the words. Then I went to my Bible to read the Scripture in context. (Here comes a bunch of verses. Don't skim! Soak!)
Lord, you understand; remember me and care for me. Avenge me on my persecutors. You are long-suffering—do not take me away; think of how I suffer reproach for your sake. When your words came, I ate them; they were my joy and my heart's delight, for I bear your name, Lord God Almighty. I never sat in the company of revelers, never made merry with them; I sat alone because your hand was on me and you had filled me with indignation. Why is my pain unending and my wound grievous and incurable? You are to me like a deceptive brook, like a spring that fails. Therefore this is what the Lord says: "If you repent, I will restore you that you may serve me; if you utter worthy, not worthless, words, you will be my spokesman. Let this people turn to you, but you must not turn to them. (Jeremiah 15:15-19 NIV)
As I read these words, I remembered my high school days. I had many casual friends, but I was often alone because I didn't "make merry" with them. My best friends were at church and they attended the school across town. There were many days when it hurt to be alone at my school. But was always faithful to me and it was, and I was, OK. My delight was (and is) in the Lord.
And then verse 19 … "If you repent, I will restore you that you may serve me; if you utter worthy, not worthless, words, you will be my spokesman."
And so I repented. Of my rushing through God's active, alive, and always speaking Word. Although the words themselves don't change, their application to our lives changes all the time.
It is dangerous to assume that we know what God is going to say to us when we see a Scripture reference that is familiar to us.
Only when we have read it thoughtfully, soaking in the meaning of it, can God's Word change us. And that, after all, is the goal of all Bible study–to become like Christ.
As a Bible study teacher, I have learned that my most effective teaching comes from an overflow of what God is doing in my life. If I rush through Scripture, I am probably not getting the message God intended for me–and as a result, for others,too.
My quiet time is my favorite time of the day. It is the only time when there is no pressure. Life is quiet, life is slow. Why would I upset that by skimming and rushing through God's Word? When I soak in God's Word, the Holy Spirit speaks truth and conviction to my heart. It is then that I can serve God with worthy words.
What about you? How do you approach the Word of God? Do you skim or soak?
Oh, the joys of those who do not follow the advice of the wicked, But they delight in the law of the meditating on it day and night. They are like trees planted along the riverbank, bearing fruit each season. Their leaves never wither, and they prosper in all they do. (Psalm 1:1-3)
---
More on Meditation and Reflection
Biblical Meditation is the Catalyst for Life Change
Making Space to Hear
(Visited 557 times, 1 visits today)