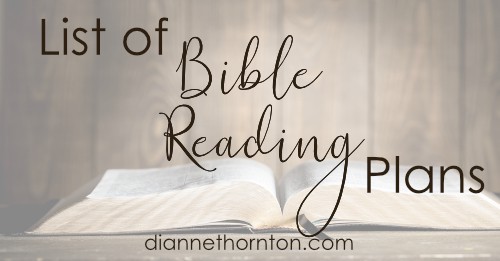 I pray you are enjoying and reflecting on our Savior's birth!
The New Year is a week away, along with the beginning of new things. For many, this includes reading through the Bible. It can be a daunting task, especially with the first few books of the Bible. Beginning in Exodus, God tells Moses how to build the Tabernacle. Then Moses tells the Israelites. After that, they build it! Leviticus can be technical. Then comes Numbers. Reading line after line, exactly how many members were in each family can be enough to make the most determined reader set aside this goal for another year. Maybe.
But today there are many plans for reading through the Bible that help make these difficult passages easier to understand. And sometimes interesting!
When Reading Through the Whole Bible Seems Overwhelming
Aside from the difficult passages themselves, reading through the entire Bible can seem overwhelming. And some phases of life make it difficult. If you're in such a phase, take heart. Because that's what it's all about. The attitude of our hearts.
If we have all the time in the world, but our hearts are not right with God, we won't hear Him speak. But when our hearts are able to hear, God will speak in the brief moments that are sometimes all we have.
If we have all the time in the world, but our hearts are not right with God, we won't hear Him speak. But when our hearts are able to hear, God will speak in the brief moments that are sometimes all we have.
Reading through the Bible is a worthwhile endeavor, whether we read it in one year, 2 years, or 90 days. It's through God's Word that we grow our relationship with Him and receive guidance for our lives.
I researched lots of plans before I made my choice, and I want to share with you what I found. As you read through these options, I'm certain you'll find something that fits your needs. Some plans take you through the entire Bible, some the New Testament only. Other plans are shorter with only 365 key passages. There is something for everyone.
List of Bible Reading Plans
Back to the Bible is the first resource I used for reading through the Bible in a year. If you click on BIBLE STUDY, a pull-down menu will list several options:
21-Day Reading Plan through the Gospel of John
90-Day Reading Plan through Genesis, Matthew, Mark, and Luke
6-month Reading Plan from Acts to Revelation, including wisdom and poetic literature
Entire Bible Reading Plans: Historical, Beginning to End, Blended, Old &  New Testament, and Chronological
Moody Church lists several options.
Through the New Testament in a year
Through the entire Bible in 3 years
365 Key Biblical Chapters: My husband encouraged my kids to use this plan when they were in high school. He incentivized it for them with monthly rewards.
Journey through the Old Testament's key stories in 36 days
Journey through the New Testament is a 25-day chronological reading of key NT chapters
The Navigators have 3 Bible Reading Plans.
The Discipleship Journal reading plan that was so popular in their magazine. It features 25 readings / month, which allows you to get caught up if you fall behind.
5x5x5: Five Days a week, Five Minutes a day takes you through the New Testament in a year
Their Book-at-a-Time plan features two readings for each day

Options from Bible Study Tools
71 Days in Isaiah
Straight Through
Daily Gospel takes you through all four gospels in 45 days
Daily Psalm
Daily Wisdom takes you through the wisdom literature in 60 days
90-Day challenge take you through the entire Bible in 90 days
The Busy-Life Plan takes you through the entire Bible in two years
The thematic plan makes associations through the difference parts of Scripture (my choice for 2020)
Other Curated Lists
BibleGateway also has many Bible Reading Plans to choose from, several similar to those listed above. Unique to them is a Daily Audio Bible plan. They also have a plan that takes you through the New Testament in 24 weeks.
Ligonier Ministries lists reading programs from several resources.
52 Week Reading Program through different genres each day
Professor Grant Horner's Plan is aggressive with 10 chapters a day
Robert Murray M'Cheyne's plan takes you through the New Testament and the Psalms twice and the Old Testament once
An in-depth study of the Book of Matthew
Many of my friends recommend the Bible reading plans from YouVersion at Bible.com. They, too, have reading plans from many resources, which include whole Bible plans as well as shorter, topical plans.
The 5-Day pseudo-chronological plan I used last year is updated for 2020. You can find it here. I loved it and highly recommend it.
My Choice for 2020
I finished my 2019 plan a couple of weeks ago. I was ready for a break. But then I got restless. So I started the search for something for 2020. After reviewing these options, I chose a plan from the Bible Study Tools website–their Thematic reading plan. I'm so excited about it!! But I'm also a little nervous. This is a 7-day plan, so catching up when falling behind will be a bit of a challenge. One I'm sure I'll face many times throughout the year. But that's ok!
As with many websites, you can sign up for any of their reading plans and receive an email with your assigned reading for each day. But I like to keep a piece of paper tucked in my Bible. So I copied this plan into a spreadsheet. If you think this reading plan will fit your needs, you can download my spreadsheet here.
Download Thematic Bible Reading Plan from Bible Study Tools
There's a lot here to keep you researching for a while! But don't get bogged down. Prayerfully scan through them. God will tug at your heart when you see the one He wants you to engage with. You'll know. And you'll be excited to get started on it! I'm praying that your time in God's Word will be life-giving for you. That you will look forward to it. And that you will share all God shows you with others.
Let me know what you choose!
Blessings on your New Year!
---
More Posts on God's Word
Water Works Wonders
God's Word Always Accomplishes Everything He Intends
The Purpose of God's Word
(Visited 541 times, 1 visits today)