Joy.
I don't know of a more delightful word. Just saying it does something inside me. Christmas Joy is extra special.
Joy was the angel's message to Zechariah, when he announced the birth of John the Baptist.
But the angel said, "Don't be afraid, Zechariah! God has heard your prayer. Your wife, Elizabeth, will give you a son, and you are to name him John. You will have great joy and gladness, and many will rejoice at his birth." (Luke 1:14)
Joy was the angel's message to the shepherds when he announced the birth of Jesus.
But the angel reassured them. "Don't be afraid!" he said. "I bring you good news that will bring great joy to all people. The Savior—yes, the Messiah, the Lord—has been born today in Bethlehem, the city of David!" (Luke 2:10-11)
Mary rejoiced in her song of praise.
Mary responded, "Oh, how my soul praises the Lord. How my spirit rejoices in God my Savior!" (Luke 1:46-47)
Joy was Jesus' great desire for His disciples—and for us!
I have loved you even as the Father has loved me. Remain in my love. When you obey my commandments, you remain in my love, just as I obey my Father's commandments and remain in his love.  I have told you these things so that you will be filled with my joy. Yes, your joy will overflow! (John 15:9-11)
I pray that as you celebrate Christ's birth, your heart knows the great joy and gladness that our God desires for you.
Merry Joyful Christmas!
(I'm taking a blogging break and will see you in a couple of weeks!)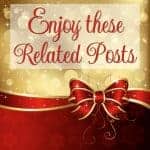 Jesus Is The Gift of Wonderful
Anticipating the Birth of the Son
Your Christmas Lights Chase the Darkness Away
(Visited 173 times, 1 visits today)