Long ago a young Jewish girl received some startling news. As a virgin, she would conceive and give birth to a Son–the Savior of the world (Luke 1:29-33). The people of Israel had been living under a cloud of darkness. But soon, their promised Messiah would be born. Although they didn't know it, Life and Light, fresh and full of hope, was on the horizon. Mary and Joseph knew it, however. They were anticipating the birth of the Son.
At the moment of His conception, Jesus left the glory of heaven to dwell in obscurity. He was tucked away in the secret place for nine months while God knit His physical body together (Psalm 139:15). I wonder what it was like for the angels when the Joy of Heaven was absent and unseen during this time. To have the One they worshiped leave their presence? They, too, were anticipating the birth of the Son.
The anticipation of a baby's birth is usually a time of excitement. From the moment a couple learns they are expecting, joyful planning is the name of the game.
Sharing the news with friends and family
Planning a creative gender-reveal
Preparing nurseries just so
Attending childbirth classes
Celebrating with baby showers
And most importantly, choosing the just-right name
However, things were a little different for Mary and Joseph. Other than Elizabeth and Zechariah, they were the only ones who knew and believed the truth about her pregnancy. No one else could (or would) share in their joy. Mary and Joseph already knew she was carrying a son, and the God of Creation chose His name. Finally, the time came for Mary to give birth. Jesus was born in the obscurity of a stinky stable and was laid in a dirty manger.
The celebration of Jesus' birth was highly unusual. The angels, who adored Him, burst into joyful song as He finally made His visible entrance into our world. And Magi gave Him gifts fit for a King.
Mary's response is priceless.
After the angel Gabriel told her she would carry the Messiah, knowing she would face ridicule, she responded with a humble, yielded heart.
Mary responded, "I am the Lord's servant. May everything you have said about me come true." (Luke 1:38).
While visiting with Elizabeth, Mary humbly rejoiced in God.
Oh, how my soul praises the Lord. How my spirit rejoices in God my Savior! For he took notice of his lowly servant girl, and from now on all generations will call me blessed. For the Mighty One is holy, and he has done great things for me. (Luke 1:46-49)
After the shepherd's visited her and told her everything the angels said:
Mary treasured up all these things and pondered them in her heart. (Luke 2:19)
Everything surrounding Christ's birth was precious to Mary. She treasured every word, every event. She meditated on them put the pieces together. Everything the angel Gabriel told her, happened just as he said it would. Joseph knew. The shepherds knew. The Magi knew. Soon, the whole world would know, too.
Isaiah prophesied.
For a child is born to us, a son is given to us. (Isaiah 9:6a)
God fulfilled the Promise on that long ago Christmas Night. A Child was born. A Gift was given.
The Savior—yes, the Messiah, the Lord—has been born today in Bethlehem, the city of David! (Luke 2:11)

For this is how God loved the world: He gave his one and only Son, so that everyone who believes in him will not perish but have eternal life. (John 3:16)
God fulfilled His Promise on that long ago Christmas Night. A Child was born. A Gift was given.
Are we anticipating the birth of the Son today?
During advent, the four weeks prior to Christmas Day, we look back. But not simply to remember. We anticipate the celebration of Christ's birth. But we also celebrate what He did for each of us when we gave our lives to Him. We celebrate what He is doing in our lives today. And we anticipate what He will do!
So let the celebration of Christ's birthday, birth in you anticipation for all that is to come! Here on earth, and in heaven.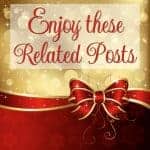 Your Christmas Lights Chase the Darkness Away
Immanuel, God With Us
(Visited 402 times, 1 visits today)