What's in a name? Expectant parents spend hours determining the just-right name for their child, giving great thought to its meaning. In the Bible, names carried significant meaning, too. Sometimes it represented a parent's hope for their child's future. Sometimes it represented the current state of their own lives. We find numerous Names of God throughout Scripture. Each of them reflects an aspect of God's character. Here are a few you might recall.
El Roi–The God Who Sees (Genesis 16:13)
El Shaddai–God Almighty (Genesis 17:1-2)
Yahweh–The Self-Existent One (Exodus 6:2-3)
Our Shield (Psalm 18:30)
The Potter (Isaiah 64:8)
The Word (John 1:1)
The Messiah (John 1:41)
Abba Father–Daddy (Romans 8:15)
The Alpha and The Omega–The Beginning and the End (Revelation 1:8)
God's Name is Who He Is
The name of the Lord is a strong fortress; the godly run to him and are safe. (Proverbs 18:10)  [Emphasis added.]
When we need to know that God sees us in the mess of our situation, we run to El Roi, the God Who Sees. When we need protection, we run to God Who is our Shield. We crawl up into Abba Father's lap when we need our daddy to love us and tell us everything is going to be ok.
In Isaiah's prophecy we find five more names we love to see at Christmastime.
For a child is born to us, a son is given to us. The government will rest on his shoulders. And he will be called: Wonderful Counselor,  Mighty God, Everlasting Father, Prince of Peace. (Isaiah 9:6)
The first name(s) are Wonderful and Counselor. Many translations, including the New Living Translation above, translate these as one name, "Wonderful Counselor." Indeed He is a wonderful counselor. But in this verse, the Hebrew word wonderful is a noun!
His Name is WONDERFUL!
Strong's Exhaustive Concordance describes wonderful like this:
A masculine noun meaning a wonder, a miracle, a marvel.

This word is used to represent something unusual or extraordinary. Except for Lamentations 1:9, this term always appears in the context of God's words or deeds. It is used of God's actions among His people (Isa. 29:14); the Law of God (Psalm 119:129); God's acts of judgment and deliverance (Ex. 15:11; Ps. 78:12; Isa. 25:1); and the child to be born as the Messiah (Isa. 9:6[5]). These things then become the focus of people's worship of God (Ps. 77:11[12], 14[15]).1 [Emphasis added.]
Did you catch that? Wonderful always appears in the context of God's words or deeds. Everything God says. Everything God does–is wonderful, because He. Is. Wonderful. Say that out loud. But when you say it, think noun, not adjective; and use the Son's Name.
Jesus is Wonderful
That changes things, doesn't it!
Isaiah tells us that a son is given to us. Something given is a gift. Jesus is our Gift of Wonderful.
If wonderful is always in the context of God's words and deeds, such that we respond in worship, what did Jesus say and do that makes our hearts respond to Him in worship?
What Jesus did:
Jesus healed the sick, the lame, the blind, the deaf, and the mute.
Jesus made something out of nothing on a regular basis! He turned the water into wine. He fed thousands with only a a few loaves and some fish. And He caused the fisherman-disciples to catch more fish than their nets could hold.
Jesus calmed the storm and walked on water. He cast demons out of those tormented by them. And He raised the dead.
He gave His life for us. And then rose from the grave!
What Jesus said:
Jesus reminded us how much the Father loves and cares for us. (Matthew 6:31-34)
Although He wants us to obey Him, Jesus calls us friend. (John 15:15)
In Him, we have peace. (John 16:33)
When we are connected to Him, His yoke is easy and His burden is lighter than if we carried it alone. (Matthew 11:28-29)
And the most wonderful words of all:
My child, your sins are forgiven. (Mark 2:5)
Unwrapping the Gift of Wonderful
The Gift of Wonderful that God wants us to unwrap is awesome and amazing. Sit for a moment, and live in these words:
The Father loves you and cares for you.
You are His friend.
Through Christ you have peace.
When connected to Him, your daily burden is much lighter than if you carried it alone.
You. Are. Forgiven.
I hope and pray that you are experiencing the Gift of Wonderful this Christmas season! As we think about all Jesus said and did, may we fall in worship before Him!
If you are wondering what all this wonderful is, I'd love to share the Gift of Jesus with you. Please meet Jesus, the Gift of Wonderful, here!
---
1Warren Baker and Eugene E. Carpenter, The Complete Word Study Dictionary: Old Testament (Chattanooga, TN: AMG Publishers, 2003), 899.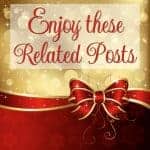 Your Christmas Lights Chase the Darkness Away
Anticipating the Birth of the Son
Do You Know?
(Visited 632 times, 1 visits today)