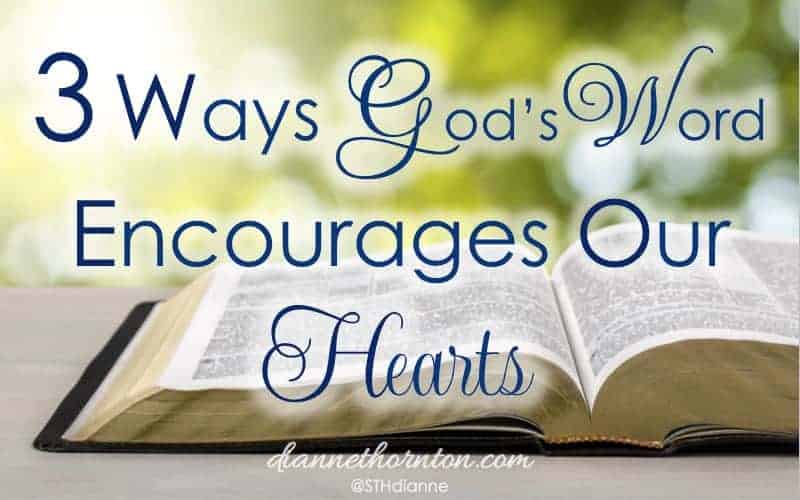 Today we wrap up this series on the Purposes of God's Word. I think my favorite facet is the way God's Word encourages our hearts. Probably because it's this aspect of the Bible that I find myself needing so much. I don't like to admit it, but I'm easily discouraged. As a Type-A personality, I am an in-charge, make-things-happen (even a fixer) kind-of-gal. I like things finished and tied with a bow. When I can arrange my life like that, I feel settled and in control. But the reality is, life isn't like that. Rarely are things finished anymore. And tied with a bow? In my dreams. As a result, I need encouragement (and lots of it) when things don't go the way I'd like them to.
God's Word Strengthens Our Souls
Last year I had a challenging writing assignment and a limited amount of time to complete it. I prayed over it, making sure it was what God wanted me to do. But I felt like I didn't have what it took to write this assignment well. A friend encouraged me with Isaiah 41:10.
"Do not fear, for I am with you; Do not anxiously look about you, for I am your God. I will strengthen you, surely I will help you, Surely I will uphold you with My righteous right hand." (Isaiah 41:10 NASB)
I read the word 'surely' and my heart asked, "Lord, will you really help me?"
So I decided to do a verse mapping exercise. I looked up the definitions of several words and phrases. And this is how the Lord encouraged me with His Word.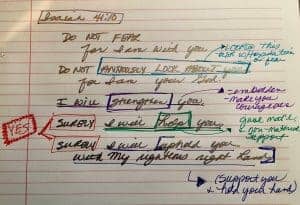 YES, I will help you!
Don't look at this assignment with trepidation and fear.
I will embolden you and make you courageous!
I will give you material and non-material support.
And I will hold your hand the whole time.
I had a new perspective and the courage to move forward.
This is an example of one way God's Word encourages our hearts. Sometimes, in the regular course of our Bible reading, God provides the just right Scripture to strengthen our souls. Other times, we specifically go to our treasured verses for the encouragement we need.
On the day I called, You answered me; You made me bold with strength in my soul. (Psalm 138:3 NASB)

My soul is weary with sorrow; strengthen me according to your word. (Psalm 119:28)
God's Word Gives Us Hope
Hope is a beautiful word. It is pregnant with the expectation of good things to come! We need hope every day–not only when we are feeling hopeless. Hope is what keeps us moving forward. God's Word encourages our hearts with hope.
You are my refuge and my shield; your word is my source of hope. (Psalm 119:14)

Such things were written in the Scriptures long ago to teach us. And the Scriptures give us hope and encouragement as we wait patiently for God's promises to be fulfilled. (Romans 15:4)
Hope in God's Word is not a maybe hope. Like, I hope my package arrives before Wednesday. Our hope is secure and trustworthy because it is based on God's character.
Our hope is secure and trustworthy because it is based on God's character.
He keeps all of His promises. We hope in the promises of God and the truth in His Word. Here are a few of my favorites:
God protects us in the darkest valley. (Psalm 23:4)
God loves us with an everlasting love. (Jeremiah 31:3)
He strengthens us for every task. (Philippians 4:13)
He is preparing a forever home for us. (John 14:2-3)
God's Word Brings Joy to Our Hearts
Quality time with my grown daughters is hard to come by, especially with my senior. She is busy with advanced academics, extra-curricular activities, applying for scholarships, and time with her besties. So when an opportunity to visit with her presents itself, I drop everything so I can enjoy her–even if I am simply a distraction from her homework.
Why? Because I want to enter her world. In so doing, I get to know her better.
Of course I know her. I know her very well. But as she matures and seeks independence, parts of her life are a bit mysterious. She doesn't share everything with me like she used to. The only way to mine the treasure of knowing her better is to spend time with her–listening. Time with this girl I love brings joy to my heart. I experience delight when I'm with her and I learn a new aspect to her personality or character.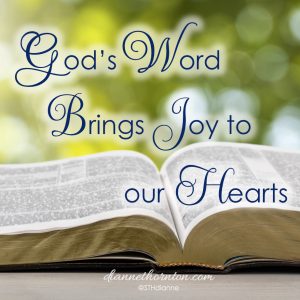 Like any other relationship, spending quality time with God is how we get to know Him. How we grow close to Him. Specifically, we get to know God by reading and studying our Bibles, because it is there that He reveals Himself. As we read, study, and pray, He speaks to our hearts.
If you are new to reading the Bible, it may sound a bit mysterious. But God promises that when you seek Him out, you will find Him (Jeremiah 29:13-14a)!  The more time you spend in the Bible, the deeper you'll know the God who loves you (Jeremiah 31:3) and how God's Word encourages our hearts with joy.
The Psalmists loved God's Word–more than life and the riches it can offer. They found God's Word to be the source of …
Hope and joy (vs. 47, 74, 77, 174)
Counsel, guidance, and instruction (vs. 24, 35, 77)
Sustenance in affliction and distress (vs. 92, 143)
You'll be able to say, as the Psalmists did …
The commandments of the Lord are right, bringing joy to the heart. (Psalms 19:8a)

Your laws are my treasure; they are my heart's delight. (Psalm 119:111)
The Central Truth
My circumstances may not change, but God has a way of settling my heart the just-right Scripture. I keep coming back to the central truth that God's Word is alive and powerful (Hebrews 4:12). Every time we open it, God has something specific to say to us.
The first thing God wants us to know is that He loves us and wants a relationship with us. God's Word also cleanses us, helps us to resist sin, and make wise decisions. And beautifully, God's Word encourages our hearts in varied ways. I hope these weeks have challenged you to go deeper with God in His Word. He is waiting for you there.
The rain and snow come down from the heavens and stay on the ground to water the earth. They cause the grain to grow, producing seed for the farmer and bread for the hungry. It is the same with my word. I send it out, and it always produces fruit. It will accomplish all I want it to, and it will prosper everywhere I send it. (Isaiah 55:10-11)
---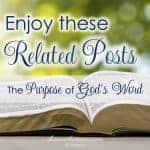 The Purpose of God's Word — Relationship
3 Ways God's Word Cleanses Us
When God's Word Takes Root in Your Heart
3 Ways God's Word Guides Our Decision-Making
(Visited 4,129 times, 1 visits today)