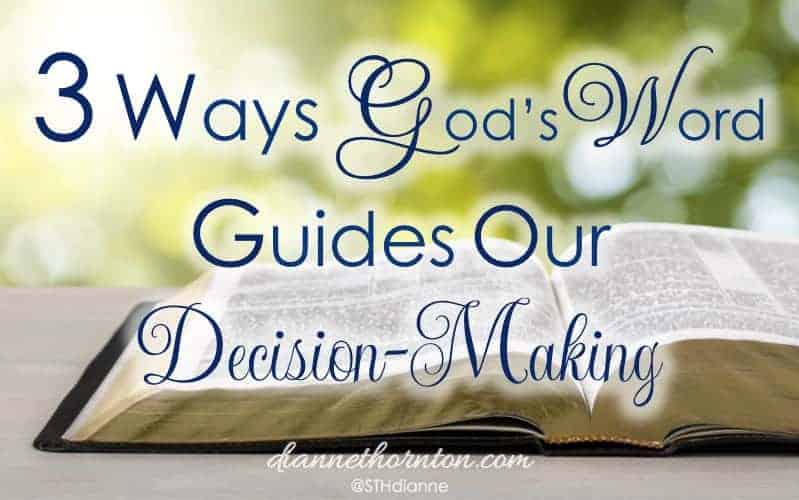 God's Word is amazing. No other book on the planet is as powerful and practical. First and foremost, The Bible shows us the God who loves us–and our need for a Savior. God's Word also cleanses us and allows us to have victory over sin. But also, God's Word guides our decision-making. From simple, everyday choices–like who to hang out with and how we spend our money (maybe that one's a biggie!). To the big things us in our lives–like whom to marry and where we should live. God's Word guides every decision we make.
Wisdom for Everyday Living
Probably the most practical book in the Bible is the Book of Proverbs. My dad taught me to love this book. Since it has 31 chapters and most months have 31 days, you can read a chapter a day as part of your quiet time. I did that for many years, and continue to do so from time to time. The introduction to the Book of Proverbs states that its purpose is to:
Teach people wisdom and how to live disciplined and successful lives
Help us understand the insights of the wise; and do what is right, just, and fair
Give insight to the simple, and knowledge and discernment to the young (Proverbs 1:2-4)
Merriam-Webster says that a simple-minded person is someone who shows poor judgment. We all know people who fall into this category. In fact, if we're honest, each of us has shown poor judgment at one time or another. Just because we are or have been simple-minded, does not mean that we have to stay in this place. Reading and studying the Bible changes everything!
The statutes of the Lord are trustworthy, making wise the simple (Proverbs 19:7b)
The teaching of your word gives light, so even the simple can understand (Psalm 119:130)
How beautiful is this! Because they don't know any better, the simple-minded person will trust anyone and believe anything. But reading and applying God's Word makes the simple-minded person wise! God's Word guides and transforms our thinking (Romans 12:2). No longer do we make poor choices. We can now make wise choices!
Correction for Everyday Living
Two of the most power-packed verses on the purpose of God's Word are 2 Timothy 3:16-17.
All Scripture is inspired by God and is useful to teach us what is true and to make us realize what is wrong in our lives. It corrects us when we are wrong and teaches us to do what is right. God uses it to prepare and equip his people to do every good work. (2 Timothy 3:16-17)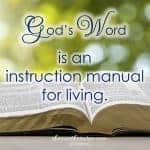 In three sentences we see how God's Word guides us.
It teaches us what is true and right.
It shows us where we are wrong and how to correct it.
It prepares and equips us for all God calls us to.
God's Word is an instruction manual for living life. It contains everything we need for successful living.
Not sure you have what it takes to serve in that ministry? Read your Bible every day. As you do that, God will teach you, prepare you, and equip you so that you are effective in your calling.
I've tried to serve the Lord with "whatever was left over in my tank" from the week before, the day before, (dare I say–even a month before?). It just. doesn't. work. We need to filled with God's Word every day. He equips us day-by-day for all we need to do.
Insight for Decision-Making
Often I find myself frustrated and confused when it comes to making decisions. I want to make the right choice, one that honors God and keeps me in the center of His will. Some things are clearly stated in the Bible–the do's and don'ts. But most of them are not.
Where should I go to college?
Where should I work?
Should I marry? Whom should I marry?
Should I have kids? How many kids should I have?
Which medical treatment should I pursue?
You get the idea. When Scripture doesn't give us a clear yes/no choice, how do we know which direction to take?
I think it's less complicated than people tend to make it. God gave each of us a mind and we are to use it.
We gather as much information as we can.
Evaluate the options, weighing the pros and cons.
And seek counsel from wise people.
And then we make a decision, in faith, based on all of the information we have. God is pleased when we move in faith (Hebrews 11:6).
The key to successful decision-making is spending time in God's Word every day.
The key to successful decision-making? Spending time in God's Word every day.
Your word is a lamp to guide my feet and a light for my path. (Psalm 119:105)
The commands of the Lord are clear, giving insight for living. (Psalm 19:8b)
Commit to the Lord whatever you do, and he will establish your plans. (Proverbs 16:3)
The Hebrew word for plans in Proverbs 16:3 means thoughts. God establishes our thoughts to become like His thoughts. And then we make the decision that He wants us to make. This is one of my favorite ways that God's Word guides us. It's all about our becoming more and more like Him.
God's Word Guides Every Decision We Make
What choices are facing you today? Are you evaluating relationships, investments, medical issues? Are you considering a ministry direction? Whatever it is, you can trust God's Word to guide you each step of the way.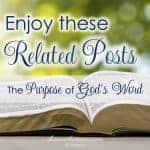 The Purpose of God's Word–Relationship
3 Ways God's Word Cleanses Us
When God's Word Takes Root In Your Heart
(Visited 2,067 times, 1 visits today)