Sometimes events in your life line up together and point a focused light beam in the direction you are supposed to go. Well, without even asking God for it, He is doing that for me now. Reminds me of this verse in Isaiah …
I will answer them before they even call to me. While they are still talking about their needs, I will go ahead and answer their prayers! (Isaiah 65:24)
I participated in the #write31days challenge in October with the focus of living without. In response to a friend's encouragement, for the last several weeks, I've been posting with a focus on Life with. Part of my preparation for a topical study is to do a concordance search in my Bible software, and then populate an Excel worksheet with the results. I sift through everything, grouping, categorizing, loosely scheduling it all.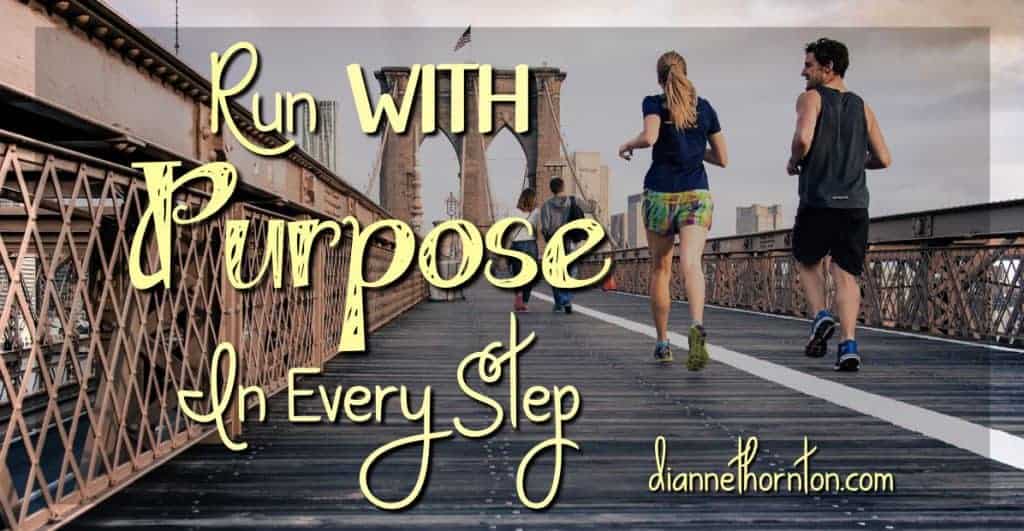 One verse, in particular, was toward the bottom of my list. I wasn't exactly sure when I wanted to use it, but I was beginning to feel the press that it would be sooner than later. At the same time, a friend and mentor of mine was developing a goal-setting course. Eventually, these two things converged–along with other Scriptures God placed in my path.
Still catching my breath from a busy football and marching season, I wasn't ready to begin thinking about my focus for 2016. But God knew it was time.
My One-Word for 2016 is PURPOSE, and my verse is this:
So I run with purpose in every step. (1 Corinthians 9:26)
It's not about my "purpose in life." Or my "purpose in ministry." I know what those things are. The over-arching purpose of my life is to glorify God. I do that in the way that I live, how I care for my family and how I move forward in ministry.
This is about doing everything with specific intent.
It's a little overwhelming. How do you tackle something like that for one year's focus? It was hard enough to BE this year. In some ways, this sounds like the opposite. But I know that getting caught up in doing is not God's intent. This is:
Love the Lord your God with all your heart and with all your soul and with all your mind and with all your strength. (Mark 9:30)
The Bible Knowledge Commentary says the following about this verse:
The command, Love (lit., 'you shall love') the Lord your God, calls for a volitional commitment to God that is personal, comprehensive, and wholehearted. This is emphasized by the repeated words [with all your], and the various terms relating to the human personality—heart (control center), soul (self-conscious life), mind (thought capacity), and strength (bodily powers).1
So how do these two verses relate to each other, you ask? I'm fixin' to tell ya!
I believe that God wants me to build new habits in each of these areas of my life–with specific intent. Today I'm not entirely sure what those are, but I have an idea or two. I'm excited! Because God already has a tool in my hands to help me get there–my friend's goal-setting course! I want to share that with you today.
Arabah Joy developed Grace Goals as a way to accomplish real transformation–which is rooted in our relationship with Christ.
I have been a part of Arabah's Christian Blogger's Bootcamp for almost four months. That course helped me refine my vision for my blog and move it to a more professional level. Arabah's own blog shows her deep love for God and her desire to point others to Him.
Grace Goals is one step in that direction. This is a digital product that includes a 48-page workbook, 5 actionable mini workshops PLUS a printable pack for each of the workshops.
The contents cover:
Introduction to Grace Goals: Why grace matters as the foundation for change
Workshop One: It Starts with Desire
Workshop Two: Getting God's Approval
Workshop Three: Refining Your Vision
Workshop Four: Finding Long Term Motivation
Workshop Five: Appropriating Grace in the Grit
You also have access to a private Facebook group for encouragement along your journey. I'm already friends with many of the women who are taking this course. Let me tell you–they are the encouraging elite! And don't we need it when we are in pursuit of our goals!
Grace Goals is $15. Because of my confidence in Arabah, I've chosen to be an affiliate with her course. (If you purchase from this link, I will receive a small commission.)
In January I'll spend some more time fleshing out the concept of living on purpose. In the meantime, God is working in my control center. 😉 And I'd love for you to join me in pursuing real transformation through Grace Goals!
---
This post is part of a follow-up series to my #write31days challenge–31 Days of Living WITHOUT. This series focusing on Life WITH. You can catch up on the other posts here.
Image: Pixabay (Unsplash)
1John D. Grassmick, "Mark," in The Bible Knowledge Commentary: An Exposition of the Scriptures, ed. J. F. Walvoord and R. B. Zuck, vol. 2 (Wheaton, IL: Victor Books, 1985), 164.
(Visited 1,235 times, 1 visits today)