Have you ever broken a toe? Even your littlest toe? It's easy to do. And once you've done that, you can almost guarantee you'll do it again–maybe even the week after it seems to be better.
Maybe you've never broken a bone. But have you ever pulled a resistant hang-nail? Ouch! Your finger hurts for days afterwards. Sometimes limiting the simplest of tasks.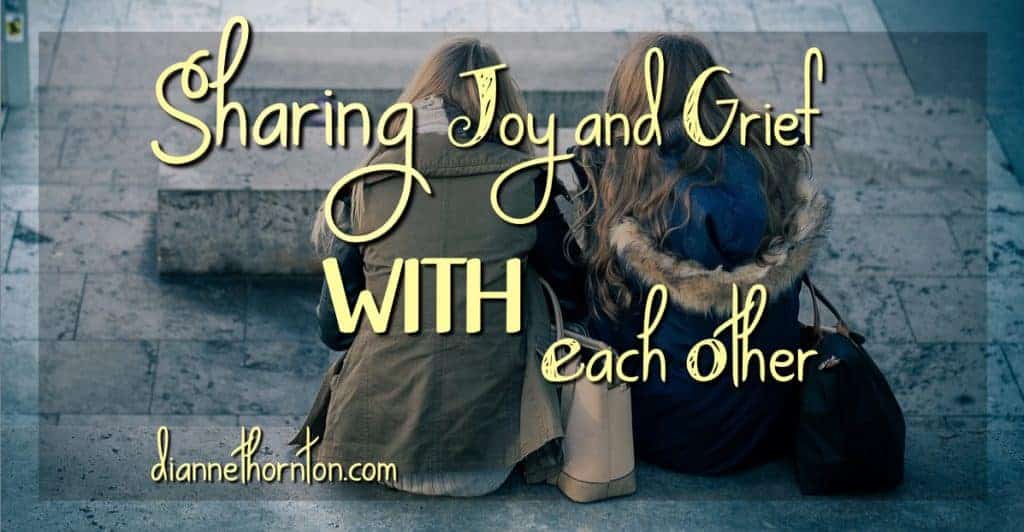 Even minor injuries impact our day-to-day activities. When we injure one part of our bodies, we might as well have injured our whole self.
That's how it is in the Christian community. We experience the gamut of life with each other.
If one part suffers, all the parts suffer with it. (1 Corinthians 12:26)
It doesn't matter if it's a close friend in our home church, or if it is a brother or sister in Christ who is being persecuted on the other side of the globe. We don't experience the deepest measure of someone else's grief or joy; only God truly knows that. But we do share their pain.
We call and encourage.
We share concern and pray together.
We take over meals and help out with kids if needed.
If we have personal experience with their pain, we can comfort them in a way no one else can.
Solomon explained it this way:
Two people are better off than one, for they can help each other succeed. If one person falls, the other can reach out and help. But someone who falls alone is in real trouble. Likewise, two people lying close together can keep each other warm. But how can one be warm alone? A person standing alone can be attacked and defeated, but two can stand back-to-back and conquer. Three are even better, for a triple-braided cord is not easily broken. (Ecclesiastes 4:12).
Paul told the Galatians:
For the whole law can be summed up in this one command: "Love your neighbor as yourself" … Share each other's burdens, and in this way obey the law of Christ. (Galatians 5:14; 6:2)
We show love by sharing each other's burdens. It doesn't change the situation, but it makes our burden a bit lighter.
In the same way, we certainly can experience a measure of joy by ourselves, but joy really takes off when others rejoice with us.  Shared JOY is INCREASED JOY!
Be happy with those who are happy, and weep with those who weep. (Romans 12:15)
Sharing our burdens. Sharing our joy. This is the beauty of Christian community.
I think that's why I like Facebook.
Yes, Facebook can be a thorn in our sides when we get into the comparison game. But it is also a tool. It provides insight into people's lives–immediately–when we might not have had it before.
Just this morning at the top of my newsfeed, a friend of mine requested prayer for her husband who is having surgery downtown.
Another is grieving the loss of her mother, who was incredibly dear to our church family. Facebook can be a place to offer her daughter words of love, encouragement, and comfort. As a community of friends experiencing the same loss, we too can share our grief with each other and receive comfort.
Every time we read something like this on Facebook, it is an opportunity to pray!
People are sharing their joy, too!
A group of my friends are runners and recently completed a series of half-marathons. That is an incredible accomplishment and worthy of shared joy!
One friend posted a video clip of her young daughter. Although she was adopted as a baby, she still had many physical and emotional hurdles to overcome. The video showed this sweetheart entirely comfortable and confident in front of the camera–"a testimony to how far God has brought her."
Some of my family are rejoicing in the birth of a new baby. We also rejoiced with a friend whose daughter was recently baptized.
Another friend shared a picture of her teenager's hand–wearing her class ring. My daughter just got hers, too, but we haven't taken a photo yet. I know how this mom feels. It's bitter-sweet. There is great joy that our kids have made it to this stage in life. But a little frightening and sad for the "almost leaving" that will take place in about a year.
We need each other!
God made us that way! He also created the church so that we could show our love by caring for each other.
Check your Facebook newsfeed. Whose burden can you lighten? Whose joy can you share? It might be the best gift you give them today.
---
This post is part of a follow-up series to my #write31days challenge–31 Days of Living WITHOUT. This series focusing on Life WITH. You can catch up on the other posts here.
Image: Pixabay(Foundry)
(Visited 2,481 times, 1 visits today)