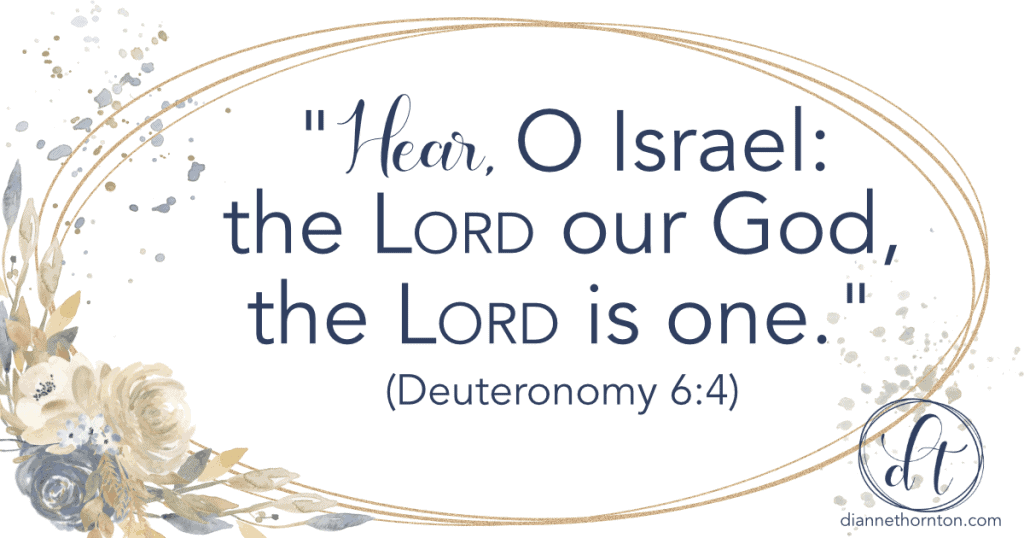 Have you ever heard of the Shema? (pronounced sheh-mah) I knew it was a daily Hebrew prayer, but that's about it. Recently, I read a devotional that discussed it briefly. The Shema is taken from 3 passages: Deuteronomy 6:4-9; 11:13-21; and Numbers 15:37-41. Reading these spurred me on to learn more! The Shema teaches us that loving God influences every part of our lives.
Hear, O Israel: The Lord our God, the Lord is one. Love the Lord your God with all your heart and with all your soul and with all your strength. These commandments that I give you today are to be on your hearts. Impress them on your children. Talk about them when you sit at home and when you walk along the road, when you lie down and when you get up. Tie them as symbols on your hands and bind them on your foreheads. Write them on the doorframes of your houses and on your gates. (Deuteronomy 6:4–9)
The first word in this passage is "hear." It is translated from the Hebrew word shema and means not only to hear, but the action followed by hearing. Moses told the children of Israel to listen up! Then he gave them what Jesus referred to as the greatest commandment: to love God with their entire being (Matthew 22:36-37). Additionally, they were to love His commandments (or His Words), keeping them in their hearts and minds.
As a result, they would talk about them all the time. What we love spills onto those around us, especially within our families. God's Word would be the first thing on their minds when they awoke and the last thing they thought about before they went to bed. They would talk about it all day. When they were sitting down and when they were working outside. Instructing their children would be a natural by-product of their own love for God.
Loving God and obeying His commandments were to define their lives.
Loving and obeying God and His Word results in blessing!
Who Influences Your Heart?
This reminded me of Psalm 1, which contrasts the person who does not follow God with the one who delights in God.
Blessed is the one who does not walk in step with the wicked or stand in the way that sinners take or sit in the company of mockers, but whose delight is in the law of the Lord, and who meditates on his law day and night. That person is like a tree planted by streams of water, which yields its fruit in season and whose leaf does not wither — whatever they do prospers. (Psalm 1:1-3)
When read in light of the Shema, Psalm 1 takes on fresh meaning. The Shema tells us that loving God influences every part of our lives.. But so does who we allow to influence us.
"Walk in step with" means to seek counsel from
"Stand in the way of" means to stand in the life-path with
"Sit in the company of" means to dwell in the house of
Each of these scenarios is opposite the commands that God, through Moses, gave Israel.
This doesn't mean we don't associate with unbelievers. Just the opposite! How will they know the gospel unless we tell them? How will they listen if we don't express genuine love?
But we guard our hearts (Proverbs 4:23). When I was growing up, my mom said, "You will have all kinds of friends, Dianne. But your 'spending the night' friends are your best friends. They should love the Lord and encourage you to grow in your relationship with Him."
That's the key. The level of intimacy we share with our friends determines the influence they have on our lives, and ultimately our hearts. Psalm 1 warns us away from developing intimate relationships with those who don't revere God's Word.
The Shema in the New Testament
We find elements of the Shema throughout Scripture. I think that must be what James was thinking of when he wrote James 1:22-25.
Do not merely listen to the word, and so deceive yourselves. Do what it says. Anyone who listens to the word but does not do what it says is like someone who looks at his face in a mirror and, after looking at himself, goes away and immediately forgets what he looks like. But whoever looks intently into the perfect law that gives freedom, and continues in it—not forgetting what they have heard, but doing it—they will be blessed in what they do. (James 1:22–25)
Verse 22 tells us not to just listen to the Word—but to do what it says.
Verse 25 tells us that those who look meditate on God's Word ( at the perfect law (or those who meditate on, as in Psalm 1), experience freedom! Not only that, they have God's blessing.
Today, devout Jewish worshipers pray through these passages several times a day. New Testament Christians aren't required to do so. But the heart of the Shema should be at the heart of our worship. Loving God influences every part of our lives. Which results in serving Him whole-heartedly, obeying Him fully, and experiencing God's blessing.
More about growing your love relationship with God
(Visited 366 times, 1 visits today)