When my girls were in Color Guard, my kitchen table was always a disaster. I know you aren't supposed to use the words always and never, but it's true! (OK, for the sake of better communication, I'll phrase it differently.) My kitchen table was continually piled high and deep with all their essential gear. Only rarely was I able to get them to take everything upstairs.
Gear, Gear , and More Gear
Sock buns and discarded bobby pins, strapping tape and electrical tape, their fanny packs and drill cards all but hid their placemats. A rain poncho, every color of makeup and different applicators, hair gel and hairspray, brushes and combs, spare rehearsal outfits, lighted mirrors, and anything else girly you can think of, spilled out of their open gym bags, which took residence in their chairs. On top of that were gallon jug water bottles and their thirty-nine-inch rifles and sabres. Jazz shoes, athletic shoes, and sandals littered the floor. Often six-foot poles with four-foot silks attached found their home somewhere close by. Add in the occasional prop and our kitchen eating area looked more like a guard supply room than a place for family gatherings. (I won't judge if you don't!)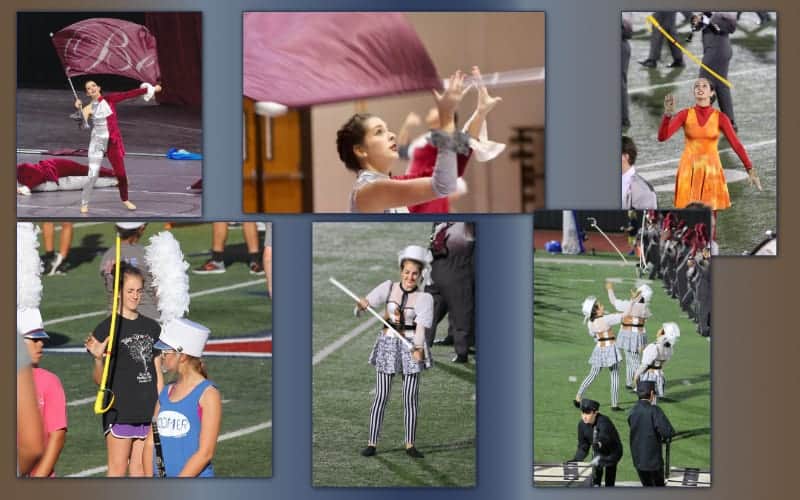 For someone who thrives on order, this just about did me in, but every bit of this gear was essential for their rehearsals and performances. If they left something at home, I got a call. "Mom, I left one of my jazz shoes on the floor in my bedroom!! Can you please bring it?" You know what? I took it up to them. I valued their activity and all the gear it required.
Every Activity Requires Specific, Essential Gear
Think about your own activities. Each one requires specific equipment or gear. Whether it's an athletic or artistic activity, something for your job, or a day at the beach, if you left one or two items at home, you'd be in a pickle. In fact, you would probably go back home and retrieve them, or you'd stop at the local department store to pick up what you lacked.
The right gear is essential for effective performance.
God Provides Essential Gear for Believers
The Christian life is not an easy one, which is complicated by an enemy whose sole purpose is destroying our souls. He does not want us effective in any area of our lives, especially those that have positive, eternal impact. Satan wants to win; he wants us to lose. He accomplishes these objectives by attacking us in our most vulnerable areas.
The good news is, as believers, God provides essential gear that protects us from enemy attack and enables us to stand firm in our spiritual battles. Paul describes this gear in Ephesians 6:10-20 and calls it "the armor of God."
The defensive pieces of our armor include:
The Belt of Truth
The Breastplate of Righteousness
Our Shoes: A Firm Foundation of the Gospel of Peace
The Shield of Faith
The Helmet of Salvation
The Sword of the Spirit, which is the Word of God, and prayer are our weapons–both offensive and defensive.
Each piece of the armor of God is rooted in the person and character of Christ, and is activated by the the strength and power of God Himself. When used with the Word of God and prayer, we can stand firm in battle, face and fight our enemy, and experience victory.
Each piece of the armor of God is rooted in the person and character of Christ, and is activated by the the strength and power of God Himself.
Standing Firm in Christ
To help understand how we use each piece of the armor and experience victory, I wrote an 8-week Bible study that offers a fresh perspective on the armor of God. We begin by examining our weapons. Then we focus on each piece of armor, how it relates to a Name of God from the Old Testament, and how it is fulfilled in Jesus Christ.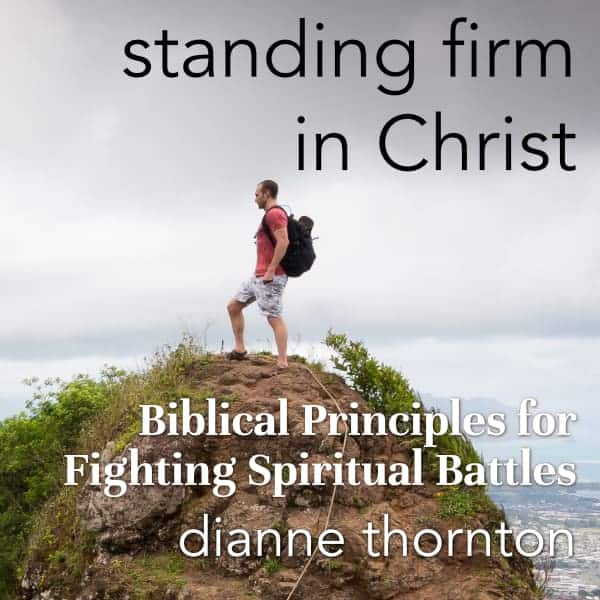 STANDING FIRM IN CHRIST: Biblical Principles for Fighting Spiritual Battles teaches us that wearing the armor of God is not so much about "praying it on," although prayer is an essential weapon in our arsenal, but about how we live! When we STAND FIRM in who Christ is, and who we are in Him, we can stand firm against our enemy and experience victory. You can learn more here!
In color guard, each piece of gear (including makeup and hair doodads) is used to communicate an overall message or story. If the story is melancholy, their costumes and makeup may be dark. The silks on their poles and the tape on their sabres may be dark as well. Leather gloves give them a firm grip on their equipment. Electrical tape is used for both design, connection, and protection. Their equipment and gym bags carry all the things. In addition to regular practice, a guard girl needs all of this to perform well.
As believers, we battle against an enemy we can't see. We need every piece of essential gear God provides. Putting on all of God's armor (or the character of Christ) is a habit we develop over time. As we do so, we can stand firm against our enemy and experience victory.
Put on the full armor of God, so that you can take your stand against the devil's schemes. For our struggle is not against flesh and blood, but against the rulers, against the authorities, against the powers of this dark world and against the spiritual forces of evil in the heavenly realms. Therefore put on the full armor of God, so that when the day of evil comes, you may be able to stand your ground, and after you have done everything, to stand.

Ephesians 6:10-13
---
(If you've never seen a color guard performance, you can enjoy this one:)
(Visited 336 times, 1 visits today)