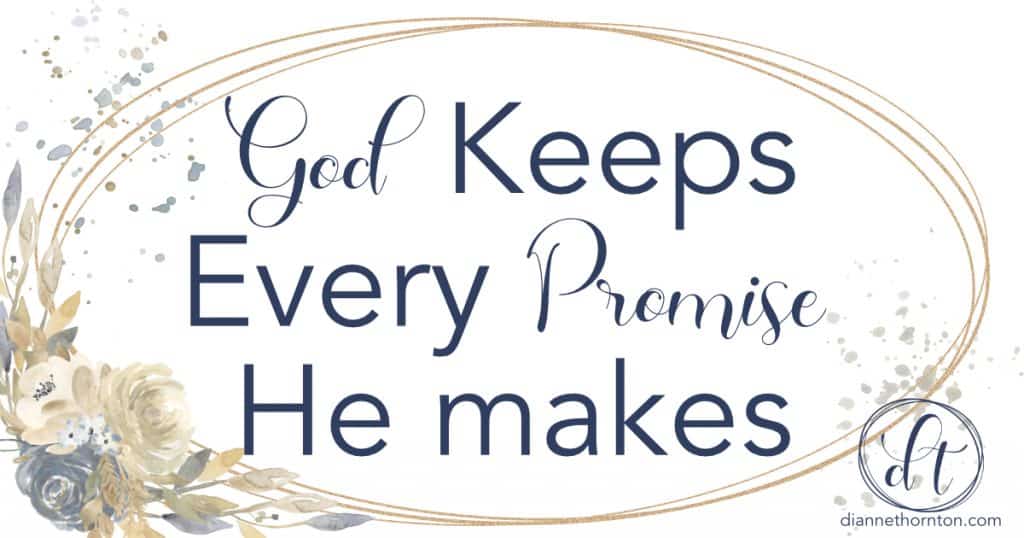 Recently, my husband, Tim, and I began leading a small group with our church. Both of us have led groups by ourselves, but this is our first time leading a group together. We often share what God is doing in our lives, but sharing what God is showing us as we lead others is different and refreshing! Truly, iron sharpening iron. Because there is so much uncertainly in the world, Tim suggested we study how God keeps every promise He makes. It has been a source of encouragement for all of us. In preparing for our first week, Tim came across a song from the group I Am They: "Promises," which is based on the following Scripture.
For no matter how many promises God has made, they are "Yes" in Christ. And so through him the "Amen" is spoken by us to the glory of God. (2 Corinthians 1:20)
I downloaded it to my playlist and on one of my walks, when that song came on, I could NOT just walk. My "walk" turned into a "run" of praise. You need to check it out. It's that great!
Not only is this song on a playlist on my phone, but it is also on the playlist in my mind. I can't get away from this beautiful phrase: "Yes and Amen through eternity." So, I thought it would be good to spend some time looking at this "promise about promises." As I do so, I'm going to follow the study guidelines we are using, which come from Larry Richard's book, Every Covenant and Promise in the Bible.
Context
The first thing we do is consider the context of the promise. Context is the environment in which something lives. In Scripture, it's the other verses, paragraphs, chapters, etc. that surround what we are studying.
This verse is in the first chapter of 2 Corinthians, a letter written by the apostle Paul to the church in Corinth. In this first chapter, Paul explains that, although he had plans to visit them, ultimatley he could not do so. With great care, he made a decision that was in their best interest. He wanted to make sure they understood he didn't make plans as the world does—saying one thing and doing another (2 Corinthians 1:17).
The Corinthians doubted Paul's veracity, but Paul doesn't defend himself. Instead, he points to God. This is the context of 2 Corinthians 1:20.

All of God's promises are fulfilled in Christ. In agreement, we say "Amen!"
Critical Elements
After considering the context of the promise, we identify the critical elements of the promise.
To whom is this promise made?
Many of God's promises, especially those in the Old Testament, were made specifically to Israel. Often they extend to New Testament believers. God's faithfulness to keep His promise is affirmed throughout the Old and New Testaments. Paul is speaking "to the church," so this promise is clearly for us.
Is this promise conditional or unconditional?
This promise testifies to God's faithfulness (as prefaced by 2 Corinthians 1:18). He keeps every promise He makes. It doesn't matter what we do, God always keeps His promises. Thus, it is unconditional.
What does this promise reveal about God?
God is faithful. He is full of integrity. We can count on every word He says. He doesn't say one thing and do another. What He says He will do, He does! He is not "like the world."
Does the Holy Spirit intend for me to claim this promise?
Absolutely. Paul's intention was to remind the Corinthian church of God's faithfulness, regardless of their circumstances. Even though they didn't understand Paul's reasons for not visiting them, they could trust that God's plan. His faithfulness.
How am I to respond to the God who makes this promise to me?
When does a promise matter? Of course, it always matters! But we are most sensitive to promises when we are in need. If you are a parent, a teacher, or anyone who works with children, you know that what we say to them matters, especially our promises. How many times have you heard, "But you said… !!"? Children don't say that just because. They say it when they need something. When they have been counting on something to happen, but it doesn't look like it will. Then they remind us of what we said.
When life throws us a curve that tempts us to doubt God's goodness, this is when we rely on God's promises. As His children, we can say, "God, you promised this." We don't say it to remind Him because we think He forgot. We say this to remind ourselves of God's presence, His peace, His guidance, His strength, His love—and so much more. Often this reminder requires trusting Him, even though we don't understand. Yet we do trust Him and affirm our trust by saying, "AMEN!"
No matter what happens, we have HOPE because God keeps every promise He makes.
What is the Timeless Principle God's Promise Represents?
We add an additional step by making a summary statement–something we can remember easily that applies to all of life. After all, the purpose of studying God's Word is life-change!
No matter what happens, we have hope because God keeps every promise He makes. 
I don't know about you, but I need this! I need to know that my hope and my trust are not misplaced. That God keeps every promise He makes. Every single one. I need to know…
When awful things are happening in the world, God promises that He is in control (Psalm 91:1-16). Satan WILL be defeated (Revelation 12:10) and God WILL punish the wicked (Isaiah 13:11).
When the price of gas continues to skyrocket and it looks like my checking account balance isn't enough to get through the month, God promises to supply ALL my needs according to His riches in Christ Jesus (Philippians 4:19).
When I'm fearful, God promises to be with me always (Hebrews 13:5). Not only is God with me (Matthew 1:22-23), He is in me (Ephesians 3:17) and He gives me His peace (Isaiah 32:17; John 14:27).
When I'm feeling despondent and hopeless, God promises to renew and strengthen me (Isaiah 40:31) and give me rest (Matthew 11:28).
According to researchers, the Bible contains more than 7000 promises from God to us. Studying them gives me assurance that He loves me, He is in control, and He will never leave me.
Be encouraged with the following verses about God's faithfulness. (Do you have a favorite promise from Scripture? I'd love to hear about it!)
"God is not human, that he should lie, not a human being, that he should change his mind. Does he speak and then not act? Does he promise and not fulfill?" (Numbers 23:19)
"Jesus Christ is the same yesterday and today and forever." (Hebrews 13:8)
"Let us hold unswervingly to the hope we profess, for he who promised is faithful." (Hebrews 10:23)
"being confident of this, that he who began a good work in you will carry it on to completion until the day of Christ Jesus." (Philippians 1:6)
Here's the video for the song, "Promises." It's super cute.
---
More posts about hope
(Visited 429 times, 1 visits today)