A couple of weeks ago I was challenged to consider the idiom, friends with benefits, in regard to our relationship with God. I certainly raised my eyebrows! In our culture, this phrase describes a relationship between two people that crosses the boundary of friendship and moves into the area of sexual intimacy. But the relationship does not include the "strings" that go along with an exclusive, intimate relationship.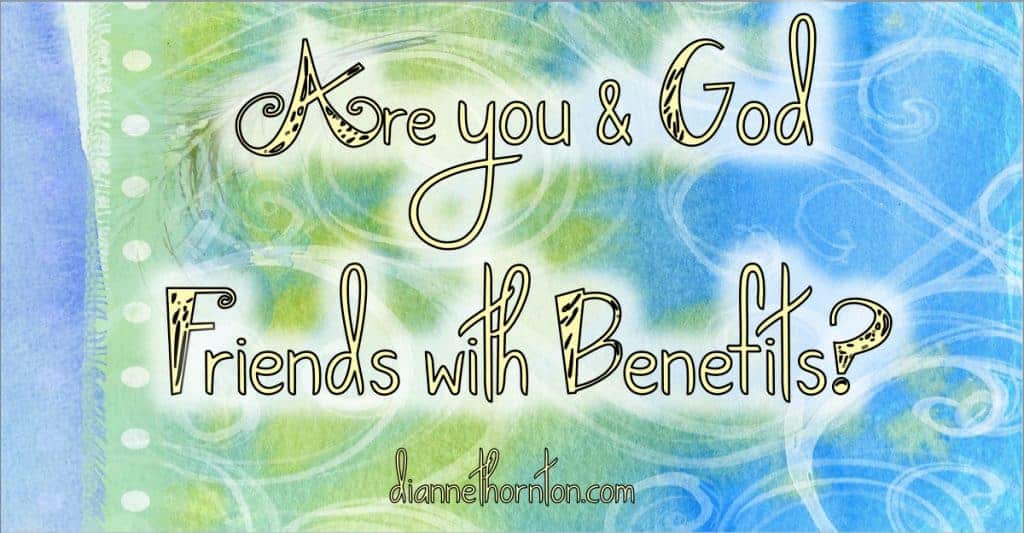 In fact, friends with benefits is the opposite of what true friendship is. True friendship is committed, self-sacrificing, and seeks the best for another. Friends with benefits is self-serving and self-gratifying, without regard for what's best for another. There is no commitment; it's all about "what you can do for me."
While our relationship with God is spiritual and not physical, we can consider what it looks like to have a friends with benefits relationship with Him. It might surprise you!
Friends With Benefits — The Up Side
Several people in the Old Testament shared a close, personal friendship with God. Abraham and Moses are two.
And so it happened just as the Scriptures say: "Abraham believed God, and God counted him as righteous because of his faith." He was even called the friend of God. (James 2:23)

Inside the Tent of Meeting, the Lord would speak to Moses face to face, as one speaks to a friend. (Exodus 33:11)
We also observe God's relationship with the Nation of Israel. He chose Abraham to father the new nation. Under the oppression of Egypt, Israel grew from a large family into a sizable people. They even had a kingly lineage. Because of their disobedience, however, they were eventually taken captive by foreign nations.
God blessed the Nation of Israel when they obeyed Him. Even when they were disobedient, God still provided for them. Psalm 103 lists many of those blessings. The Psalmist begins by reminding us not to forget all the good things God does for us.
Praise the Lord, my soul, and forget not all his benefits. (Psalm 103:2)
Let all that I am praise the Lord; may I never forget the good things he does for me. (Psalm 103:2)
Friends with benefits? May I never forget the good things God does for me!
In the New Testament, God pursues us with faithful love. He wants to save us from the penalty of sin and spend eternity with Him. He wants us to experience a full and meaningful life while we live on earth. And He wants to be our friend!
Don't you see how wonderfully kind, tolerant, and patient God is with you? Does this mean nothing to you? Can't you see that his kindness is intended to turn you from your sin? (Romans 2:4)
My purpose is to give them a rich and satisfying life. (John 10:10)
I no longer call you slaves, because a master doesn't confide in his slaves. Now you are my friends, since I have told you everything the Father told me. (John 15:15)
Friends With Benefits — The Down Side
But we have to be careful!
We don't want to move into the self-serving side of friends with benefits in our relationship with God. It's easy to do.
We can treat Him like a heavenly vending machine. We bring Him our list of needs and wants. Plunk in an apropos Scripture or two, and then expect our own results. When things don't work out the way we want–we may be tempted to pitch a little fit. Worse yet, we spend time with Him only when we want something from Him–rather than simply experiencing the joy of His company. Maybe we do a little extra service here, give a little extra money over there–in hopes that will tip the scales so that God will bless our lives more.
We can cheapen His priceless grace, too. We know He loves us and forgives us. But when tempted, rather than obey–we choose our own way.
Sounds more like the teenagers living in my house than a mature adult. Unfortunately, I have found myself in these places more times than I want to admit.
No longer loving the Giver, but His gifts.
Maintaining the Balance
So how do we stay on the up side of this friends with benefits relationship? It takes some effort and purpose, but David gives us an example in Psalm 103.
He specifically praises the Lord for His attributes and His actions–listing them out one by one.
When we focus on the Lord's attributes, we praise Him for qualities that make Him uniquely Him. Things like …
His perfection and holiness
His sovereignty—or control over all of life
His unfailing love
Examples from Psalm 103
"The Lord is compassionate and merciful, slow to get angry and filled with unfailing love," (vs. 8).
"For his unfailing love toward those who fear him is as great as the height of the heavens above the earth," (vs. 11).
"The Lord is like a father to his children, tender and compassionate to those who fear him," (vs. 13).
"But the love of the Lord remains forever with those who fear him," (vs. 17).
I'm sure you are filling in the blanks with other attributes that are important to you.
When we focus  on the Lord's actions, we praise and thank Him for things like …
His forgiveness
His salvation
His provision and protection
Examples from Psalm 103
"He forgives all my sins and heals all my diseases," (vs. 3).
"He redeems me from death and crowns me with love and tender mercies," (vs. 4).
"He fills my life with good things. My youth is renewed like the eagle's!" (vs. 5).
"He has removed our sins as far from us as the east is from the west," (vs. 12).
What else comes to mind when you think about what God has done for you?
Remembering all the great things God has done for us deepens our love for Him.
Remembering all the great things God has done for us, deepens our love for Him. It's the springboard for the next step–spending quality time with Him in His Word.
You might be asking, What benefit does God receive from my relationship with Him?
Truthfully–it's quite lopsided. God doesn't need anything from me to satisfy His needs or to accomplish His purposes. However, He invites me to be a part of His great plan.
The Bottom Line
God loves to meet our needs! (1 Peter 5:7) He loves to do for us more than we can think or imagine! (Ephesians 3:20)
God wants us to experience a friends with benefits relationship with Him! Even though we are not the perfect friend, He is! He is 100% committed to us. He has our best interest at heart. He gave His life for us.
Are you living on the down side or enjoying the upside of friends with benefits in your relationship with God?
Image: Pixabay (ArtsyBee)
(Visited 1,027 times, 1 visits today)