Not too long ago one of my daughters was telling me about a series of texts she had with a boy who had a serious crush on her. She made it clear that she liked him very much—as friends—but only friends. He didn't quite get the message. When she didn't respond to his persistent wooing, she eventually texted him, "Do you need me to walk you back to the friend-zone?"
This is another teenage idiom I hear quite often. The friend-zone is a dreadful place. When someone you have feelings for puts you in the friend-zone, there you stay—with no way out. One person defines the parameters of the relationship. The other is often left alone.
We can do this in our relationship with God, too. When we put God in the friend-zone, we place limitations on our relationship with Him.
God in the Friend-Zone
We cannot place limitations on God, but we can place limits on what we allow God to do in our lives.
We miss out on the relationship! One of the main reasons Jesus came was so we could experience a meaningful and fully-satisfied life.
The thief's purpose is to steal and kill and destroy. My purpose is to give them a rich and satisfying life. (John 10:10).
God understands us and our circumstances better than anyone else (Psalm 139). He is always available with faithful love and help when we need it.
Your unfailing love, O Lord, is as vast as the heavens; your faithfulness reaches beyond the clouds … How precious is your unfailing love, O God! (Psalm 36:5,7).

We miss the promptings of the Holy Spirit.
We may miss the blessing of meeting someone else's needs!
We can't discern truth from error–which we desperately need in our culture.
We become numb to conviction of sin. I don't like it when the Holy Spirit convicts me of sin. It hurts! It means that to make things right, I first have to humble myself before God and confess my sin. If I hurt someone else, I have to humble myself before them as well. But keeping short accounts with God and others allows us to live in peace!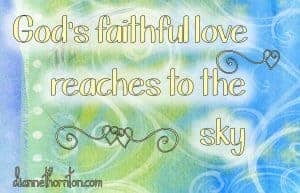 We miss out on our purpose! God designed a plan for each of us–tailor made to fit our interests, talents, and personality. He wants us to accomplish things for Him that only we can.
Still, we hold back. We don't really believe that God is who He says He is.  We don't really believe that He loves us and will truly forgive us. Maybe we are afraid that He'll ask us to do something that seems too big for us. (He probably will … but keep reading!)  Worst of all, maybe we don't want to give up our pet sins, or the habits that hold us hostage.
We place God in a box of our own making. The reality–we are the ones in the box.
God Is Bigger Than The Friend-Zone
The Bible contains many passages extolling God's immensity, His greatness, His transcendence.
Then David praised the Lord in the presence of the whole assembly:
"O Lord, the God of our ancestor Israel, may you be praised forever and ever! Yours, O Lord, is the greatness, the power, the glory, the victory, and the majesty. Everything in the heavens and on earth is yours, O Lord, and this is your kingdom. We adore you as the one who is over all things. Wealth and honor come from you alone, for you rule over everything. Power and might are in your hand, and at your discretion people are made great and given strength," (1 Chronicles 29:10-12).

Great is the Lord! He is most worthy of praise! No one can measure his greatness. (Psalm 145:3).

Now all glory to God, who is able, through his mighty power at work within us, to accomplish infinitely more than we might ask or think. (Ephesians 3:20).
Think about it.
Greatness. Power. Glory. Victory. Majesty. All of it … is His. Everything in the heavens and earth … is HIS! His greatness is un-measurable. He rules over everything!
Aaaannnnd … All of that is at. work. within. us! Accomplishing more than we can possibly imagine! If–we let God work His plan.
For we are God's masterpiece. He has created us anew in Christ Jesus, so we can do the good things he planned for us long ago. (Ephesians 2:10).

The one who calls you is faithful, and he will do it. (1 Thessalonians 5:24).
Putting God in the friend-zone is like is like tying a tourniquet on the flow of His power in our lives.
However, combining God's plan with His great power means–awesomeness! HE is funding your life purpose with His resources. Why in the world would we stifle that?
God is funding His purposes for me with His infinite resources of power and greatness!
When we release the tourniquet, we allow God's power to flow freely through our lives so we can make an eternal impact in the world! God will make sure that whatever He calls us to do, we'll be able to do! It might be a little scary, but He will be with us!
Free of the Friend-Zone
There may not be a way out of the friend-zone between two mis-matched, love-seeking individuals. But God's arms are always open. If you've placed God in the friend-zone and you want to rethink your relationship with Him, it's not too late and it's pretty simple.
Just talk with Him. He's always listening. He's not going to be mad at you and treat you badly because you weren't interested in a relationship before. That's what He wants with you!! He's waiting for you to respond to Him.
As your relationship grows, you will experience a love-relationship like none other, and a rich, satisfying life filled with purpose!
Image: Pixabay (ArtsyBee)
(Visited 659 times, 1 visits today)