Sunday mornings in a house full of teenagers. Two showers, practically five adults getting ready at the same time. Three of them female. Two of them teenagers with long hair. One in peri-menopause who needs to shower first in order to escape the resulting heat left in the bathroom. It's always a flurry of activity. Sometimes things don't go so smoothly. Sometimes … things get downright rough. Then what? We're supposed to go to church and worship!
Change the scenario. Still a family getting ready for church. But this family has small children who need help getting dressed. Maybe one has an unwavering opinion about what to wear. You know where I'm going. We've all been there.
Again. We head to church hoping to look like a family that is put together.
Then, we read verses like this.
Therefore I want the men everywhere to pray, lifting up holy hands WITHOUT anger or disputing. (1 Timothy 2:8) [Emphasis added.]
I know that prayer and worship don't always happen on Sunday. But when reading this verse, Sunday is the first thing that comes to mind. I don't think God is telling us that we have to have a perfect family or perfect relationships in order to worship effectively in church. But I do think He wants us to do whatever we can to establish peace among ourselves.
If it is possible, as far as it depends on you, live at peace with everyone. (Romans 12:18)
 Because God wants our hearts right before Him.
Yet a time is coming and has now come when the true worshipers will worship the Father in the Spiritand in truth, for they are the kind of worshipers the Father seeks. God is spirit, and his worshipers must worship in the Spirit and in truth. (John 4:23-24)
Worship is a time to abandon ourselves and fully focus on God. When we approach God with a pure heart and worship Him, we come away changed, fresh–ready to go back into the fray that is our world.
There are times that only in the process of worship, whether it's on a Sunday or not, am I able to let go of anger and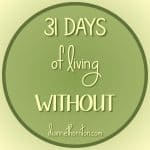 hurts to fully focus on God. Purposefully worshiping the Lord helps me see my situation clearly. It doesn't change the situation, but it allows me to approach it with the mindset God wants me to.
Worshiping without anger is God's plan for us. But sometimes, worship is the avenue to get there.
Worshiping WITHOUT anger is what God wants. Sometimes worship is the way to get there. #write31days
Most Sunday's, my husband starts worship in our home by turning on music while everyone is busy getting dressed.  Speaking of … Here is some for your Sunday! Christy Nockels' "Waiting Here For You."1
---
1Nockels, Christy. Waiting Here For You. Passion. Sixstepsrecords/Sparrow Records, 2011, CD.
(Visited 186 times, 1 visits today)