"Rejoice always; pray without ceasing; in everything give thanks; for this is God's will for you in Christ Jesus," (1 Thessalonians 5:16-18).
I'm just about ready to move off of the "grumbling" topic for write31days and move on to others. But since I mentioned this verse in Day 1, it seems appropriate for now.
Pray without ceasing (NASB).
Pray continually (NIV).
Never stop praying (NLT).
Pray constantly (HCSB).
I think the easiest way to think of "praying without ceasing" is simply to view it as an ongoing dialog with the Lord throughout the day. Sometimes people will ask me if I'm talking to myself. If I'm by myself and something is going on, I'm talking to the Lord about it. Often that "talking" is intercession for family and friends. My "prayer time" isn't just during my quiet time in the early part of the morning. In fact, most of my praying occurs just like this, throughout the day.
I'm reminded of the persistent widow in Luke 18.
One day Jesus told his disciples a story to show that they should always pray and never give up. There was a judge in a certain city," he said, "who neither feared God nor cared about people. A widow of that city came to him repeatedly, saying, 'Give me justice in this dispute with my enemy.' The judge ignored her for a while, but finally he said to himself, 'I don't fear God or care about people, but this woman is driving me crazy. I'm going to see that she gets justice, because she is wearing me out with her constant requests!'"
Then the Lord said, "Learn a lesson from this unjust judge. Even he rendered a just decision in the end. So don't you think God will surely give justice to his chosen people who cry out to him day and night? Will he keep putting them off?  I tell you, he will grant justice to them quickly! But when the Son of Man returns, how many will he find on the earth who have faith?" (Luke 18:1-8). [Emphasis added.]
I love that Jesus told this story with the specific purpose of teaching His disciples that they should always pray and never give up. This is what God wants us to do with our time–with our minds.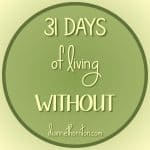 It's another strategy for overcoming grumbling! Instead of grumbling about situations that have me frustrated, I want to pray through them. Grumbling is unproductive. Prayer is a great way to convert unproductive time to productive time.
Make that time count for eternity and pray WITHOUT ceasing!
Pray WITHOUT ceasing! Another strategy for overcoming grumbling!
(Visited 336 times, 1 visits today)