It's been a long time since I've participated in Kate's Five-Minute-Friday link-up group. And it's a JOY to be able to participate this week.
Each week, a group of bloggers are given a one-word prompt. We write for five minutes–no editing. Then we gather up at her site and share our words. 🙂
I checked in the last couple of weeks, hoping that the prompt would line up with my #write31days series. But it didn't. That was totally OK. God other plans. When I looked at my posting calendar for this next week, I had some empty days; and again was hoping this week's prompt would fit. I'm excited that God showed me how the #fmfparty connected with my 31 days theme!
This week's prompt is Joy
My girls are in the color guard for their high school band, and are in the throes of football season and marching competitions. (Guns, and flags, and sabres–oh, my!) They have been working on their show since summer band. Hours and hours in the Texas heat. Buckets of sweat, a lot of tears, even some blood, have been part of each of my girls' rehearsals. After their very first performance I wondered if I would love it as much as the others they did. I've been down this road before. They start out very rough.
But now–oh, baby!–they are good!
I want everyone I know to see them! Especially my family.
Nothing makes me happier than seeing my girls toss their weapons high … and catching them solid–and giving the audience their beautiful smiles. I wanted to share that with them. Last weekend their competition was local, so one of my sisters and one of her sons came to watch them perform. As I expected, my sister and her son loved it! The show is absolutely incredible–especially the ending! It is pure joy to watch! I have even more joy sharing it with other people as they, too, are delighted with the performance.
A day is coming when God will brings us into His presence … and that day will be filled with great joy! One of the reasons it will be so wonderful is that He will present us without a single fault!
(I have to put a little pause in here. I can just hear one of my sisters saying GLORY TO GOD! And I must agree!)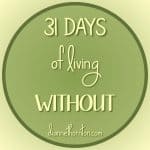 God cannot wait for us to join Him in heaven. There will be no more pain, nor more sorrow, no more tears. Instead, we will experience endless joy!
Now all glory to God, who is able to keep you from falling away and will bring you with great joy into his glorious presence without a single fault. (Jude 24)
We need to know that day is coming. Let's encourage one another until we get there!
With great joy, God will bring you into His presence WITHOUT a single fault! #write31days #fmfparty
(Visited 197 times, 1 visits today)