Caught!
Red-handed. Every reason to be pronounced, Guilty!
There is no condemnation for those who are in Christ Jesus, (Romans 8:1).
John 8:1-11 tells us a follow-up story.
Jesus was in the synagogue teaching. The Pharisees knew He would be there.
She was in a man's bed–a man who was not her husband. Obviously, the Pharisees knew she would be there. The stage was set. Jewish law dictated that anyone found committing adultery would be stoned. The Pharisees wanted to see how Jesus would respond to her guilt. So they paraded her before Him and everyone else in the temple, and then said,
Teacher, this woman was caught in the act of adultery. In the Law Moses commanded us to stone such women. Now what do you say? (John 8:4-5 NIV)
(I have three teenagers, so I'm pretty well versed in the language of sass. That sounds like sass to me.)
But precious, sweet Jesus. He didn't respond like I do when my kiddos sass me. No. He bent down and wrote something on the ground. We aren't privy to what that was, but while He was writing, the Pharisees kept on questioning Him! (Hmmm. I wonder if they were still sassy in their remarks toward Jesus.)
Finally, Jesus stood up and said these beautiful words,
Let any one of you who is without sin be the first to throw a stone at her. (John 8:7 NIV)
You know what happened next? One by one, they all walked away. Starting with the older ones–until none were left.
Jesus then asked her who was left to accuse her? Her reply was a humble, "No one, Sir."
Did you catch that? She called Him, Sir!
The Pharisees were all up in His face. Proud. Demanding justice. "Now what do you say?" Can you hear them?
And this precious, humiliated woman, treats Jesus with gentle respect.
His final words to her?
"Then neither do I condemn you," Jesus declared. "Go now and leave your life of sin." (John 8:11 NIV)
And with that, it was over. There was no yelling. No judgment. No condemnation. No stones.
Just a simple statement that freed her.
Can you imagine how she felt when she was brought before Jesus?
And how she felt when she left? She was free! Free to live WITHOUT the oppression of sin and judgment on her shoulders.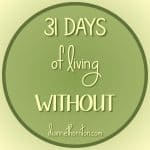 Only one without sin could judge her. And He didn't. Click to Tweet
Only one without sin can judge. And He didn't.
We have that same gift. Jesus is not looking over His shoulder just waiting for us to mess up. He loves us and paid the price for our sins. When we give our lives to Christ, we are free from the penalty of our sins.
This post may seem like the same song, scone verse to last week's post on condemnation. But I figure we can all use a little extra grace and encouragement when it comes to this. I know I do!
(Visited 168 times, 1 visits today)