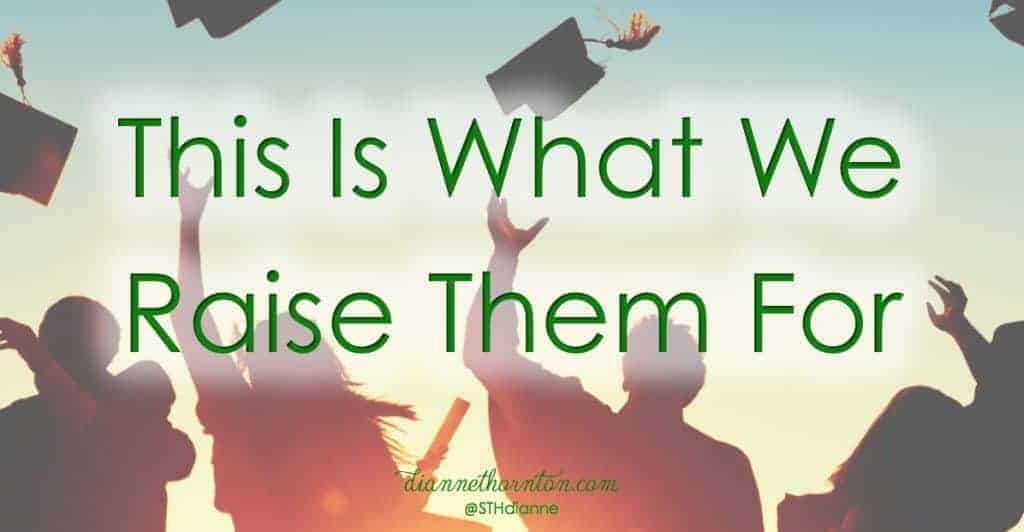 This week was filled with the last of the lasts for my twin high school seniors. They officially "checked out" of our school district. Soon, they will have their high school diplomas in hand.
While I was waiting in the car for my son to finish his paperwork, a friend of mine walked over to see how I was doing. I told her I had been crying, and she said with great enthusiasm, "Don't do that! It's going to be ok!" I responded with it being the last of the lasts.
And then she said, "This is what we raise them for!"
Her comment got me thinking.
Tears look back, remembering both joy and regret over their childhood. It's an appropriate response to the end of a tender season. Knowing we could have done (many) things better. Doubting if what we did is enough for our kids to be successful in their next phase of life. Remembering sweet times, too. Milestones, times filled with laughter.
Enthusiasm looks forward to what God has in store for their futures. Knowing many more treasured times are ahead. Not doubting, but trusting that God is with them, leading and guiding them as He has me.
Yielding everything …
One morning when my children were very small, I was praying in preparation to teach a Bible study. Part of the lesson included yielding everything to God. I knew I couldn't teach until I took care of the issue God had his finger on in my life. I remember sitting on my sofa with my hands open in my lap–releasing my children into God's care. Sort of physically transferring them from my hands to God's. Through tears I told Him that He could do whatever He wanted to do with my kids. (The tears indicated that I truly didn't trust God with them. My head knew better, but my heart had not caught up.)
From time to time, I have snatched them back, and subsequently returned them to Him. But that purposed … God, You may have my children to do with them whatever You want … I have not done in a long time.
Versus hanging on …
If you've done any gardening at all, you are familiar with vines. As an unexperienced gardener, one of my first plants was a passion vine. Oh! The unusual beauty of that flower! The leaves, food for caterpillars that soon become butterflies! I thought, What a wonderful treat for my young children! We'll have butterflies everywhere!
Ahem. I had some learnin' to do.
Yes, we had a lot of caterpillars. Yes! We had some butterflies!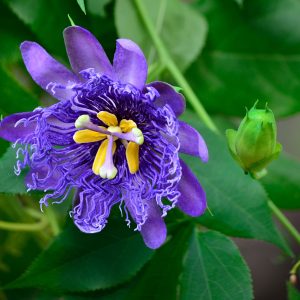 But I did not know how to tame the vine. Eventually It grew out of control, entwining itself around every other plant my husband had planted, choking the life out of them. In my frustration, my neighbor came over, and we ripped out every bit of that vine.
As parents, we can choke the life out of our kids if we aren't careful.
As our children mature, we give them more and more freedom. Freedom to make their own choices, even if it means they fumble. We pick them up and help them learn from those mistakes. Hanging on too tightly keeps them from experiencing this maturing process in a safe environment.
Similarly, our kids need to grow spiritually on their own. They need to recognize God's voice and discern His direction for their lives. Then they get to experience the joy that follows obedience and the sting of discipline when they don't. They'll see God work–producing fruit right in front of their eyes. If I hang on too tightly, I squelch that opportunity. I keep them from experiencing God's best for them.
So here I am …
This milestone is an appropriate time for reflection and celebration. It's also, for me, time to release them to God once again. The truth is … what better place for them to be than in the care of their Heavenly Father? He knows them much better than I do. After all, He created them–for His purposes.
In order for my adult children to grow into those purposes, I have to grow, too. Releasing them into God's care allows Him freedom to work in their lives. Then they will be free to hear His voice and grow in their own relationship with Him. (And God can work more freely in my own life, as well.)
Releasing my kids into God's care allows Him freedom to work in their lives--and in mine.
This is what we raise them for …
The purpose of parenting is to develop independent, responsible adults who love and follow God. High School graduation is the door to that beginning. How I "let them go" is an example to my children of my faith and trust in God's ability to lead and guide them. So while I'm sure there will be some more tears in the next couple of days, I want my kids to see that I fully trust God with their lives.
And it is impossible to please God without faith … (Hebrews 11:6)
My parenting is not finished yet. Between now and when my kids become independent adults, they still have some lessons to learn from Mom and Dad. (And probably a few more after that!) I'm thankful for my friend who reminded me that this milestone is a step toward independent adulthood. Which is what we raise them for!
Am I hanging on to my children in any way that restricts God's work in their lives?
PHOTOS: DepositPhotos
(Visited 342 times, 1 visits today)