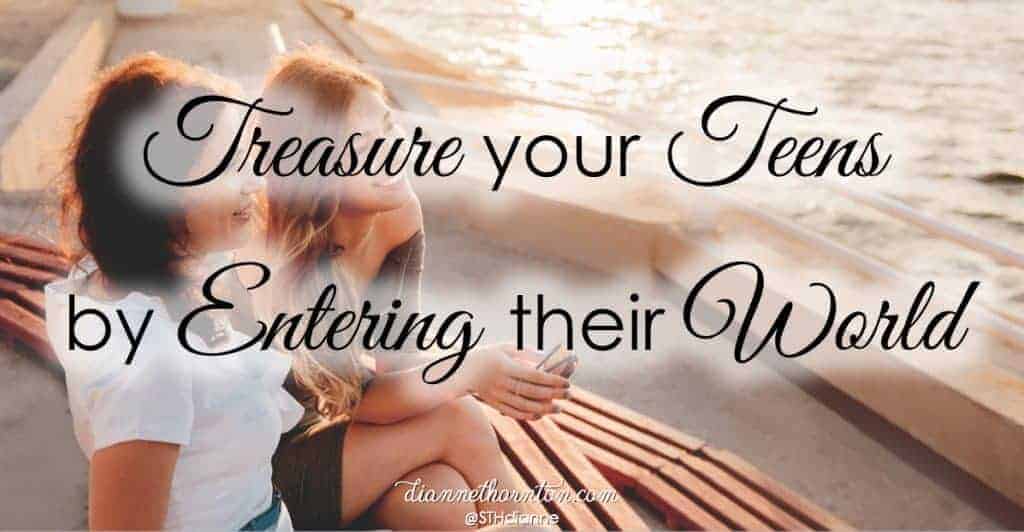 When I was a teenager, my mom was my best friend. God blessed me with three Christian girl-friends from church, and we were all very close. They were a year behind me in school and attended the cross-town rival. I loved my high school experience and enjoyed many friendships—but because of my stand for Christ, I was often alone.
So my sweet mom was my go-to source for comfort. She knew about every crush, every disappointment. On days that were especially difficult, I would crawl onto her bed and visit with her. If it was the afternoon and she was planning a retreat, I enjoyed eavesdropping on all the details. If it was nighttime, we'd talk forever—my sweet daddy patiently waiting for us to finish so he could go to sleep!
Fast forward several decades and I have teenage daughters of my own. Our relationships don't look anything like that! In fact—you'd think they don't need me at all! As my daughters made the transition from girls to tweens, and began their passage into young womanhood, I looked forward to the same tender moments with them that I'd shared with my mom.
Except it didn't happen.
I read stories on Facebook of other moms who were sharing these treasured times with their girls. One of my friends, who has a slew of boys, was getting to experience this with them! And they are big, tough guys. Why not me?
When I realized that I was not going to have a similar type of relationship with my own daughters, I was heartbroken. Please don't misunderstand. I do have treasured moments with my daughters. Many of them are made of everyday stuff. Others, however, don't look anything like I expected them to look.
Entering Their World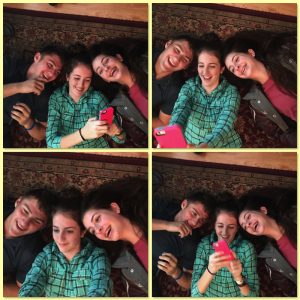 Although I am not the one my girls run to when they have a bad day, I have discovered other ways to treasure and enjoy time with them–by entering their world. One way is through Social Media. After all, this is where they live. Sometimes that means learning a new app. It started with Instagram. I "grew up" on Facebook, so adding Insta was a change. Everything starts with a picture and a hashtag. I kept calling it a "pound sign"–which caused no end of rolling eyes. 🙄 Finally I made the adjustment.
But now, the place they hang out is SnapChat. It took me a long time to get used to it. It doesn't seem natural to look at yourself while you make crazy faces with all those lenses. But I did it! It has become the primary way I text one of my daughters. We have a Snap streak of over 100 days!
Late night chats look different, too. First of all, they aren't late. My girls aren't night owls. (What a blessing!) Usually we are curled up in the living room. Sometimes each of us playing a game on our own device, discussing what's working and what's not. Often trading devices so one of us can help the other. Other times we're up watching "The Voice," talking about which vocalist we like and why. Trying to figure out the voting app so our favorite can make it to the next round.
In many ways it's easier for me to enter my daughters' world than it is for me to enter my son's. But it is just as important for me to connect with him. In the process of writing this, God put His finger on an area that I have been resistant to enter. He made it clear I was to "go there." So I did.
I'm learning to enjoy the things they enjoy (including their music!). You know what else? I like my teenagers! I genuinely like them! They are so much fun and have the most sensitive, tender hearts. I've discovered that taking advantage of opportunities (whatever they may be, whenever they may be) to spend time with my older teenagers, opens the door to more intimate moments later on.
Spending time with your teenagers in their activities, opens doors to more intimate moments later on.
God Entered Our World
God designed us (Psalm 139:13-16). Each of us is a masterpiece creation (Ephesians 2:10).
He loves us and wants to have a relationship with us. But we were far from Him–off doing our own thing. He didn't even have our attention. So He entered our world, took on flesh, and lived among us in the Person of Jesus Christ. When we finally respond to His invitation the relationship begins. (If you would like to know more about beginning a relationship with Jesus, please click here!)
So the Word became human and made his home among us. He was full of unfailing love and faithfulness. And we have seen his glory, the glory of the Father's one and only Son. (John 1:14)
All relationships take two people who are willing to give their time to one another. God wants us to spend time with Him every day. He wants to greet us in the morning. He wants to hear about everything that happened during the day, and He wants to say goodnight. Even more, He wants us to run to Him when life falls apart.
I know the heart-sting that comes when one of my daughters is going through something difficult, and I'm the last one she want to talk to about it. I've been asking myself, does God feel the same heart-sting when I choose a lesser source of comfort?
Indeed, He does. And He can comfort me during these times like no other.
Does God feel a heart-sting when I choose a lesser source of comfort?
Each Relationship Is Unique
For me, treasured time with God takes many shapes. My go-to spot for mornings is a recliner in my living room. But it's also been the elliptical at the gym with worship music blaring through my earbuds. Sometimes it's with my head buried in a pillow. When I need serious one-on-one time with God, I like to get away to a quiet, pretty, alone place where there are few distractions. (In fact, I think I'm due for some time like that about now.)
For moms with young children, your treasured time may be when your kiddos are napping, or maybe when they are at school.
Whatever works for you, pursue it! Take advantage of every opportunity to build and deepen your relationship with God–in the simple mundane, the chaos of work or raising children, times of joyful celebration, and periods of deep grief. During times of intense emotion or hectic schedules, it is easy to put this on the back burner. We cannot do that! (I'm preaching to the choir!) I know for myself, when I let my relationship with God take a backseat, when chaos hits, I am ill-equipped to handle it well.
Respecting Their Space
This is an incredibly busy time in our home. Two kids graduating in a few, short weeks. End of year banquets, prom, announcements, Graduation, parties. And all the preparation that goes into each one. When one of my kids has a personal crisis in the middle of all this, my heart wants to hug them, and squeeze them, and call them George! (You may need to watch some old Looney Tunes to understand that! It is a beloved phrase in our home.)
But their press for independence and unique personalities don't always lend themselves to that.
So I step aside and pray–taking advantage of the opportunity to deepen my relationship with God, and giving my teens the space they need. Later, entering their world in a way that is meaningful to them. Eventually, they open up and share.
Happy Mother's Day!
(Visited 375 times, 1 visits today)