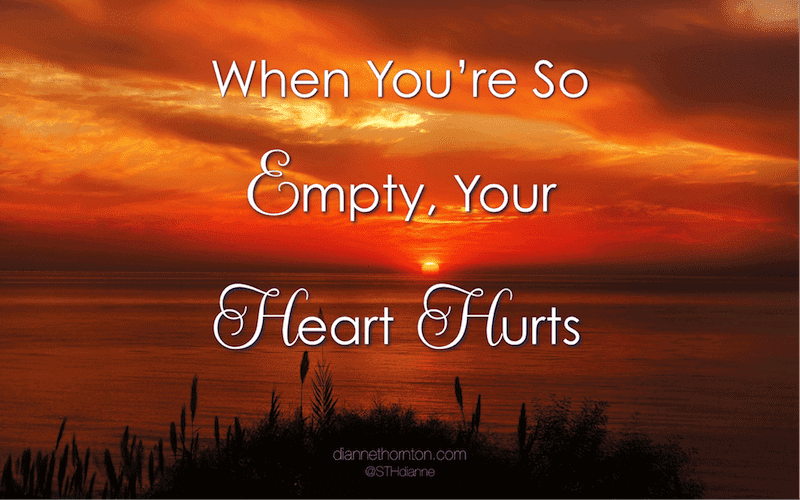 I had one of these days recently. My personal schedule was set aside to handle something for one of my kids. It took much longer than anticipated. By the end of the day, I felt completely drained, and so empty my heart hurt.
My son's wallet was stolen, and he experienced the loss on many levels. Lost cash, lost Drivers License, lost time with his girlfriend. Lost time for me, too. Hanging out at the DMV all day is pretty much the opposite of how we wanted to spend one of our last days of summer. Standing for hours, sitting for hours in chairs that make your tush go to sleep, engaging (or trying not to engage) with people who are looking for a reason to argue. Just ugh! The trip to the DMV turned into two trips to two different offices. In all, we waited over 5 hours…for 3 minutes of service.
With that task complete and most of the day gone, the rest of my household responsibilities awaited. By the time I bought stuff for dinner, prepared it, and cleaned it all up, all I wanted to do was decompress. I headed upstairs to take a hot bath. My husband suggested I listen to some music. But I wanted to watch synchronized diving. He reminded me that I could do that with my iPad. So I set out to make that happen. Technology is awesome–when it works … but it wasn't … and that was it for me.
I tried to relax. Thinking over the day, I tried to capture positive moments. Empty and numb, little was coming to mind. I needed an infusion of Something! Instead, tears streamed down my face. I thought about getting out of the tub, and going to bed. But my body and mind wouldn't let me.
I was glad we got my son's Drivers License. I was glad my family had a good dinner and there were no leftovers! But there was nothing of me left over, either.
Switching Gears
Finally … the Lord spoke to my heart, and I listened. Worship Me, He said. So I did.
As I let the music soak into my heart and my mind, I felt immediate relief. I continued to lie there while my body, soul, and spirit recharged. Finally, I was able to relax and go to bed at peace.
I was looking for peace in my bathtub and watching the Olympics. But that's not where God wanted me to find peace. Jesus told His disciples …
I am leaving you with a gift—peace of mind and heart. And the peace I give is a gift the world cannot give. So don't be troubled or afraid. (John 14:27)
My husband knew what I needed. It took me a while to realized it, though. I'm so glad I finally did.
But as for me, I will sing about your power. Each morning I will sing with joy about your unfailing love. For you have been my refuge, a place of safety when I am in distress. O my Strength, to you I sing praises, for you, O God, are my refuge, the God who shows me unfailing love. (Psalm 59:16-17)

The Lord is my shepherd; I have all that I need. He lets me rest in green meadows; he leads me beside peaceful streams. He renews my strength. He guides me along right paths, bringing honor to his name. (Psalm 23:1-3)
Round Two
Close on the heals of the Driver's License snafu, I had another one of those days. This time I spent chunks of time in two different urgent care facilities. My son's ingrown toenail needed serious attention. As I was preparing to leave from his appointment, I received a call regarding his twin sister. She lacerated her foot with her color guard sabre.
Four stitches later, along with a good deal of laughter (praise the Lord!), she was back at rehearsal. When everything was said and done, however, I felt that familiar sense of emptiness creeping in. It was different this time, though. Early on, I recognized what it was. I thought about the day and was able to identify the good things.
Time with my almost 18-year-old twins (Time with them together is almost non-existent. This was a gift!)
Watching my son be strong for his sister when it was her turn to be on the other end of a needle
Seeing my daughter take everything in stride
Then I put on one a worship playlist for my drive home. I was feeling empty again by bedtime, so I pulled out my Bible and simply began to read. Before long, God showed me a beautiful gem I had never seen before! My heart was full. (If you want to hear about it, you can check it out on my Facebook live video here.)
God Wants To Fill Our Empty Hearts With His Strength
Sometimes our emptiness is a result of our own choices. Other times, however, God interrupts our lives with strength sapping events. He brings us to the empty place where He shows us His strength.
Each time he said, "My grace is all you need. My power works best in weakness." So now I am glad to boast about my weaknesses, so that the power of Christ can work through me. That's why I take pleasure in my weaknesses, and in the insults, hardships, persecutions, and troubles that I suffer for Christ. For when I am weak, then I am strong. (2 Corinthians 12:9-10) 

When we are physically depleted, physically ill, or otherwise physically compromised, our bodies need physical rest. Sometimes God takes us to a place of physical emptiness as well.
Once again, however, if there is more He wants us to do, He will work through our weakness.
God wants to fill us completely with Himself. It is only in Him and through Him that we are able to effectively accomplish the things He wants us to accomplish (Hebrews 13:21).
When you're so empty your heart hurts, slip away to a quiet place. Let God fill you with His Presence as you worship Him. Pull out your Bible and simply read. Let Him speak a fresh word to your heart. It doesn't have to take a long time. He'll fill you with His peace and give you strength for the tasks at hand.
Image: Pixabay (Iatya Prunkova)
---
Enjoy these related posts.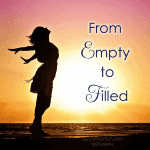 From Empty to Filled With Love
(Visited 1,691 times, 1 visits today)