You've heard it. You may have even said it, "Praying for patience is dangerous, because the only way to learn it, is to be tested!" That's part of growing Godly character, right?
And then what happens? Yep, stuff. Lots of it.
Who willingly asks God to test them? Do we really want to go through all of that?
The truth is, if we want to develop godly character, we must be willing to "go to school" in order to learn it, and Life is our classroom. In fact, I think family is our homeroom. There is nothing quite like family to show you your true self. Yep, I speak as a student.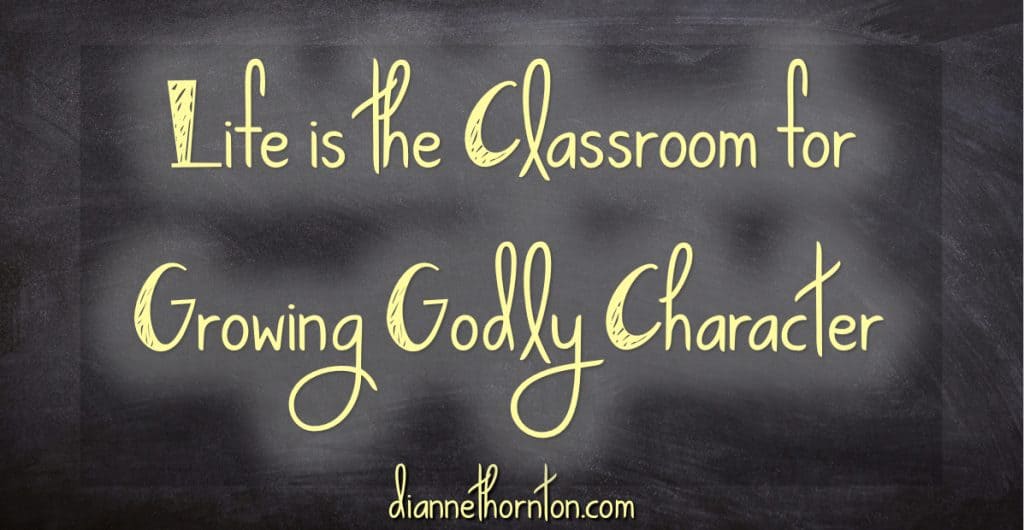 Last week I wrote about relinquishing control of my circumstances by laying down my conductors baton and letting God have His way.
True Confessions
That very night, God tested me on this. I didn't ask Him to, but since I wrote about it, I guess He felt I needed to stay after for tutoring. I was in a situation that had the potential to become frustrating unless certain things were arranged in advance to avoid it. So that's what I did. I picked up my baton and began arranging things just so.
Except "just so" wasn't to be. Other participants and unavoidable circumstances joined forces so that I was completely out of control. All I could do was wait it out. I did not respond well.
Looking back, I see myself waving my baton wildly in the air, like a conductor who is frustrated with his orchestra. I didn't pass my test.
Another morning this week followed a similar pattern. I needed to be someplace at a particular time. But other needs jumped in front of that one–including traffic, long red lights, and a very, slow train. Once again I found myself frustrated and upset. People were counting on me, and I was late!
Frustration is the normal response when plans don't pan out. How I react to the frustration shows what's going on in my heart. Sitting at a red light, waiting for a long, slow train, I pitched a little fit right in my car. Immediately God whispered in my ear, This is not how I want you to react! I'm in control of your schedule. Everything is fine. Relax! You were in a hurry this morning. This can be an opportunity to take a breather.
Please hear me when I say that it's good and right to plan! A wise person thinks ahead and makes plans accordingly. It's our response when those plans go awry that indicates what's in our hearts and where growing Godly character needs to take place. So, what to do?
Growing Godly Character
Part of my daily planning should include offering those plans to the Lord from the very beginning–almost expecting that He may have another plan altogether. Then willingly accepting those changes as they happen, not pitching a fit like a two-year-old. If I start out this way, chances are I will be much more flexible as circumstances change–which they certainly will.
Don't brag about tomorrow, since you don't know what the day will bring. (Proverbs 27:1)

Look here, you who say, "Today or tomorrow we are going to a certain town and will stay there a year. We will do business there and make a profit." How do you know what your life will be like tomorrow? Your life is like the morning fog—it's here a little while, then it's gone. What you ought to say is, "If the Lord wants us to, we will live and do this or that." Otherwise you are boasting about your own pretentious plans, and all such boasting is evil. (James 4:13-16)
On a different day this week, I got into my car and prayed, Lord, please order my steps during the next few hours. You know what needs to happen today. I went on about my business and didn't think about it again. There were several things I was hoping to accomplish, but I didn't; I wasn't bothered by it at all. What a difference it makes starting out on the right foot!
It seems I've been having a lot of pop quizzes this week! Hopefully next week I'll score better!
What about you? How are you fairing in the classroom of growing Godly character?
(Visited 696 times, 1 visits today)