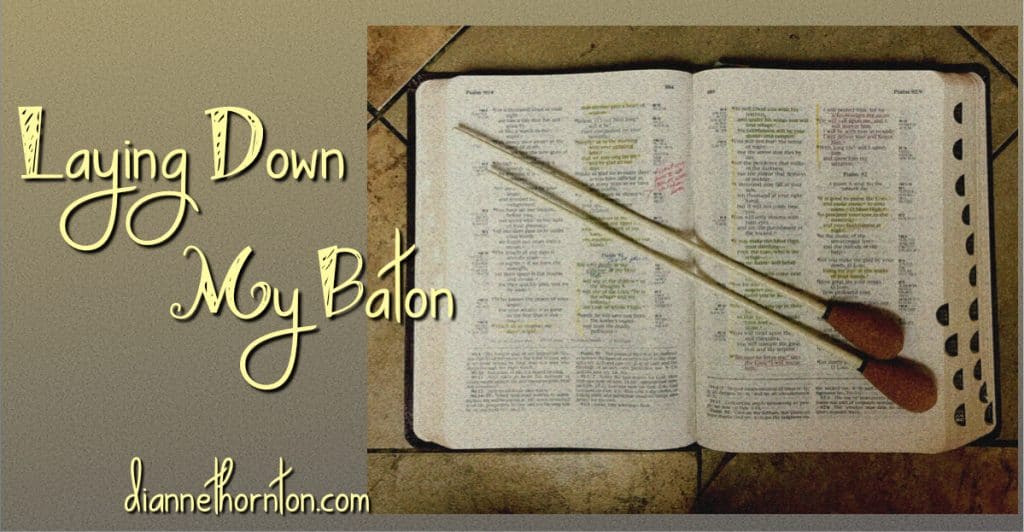 I love music! I always have. If it wasn't piano lessons, it was band. If it wasn't band, it was choir. At one point, I was a music education major. But I realized, although I loved music, I didn't love it enough to make it my career. In my music theory class I learned the nuts and bolts of conducting music. Thirty years later,  I still direct any and all music that I believe is amazing. Yes … in my car, watching the opening sequence to "Blue Bloods," sometimes even during worship at church. (Oops, did I actually just type that?) It's part of who I am. One Christmas, my sweet man even got me my very own conductors baton. It rests patiently in the drawer of my end table–waiting for me to pick it up and put it into motion.
I often chuckle when I watch a movie, and someone is attempting to direct a piece of music that is written in 4/4 time. I think to myself, tsk tsk, when it's clear they are waving their arms aimlessly.
It's funny! Except that the baton is representative of another part of my life that isn't so funny–my desire and felt need to control other people and events in my world.
Since I did not major in music, I never directed a choir, a band, or an orchestra. I don't know anything about the true effort and skill it takes to bring one-hundred-plus musicians (and I don't know how many different instruments) into perfect, beautiful harmony. The music I direct is already perfect–I had nothing to do with it.
But somehow, I think I can direct other people into doing what I want them to do, when I want them to do it–and end up with a beautiful outcome.
You might be thinking, How's that workin' for ya, Dianne? To which I'd answer, It's working just about as well as you think it is! (Especially with a house full of teenagers!)
I can't control my world any more than you can control yours. There is very little, other than ourselves, that we can control. We can't control the weather, the car ahead of us, how quickly a line at the grocery store moves, countries at war–even our young children. We can influence many of these things, but we can't force our will on our circumstances.
Why do I feel the need to control my environment? Or, uhm, the people in my environment?
The obvious answer is, I feel like I know what's best. I probably know what's best for me. But do I really know what's best for someone else? Of course not.
As my children move from teenagers into adulthood, I have to release the reigns more and more, and let them make their own decisions.
A more subtle answer might be that I'm afraid of the outcome if I'm not the one responsible for it. You've heard people say, "If you want something done right, you better do it yourself."
This is beginning to sound like a diatribe … so let's get down to the real issue … I don't trust God with the outcome.
Ouch!
As a control freak I think I know what's best. If I don't control my environment, the outcome is gonna be bad.
Even when I am in control, sometimes the outcomes aren't positive.
We teach, teach, and reteach our children how to live a safe, successful lives. We guide them, we train them. But part of their maturing process is to try some things on their own. Unfortunately, some of those outcomes are devastating. Not just for them, but for others in their lives.
Sometimes, even surprisingly, the outcomes are beyond what we could have dreamed–even when we kept our hands in our pockets and our mouths closed.
Regardless of the outcomes, God uses everything to accomplish His purposes. Since the time Sin entered the world, Satan has had dominion over the Earth. That's why there is so much hatred, evil, and instability. However, God never allows evil to thwart His plan or His purposes.
Then Job replied to the Lord, "I know that you can do all things; no purpose of yours can be thwarted." (Job 42:1-2 NIV)

The Lord of Heaven's Armies has spoken—who can change his plans? When his hand is raised, who can stop him? (Isaiah 14:27)
God doesn't cause bad things to happen, but He does allow them. Joseph's jealous brothers kidnapped him and sold him into slavery to get him out of their lives. But God used it to free and grow a nation! You can read the whole story in Genesis 37-50. At the end of the story, Joseph told his brothers …
You intended to harm me, but God intended it all for good. He brought me to this position so I could save the lives of many people. (Genesis 50:20)
God doesn't build robots. He allows us to make our own choices–and reap their consequences.
He uses all our circumstances, especially the ones we don't like, to help us grow and become like Christ. They help us to mature.
So be truly glad. There is wonderful joy ahead, even though you must endure many trials for a little while. These trials will show that your faith is genuine. It is being tested as fire tests and purifies gold—though your faith is far more precious than mere gold. So when your faith remains strong through many trials, it will bring you much praise and glory and honor on the day when Jesus Christ is revealed to the whole world. (1 Peter 1:6-7)
And in the midst of those trying circumstances, God is with us. He does not leave us alone.
For God has said, "I will never fail you. I will never abandon you. (Hebrews 13:5)
The bottom line?
Certainly I need to do everything I can to influence positive outcomes–in my family, in my activities, in my work. But I must realize that I can't determine or force the actual result, as much as I may want to. Instead, I need to place my baton in the hands of the Master Conductor, take my seat in the orchestra, and await His direction. And then trust Him.
There are many elements in music. Major chords, minor chords. Even some strange sounding combinations of notes that, when played together, don't sound all that appealing. This is called dissonance. You think, do those notes go together? However, when when you hear them in the right context within a song, you see that they have a purpose. They move you to the next phrase. In the same way, God uses the messes in our lives, or the things we can't control, to create something amazing. He uses even the dissonance in life to create a beautiful symphony.
God uses even the dissonance in life to create a beautiful symphony.
For a follow-up to this post, check out Life Is The Classroom For Growing Godly Character!
(Visited 841 times, 1 visits today)