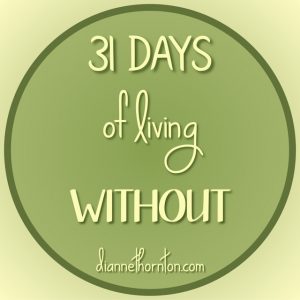 This year I am participating in the October 2015, 31-Day Writing Challenge, hosted by Crystal Stine at her write31days site. Bloggers choose one topic to write about for 31 days. We link up on her site, and there you can read posts on a variety of topics by many more people.
This is new for me. Just the idea of writing every single day for 31 days in a row is daunting. To write on one topic for 31 days almost has me on the floor!
But I believe this is the direction God wants me to take, and the topic is one God has put His finger on in my own life.
I'm going to be digging deep into what it means to live–without. For 31 days, I will examine Scriptures that have the idea of without as their theme.
While doing that, my personal without will be based on Philippians 2:14.
"Do everything without grumbling or arguing, so that you may become blameless and pure, "children of God without fault in a warped and crooked generation." Then you will shine among them like stars in the sky as you hold firmly to the word of life," (Philippians 2:14-16 NIV).
In addition, I'm going to do a little bit of scaling down by giving away or throwing away two or three things each day. Thus doing without some of the clutter that has accumulated in my world.
Honestly, this theme isn't negative. Yes, God has directed us to live without certain things or attitudes so that we more closely reflect His nature.
But because of Christ, there is so much more that we get to live without!
Beginning tomorrow, October 1, I will be posting ever day in the month of October. You can find the home base for each of these posts by clicking here, or on the image at the top of this post. Also, you'll find a button in my sidebar. Clicking on that image will also take you to home base.
Looking forward to sharing my journey with you!
(Visited 103 times, 1 visits today)