I was sitting at the red light—in the wrong lane. I intended to go straight, but I inadvertently pulled into the left turn lane. I turned on my right blinker to indicate Yes, I made a mistake and I'm not in the right lane. As I watched the traffic light for the cross traffic, I stole glances in my rearview mirror, hoping that the lane next to me would not fill up. Fat chance.
When the light turned green for us, I drove forward, ready to move into the right lane at the earliest opportunity. A truck advanced quickly, sealing off any hope of making the change early.
Grrrr, I thought to myself, you're really doing this? You know I need to get over there. (Yes, it was my fault. But hey … we all make mistakes, right?) While waiting for an opening, I proceeded to give my steering wheel a stern talking to about the driver of that truck—like it could hear me, much less fix my situation.
This … this is grumbling.
I thought I knew what it meant to grumble. You know … to complain!  But it's more than that. It's deeper. Dictionary.com says this …
to murmur or mutter in discontent; complain sullenly.
to utter low, indistinct sounds; growl.
Expanding the Definition of Grumble …
a mumbled or private expression of discontent.
to complain in a low tone or in private.
to utter words indistinctly or in a low tone, often as if talking to oneself; murmur.
to complain murmuringly; grumble.
Grumbling is complaining to yourself about something.
Kind of quiet, even private. You know, like that talk I had with my steering wheel. It's a heart issue.
I'm not talking about being disappointed when your kids are disobedient. Or angry if someone hurts your child. This is not being frustrated with unpleasant circumstances. Grumbling is being so discontent with your circumstances that you judge others and their intentions. And it can happen in a moment.
Since the Lord placed this theme in my heart I have caught myself grumbling about almost everything!
In the kitchen while I'm chopping veggies for our dinner.
At the grocery store while I'm searching out the right package of ground beef.
While I'm folding clothes, loading the dishwasher, doing yard work.
Sounds like all the time, doesn't it! I'm supposed to pray without ceasing, but in reality, I grumble without ceasing. On days that I am especially grumpy, grumbling is even easier. They kind of go together.
Truly, this is going to require some heart surgery—God's divine scalpel needs to get at the root problem in my heart and excise it.
A good person produces good things from the treasury of a good heart, and an evil person produces evil things from the treasury of an evil heart. What you say flows from what is in your heart. (Luke 6:45)  [Emphasis added.]
Because …
Do everything without grumbling or arguing,
     so that you may become blameless and pure, children of God without fault in a warped and crooked generation.
     Then you will shine among them like stars in the sky
     as you hold firmly to the word of life. (Philippians 2:14-16 NIV)  [Emphasis added.]
"Holding firmly to the word of life" is more like … "holding forth the word of life." As stars that shine brightly in a dark world, we hold out life and light for those who are stumbling around in the darkness.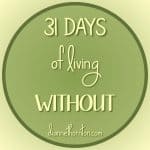 This is the personal without that I will be working through these 31 days. It will probably take longer than that for God to do all the work that is necessary in my heart! But my prayer is that soon, my family will have a new wife and mom–someone whose heart is securely fastened to the Lord and not discontent with the unexpected, disappointments throughout the day.
I won't be posting details about it every day. There are so many other withouts to share. But when I have a great victory, I will share that!
Tomorrow, I'm going to share my plan of attack—what it will take for me to move my heart away from grumbling to the things God wants me thinking about.
Photo Credit: Heart image courtesy of Pixabay.com
(Visited 261 times, 1 visits today)