The assignment was due at 11:59 p.m. She uploaded it a few minutes after 11:00. Then…I heard a gasp and, "Only two pages?"
Yesterday I wrote about Hope–not earthly hope, but biblical hope. I was fixing to be (yes, I am from Texas) tested in this very area–although it took me a while to recognize it.
One of my daughters had a major assignment for the long weekend. She worked on it off and on, and then in earnest last night–saving her document as she went. However, we had a computer glitch, and all of her hard work was lost. I searched and searched the hard drive for her file, but it was not to be found. I contacted her teacher to explain the situation and ask for grace. The teacher extended some grace, but not as much as I had hoped for.
So here I am–with a daughter, devastated by a computer malfunction–and I have to explain how to have biblical hope in this situation. (Lord, did you do this on purpose?)
I took the situation to my ladies Bible study and asked them to pray with me. Oh, how those dear women encouraged me. They reminded me that sometimes, bad stuff just happens. There really isn't a reason for it. Another one reminded me of her "500-year-plan." She always asks, "Will this really matter in 500 years?"
That's a hard questions to ask a teenager when the end of the grading period is just around the corner, and this major assignment is the one that tips the scale in favor of an A or a B.
But–this.is.life. And we have to be able to answer these questions in a way that allows us to go forward.
The answer is FAITH.
What is faith? Dictionary.com says that faith is
(1) confidence or trust in a person or thing
(2) belief that is not based on proof
That's pretty close to what Hebrews 11 says.
Faith is the confidence that what we hope for will actually happen; it gives us assurance about things we cannot see. (Hebrews 11:1)
Then, God says …
And it is impossible to please God without faith. Anyone who wants to come to him must believe that God exists and that he rewards those who sincerely seek him. (Hebrews 11:6) [Emphasis added.]
I was struggling with what to write for today. But on my way home from Bible study, the Lord showed me that this situation allows me to put legs on the post from yesterday.
Faith is Hope in Action.
Faith is confidence that God is in control, and that He has a purpose for every situation. We may or may not discover what that is–but it's there.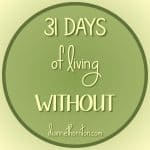 Faith is hope in action. Knowing that God is in control with a purpose for every situation.
For us, once we were settled with that, we could move forward with her assignment, and do our best with the limited extension granted us. This may not seem like a big deal in the overall scheme of life. But learning to trust God in the little stuff prepares us for trusting Him with the big stuff.
(Visited 256 times, 1 visits today)