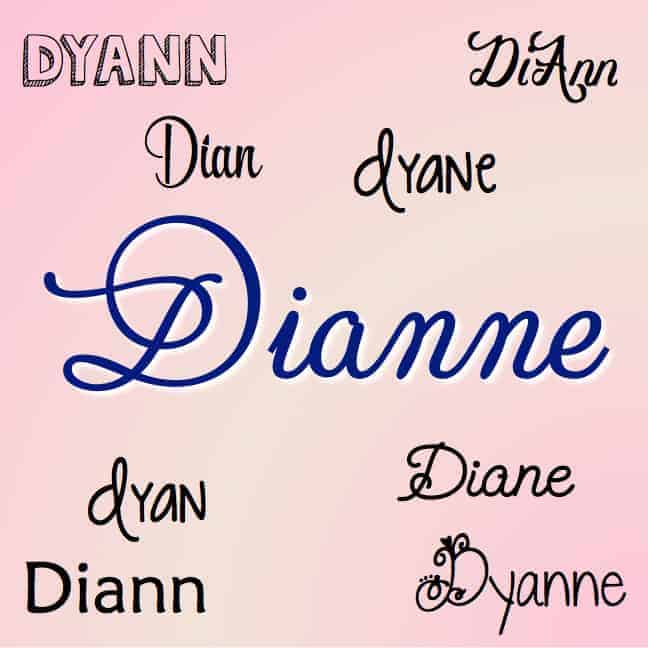 Last week my high-schoolers picked up their yearbooks. Since then, they have been pouring over them–page after page–looking for pictures of themselves and of their friends. For the most part, it's been a joyous time. But there have been a few disappointments. Their picture was missing, a name was misspelled, or a name was left off altogether. These disappointments are front and center in their conversations right now.
Our names are important to us! They are a huge part of who we are. When someone misspells it, it's almost like they aren't even referring to us. My name is Dianne. D-i-a-n-n-e. Yes, that's two n's. Then there is T-h-o-r-n-t-o-n. Yes, two more n's. Diane is my sister-in-law and a college roommate of mine. Dian is a gal I know from my hometown. Dyanne is a gal from the church where I met my husband.
When someone completely ignores our names, it's like they are ignoring us. They haven't really engaged with us.
The good news? There is one who knows every detail about you. He loves you so much, He not only knows your name …
See, I have written your name on the palms of my hands. (Isaiah 49:16)
But now, O Jacob, listen to the Lord who created you. O Israel, the one who formed you says, "Do not be afraid, for I have ransomed you. I have called you by name; you are mine." (Isaiah 43:1).
You saw me before I was born. Every day of my life was recorded in your book. Every moment was laid out before a single day had passed. How precious are your thoughts about me, O God. They cannot be numbered! I can't even count them; they outnumber the grains of sand! (Psalm 139:16-18)
The picture to the right says "You + Jesus = Love 4 Ever." Does it remind you of the little notes you wrote when you were in school? Grab anything nearby. Now write Your Name + Jesus = Love 4 Ever. Does it feel any different? It should. It's your name! I love it when my husband says, "I love you." But my insides turn to mush when Tim says, "I love you, Dianne."
(Your name) + Jesus = Love 4 Ever!
Wanna know a secret? I can tell you the first part if you don't already know about it, but the second part? It's a secret between you and the Lord only! In the first three chapters of the Book of Revelation, John writes letters to seven of the original churches. At the end of his letter to the church in Pergamum he writes this:
Anyone with ears to hear must listen to the Spirit and understand what he is saying to the churches. To everyone who is victorious I will give some of the manna that has been hidden away in heaven. And I will give to each one a white stone, and on the stone will be engraved a new name that no one understands except the one who receives it. (Revelation 2:17) 
A new name that only you and the Lord understand. Can you believe it?? If you are married, you may understand this a little bit. Husbands and wives often have pet names that they share only with one another, and only they understand their meaning.
Our relationship with the Lord is so tender, so intimate, and so unique, that He has a name for us, that is intended only for us, that only we understand.
Know that you are deeply loved by God! He knows your name! He calls. you. by. your name!
(Visited 293 times, 1 visits today)