For many years I traveled Houston freeways to and from work–eighty miles round trip. I was good at it, too–fearlessly and seamlessly moving in and out of traffic with the best of them. I still drive in Houston, but not usually during rush hour. But when traffic gets snarly, I put on my "Houston driver hat," and got down to business.
Over the last several years, however, I have developed an unhealthy fear of freeway driving. (Given the state of today's drivers, maybe it isn't so unhealthy!)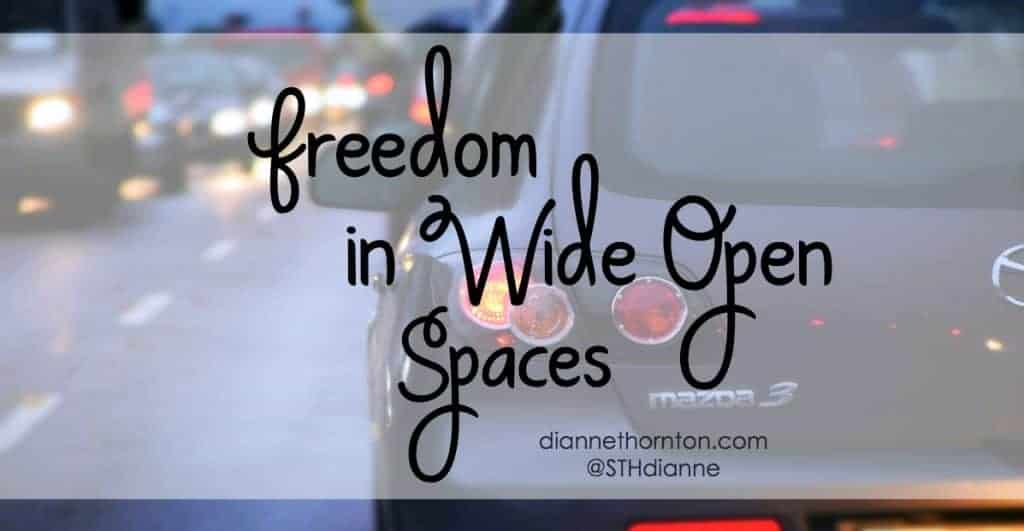 I hate being boxed in. There is a particular stretch of freeway I try to avoid. If I have to drive on it, I stay out of the left lane. With a retaining wall and no shoulder on one side, and fast-moving big rigs on the other, the fear of becoming a Dianne-sandwich is real!
The Sam Houston Ship Channel Bridge
There is also a bridge in my area that I travel. Although I despise it, it is often the best way to get from Point A to Point B. The Sam Houston Ship Channel Bridge.
Four narrow, shoulder-less lanes, peaking at 175 feet, carry harried and hurried travelers across the Houston ship channel. Once I pass the no turn-around point, I brace myself for approximately two minutes of sheer terror. Hands gripping the steering wheel, I talk to myself–and the Lord–loudly–as I carefully make my way across the bridge. As it peaks, so does my adrenaline. My speed, however, usually slows (lol). But I exhale when I finally make it to the bottom, with wider lanes and broad shoulders.
When one of my daughters was learning to drive, I was sitting in the back seat–nose in my device. I happened to look up to see the bridge's retaining wall out my window. She had missed her exit and was now traveling on my dreaded bridge. I hate to admit that I had a small panic attack–which did nothing to instill the confidence my husband was trying to instill in her. I quickly buried my head back in my device until we were safely across.
A few weeks ago, I traveled this bridge at night with a friend who is equally afraid of it as I am. And wouldn't you know it. About half-way up the bridge we could see an OBSTACLE at the edge of our lane, butted up to the retaining wall that separated us from–you know–NOTHING! We were both terrified. As we approached it, thankfully, the traffic in the next lane was slightly behind us, so I was able to scoot over a bit to avoid a RECLINER! Argh!!!
I have no idea how this fear developed. But it is there–and it is strong. My heart started racing just searching the inter webs for appropriate images!
Do You Ever Feel Boxed-In?
This feeling of being boxed in and trapped can come from many places.
An over-full schedule you feel you can't control
The conviction of unconfessed sin
Fear of the future
Overwhelming personal crises
(Insert your own here)
In the midst of these, we may feel paralyzed with no way of escape. While there may not be an escape from our circumstances, there is escape from the oppressive feelings that sometimes accompanies them.
First, we can rest in God's perfect love and continual presence. Our circumstances may be overwhelming, but we are not alone. God walks through them with us, strengthening us, and calming our fears.
For the LORD your God is living among you. He is a mighty savior. He will take delight in you with gladness. With his love, he will calm all your fears. He will rejoice over you with joyful songs. (Zephaniah 3:17)

Such love has no fear, because perfect love expels all fear. If we are afraid, it is for fear of punishment, and this shows that we have not fully experienced his perfect love. (1 John 4:18)

Don't be afraid, for I am with you. Don't be discouraged, for I am your God. I will strengthen you and help you. I will hold you up with my victorious right hand. (Isaiah 41:10)
We can have confidence in God's love and forgiveness. Sometimes our circumstances are of our own doing, and we feel undone. We need not fear. God is waiting for us, and He forgives all of it.
But if we confess our sins to him, he is faithful and just to forgive us our sins and to cleanse us from all wickedness. (1 John 1:9)

God showed how much he loved us by sending his one and only Son into the world so that we might have eternal life through him. This is real love—not that we loved God, but that he loved us and sent his Son as a sacrifice to take away our sins. (1 John 4:9-10)
God's love is the key to living in wide open spaces.
Wide Open Spaces Bring Much Needed Relief
The relief I experience once I clear the bridge, reminds me of this beautiful truth.
Let your love, God, shape my life with salvation, exactly as you promised … I'll stride freely through wide open spaces as I look for your truth and your wisdom. (Psalm 119:41-48 MSG)
There is nothing quite like the freedom of space–with the ability to move around, spin–and even dance, without fear of tripping or falling. Circumstances can and do wear us down physically and emotionally. Eventually, though, our hearts can soar.
There is another bridge that also spans the Houston ship channel–and I love it! The clearance below is 178 feet. Three feet higher than that of the Sam Houston Ship Channel Bridge.
The difference? It's wide and open! Four lanes and two full-size shoulders in each direction. The Fred Hartman Bridge is a pleasure to drive over!
He brought me out into a broad place; He rescued me because He was pleased with me and delighted in me. (Psalm 18:19 AMP)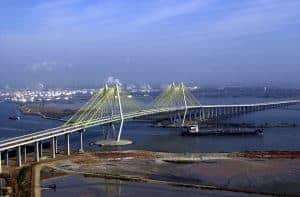 Images: Traffic – Pixabay (U. Leone)
Aerial view of Fred Hartman Bridge, public domain USCG photo by PA2 James Dillard.
Aerial view of Sam Houston Ship Channel Bridge, by Steve Nelson as $2sunset with a Creative Commons License.
Joining my friend Lori, at Searching For Moments, today!
(Visited 1,085 times, 1 visits today)