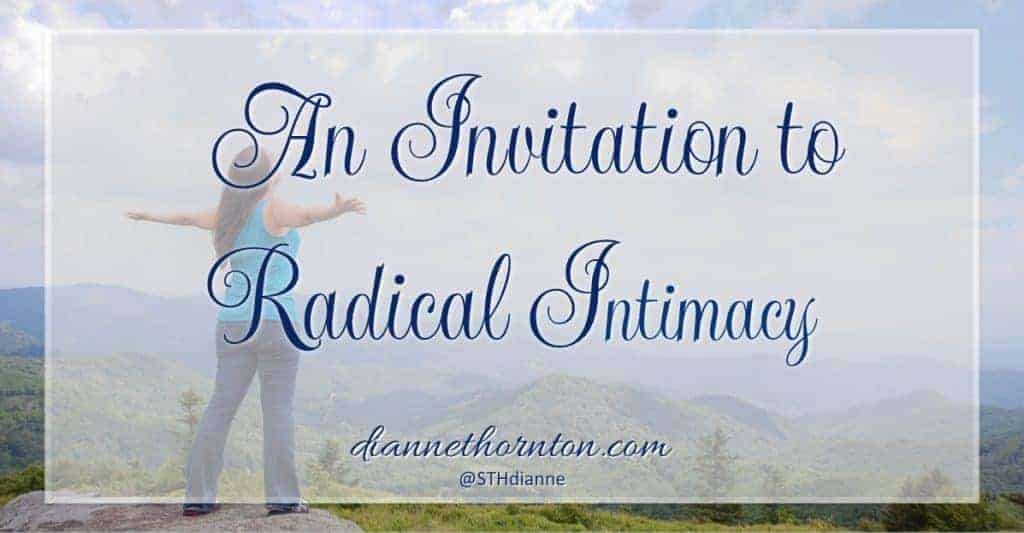 Intimacy. To be completely known, accepted, and loved. It's one of our most basic needs. No matter what else is going on in our lives, we need to know that someone knows us. All about us. Even the worst aspects of our nature. Yet still loves us. Generally speaking, friends like that are hard to come by. In the Christian world, however, faithful, loyal friends should be plentiful.
And there is One who sticks closer than a brother (Proverbs 18:24). The Lord loves us with a deep love. He knows us better than we know ourselves, and loves us in spite of ourselves. We may know in our heads that God loves us this way. But knowing it in our hearts is a different matter. Relationships of the heart require time and attention in order to grow deep. But when they do, they become our dearest treasures.
That's what God wants us to experience with Him. The Bible is filled with God's call for us to come away with Him. To sit quietly with Him. To know Him well.
Be still, and know that I am God! I will be honored by every nation. I will be honored throughout the world. (Psalm46:10)

And this is the way to have eternal life—to know you, the only true God, and Jesus Christ, the one you sent to earth. (John 17:3)
It was also Paul's prayer for the churches.
I have not stopped … asking God, the glorious Father of our Lord Jesus Christ, to give you spiritual wisdom and insight so that you might grow in your knowledge of God. (Ephesians 1:16-17)
When we know God well, we love Him more and more. When we love Him well, we obey Him. Because we know that His plans for us are good. He wants us to have a life of fulfillment. Which is the reason Jesus came in the first place (John 10:10 NIV).
The result of knowing God well, is loving Him well.
Intimacy starts with time. Time alone with God in His Word, the Bible. When you develop consistent, quality time with Him, your relationship will deepen. You can have what Catherine Martin calls "radical intimacy" with God. Her book on quiet times is what I want to share with you this week.
---
I discovered Catherine Martin several years ago—and what a find she and her studies were! She has developed a beautiful study method that I enjoy. She calls it the P.R.A.Y.E.R. method, and all of her books and Bible studies use it.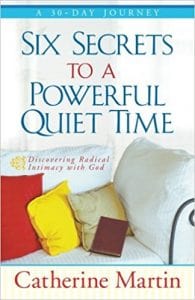 P – Prepare Your Heart
R – Read and Study God's Word
A – Adore God in Prayer
Y – Yield Yourself to God
E – Enjoy His Presence
R – Rest in His Love
Six Secrets to a Powerful Quiet Time is a 30-Day journey (6 days a week, for 5 weeks). Five days are devotional in nature. The sixth day she pulls the week's topics together with a Bible study using her P.R.A.Y.E.R. method. Catherine (and me!) wants you to experience "radical intimacy" with God that is developed through deep, personal time with Him. This book will set you on the path for just that!
(Visited 388 times, 1 visits today)