The Feast of Tabernacles is one of three pilgrimage festivals the Jewish people celebrated.  They traveled to Jerusalem to remember God's provision for them in the wilderness.
A major feature of the Feast of Tabernacles was the lighting of giant lamps … [that] reminded the Jewish people of how God was with them in their wanderings … a pillar of cloud [during the day] which turned to fire at night (Numbers 9:15–23). 1
In the midst of joyous celebrating, Jesus declared to the people,
I am the light of the world. If you follow me, you won't be stumbling through the darkness, because you will have the light that leads to life. (John 8:12)
I remember when my children were much younger—and naturally, afraid of the dark.  They were terrified that something bad would happen to them when they were alone in the darkness.  Sometimes I feel that way, too; especially when my husband is away on a business trip, and I am the one in charge of our household.  You know what I'm talking about.  The sounds of darkness and silence fill the night.  Every creak in the house is intensified.  There have even been times when I inadvertently left a door unlocked, and a storm came in. The wind blew the door wide open, setting off our burglar alarm.  Talk about fear!
We all know what it's like to face the fear of night.  It is somewhat appropriate. How many of us had parents who reminded us, "Nothing good happens after midnight."  In reality, bad stuff happens all the time.  When we are guilty, typically, we try to hide it.
In the Bible, darkness often symbolizes sin, which makes Jesus' declaration of being LIGHT so amazing!  In Isaiah 9:2, God promised His people, "The people who walk in darkness will see a great light. For those who live in a land of deep darkness, a light will shine."  This LIGHT is JESUS!
In the beginning God created the heavens and the earth … Then God said, "Let there be light," and there was light. (Genesis 1:1, 3)

The Word [God] gave life to everything that was created, and his life brought light to everyone. The light shines in the darkness, and the darkness can never extinguish it … So the Word became human [Jesus] and made his home among us. He was full of unfailing love and faithfulness. And we have seen his glory, the glory of the Father's one and only Son. (John 1:4-5, 14)
In the Old Testament, the Lord was present with His people, giving them light.
You light a lamp for me. The Lord, my God, lights up my darkness. (Psalm 18:28)

The Lord is my light and my salvation—so why should I be afraid? The Lord is my fortress, protecting me from danger, so why should I tremble? (Psalm 27:1)
Darkness fills our world—nations fighting with each other across the globe; innocent people (including children) losing their lives for no good reason; the senseless deaths of ones we love; the selfishness of those we thought cared about us—but actually don't; anger, depression, jealousy.  All of this is a result of sin in our world.
I certainly don't have a simple "fix it" answer.  There is none.  But I know that God is in control of all of it—and eventually, His justice will prevail.
In the meantime, there is JESUS.  He brings His Light to the darkness around me so that I don't have to be afraid or fear stumbling.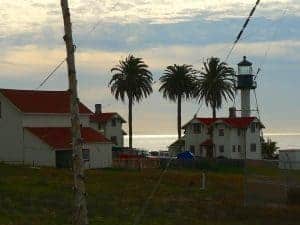 There are two lighthouses at Point Loma in San Diego, California.   "Old Point Loma" was built on a hill in 1858 and was in service for thirty-six years.  Concern that fog would obstruct the light at Old Point Loma was confirmed and "New Point Loma" was built on Pelican Point in 1889.
---
1Walvoord, John F., Roy B. Zuck, and Dallas Theological Seminary. The Bible Knowledge Commentary: An Exposition of the Scriptures. Wheaton, IL: Victor Books, 1985.
(Visited 240 times, 1 visits today)