It's been a couple of weeks since I posted. I have a growing list of post ideas, but none of them resonated with me. So I asked one of my daughters for an idea. She said, "Yesterday was National Best Friend Day." And then she asked, "Who is your best friend?" Hmmmm … I've written a lot about friendship with God lately. But I think this idea is a good one! So I let it percolate for a little bit, and then the words came.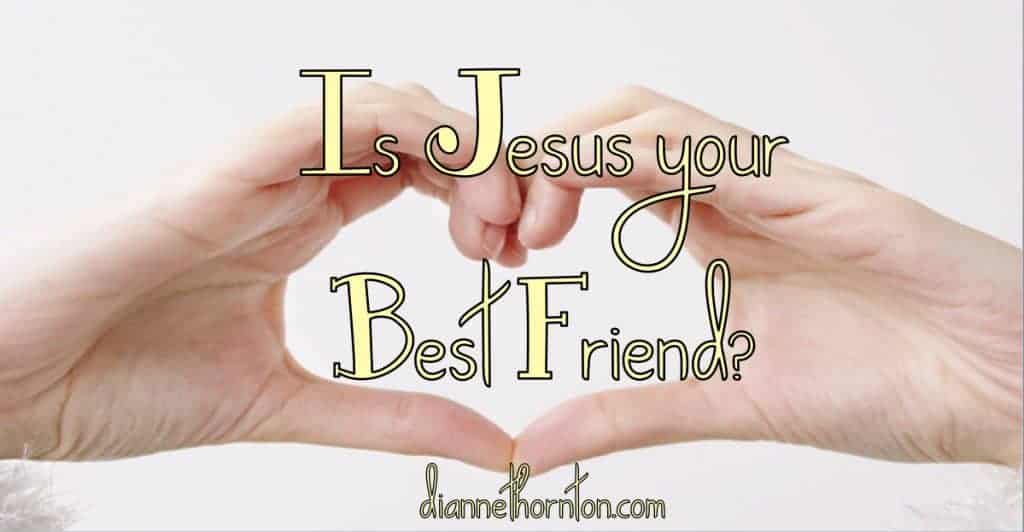 I am blessed to have enjoyed many deep friendships throughout my life. At different times I've enjoyed "a best friend." If I were to name them, each would represent a significant time or event in my life, and for each one I am grateful!
But I don't do friendship the way I used to.
Many years ago in the midst of one of these treasured relationships, some life happened—for both of us. The relationship changed. And it cut deep. It wasn't the first time I experienced this shift, but it was the most significant.
Our family experienced a move at the same time. Not only did I lose this friendship, but much of my support base was gone as well. No longer could I pick up the phone (we did that back then) to call someone and share my heart. The situation was such that I couldn't. It wasn't appropriate.
I don't harbor any anger or bitterness now. It did hurt—a lot! But what I learned in the year that followed, changed me—forever.
The Lord showed me that although this lost relationship was sweet—it had come between me and Him—and between me and my husband. I wouldn't say that relationship was an idol, but it kept me from experiencing the best in my most personal relationships. I was mixed up about who my best friend really was.
If you could read my journal entries from that year—you would see that my relationship with the Lord grew deeper. My relationship with my husband, which had always been good, became rock-solid. I knew intimacy with the Lord and oneness in my marriage like I never had before.
Answering my daughter's question … Who is my best friend?
Today, I can honestly say that the Lord is. Why?
He is always with me. I know His presence. It gives me great peace when I'm in a difficult situation.
I can never escape from your Spirit! I can never get away from your presence! If I go up to heaven, you are there; if I go down to the grave, you are there. If I ride the wings of the morning, if I dwell by the farthest oceans, even there your hand will guide me, and your strength will support me. (Psalm 139:7-8). 
He understands me better than anyone. After all, He created me. He designed me just the way He wanted to.
You made all the delicate, inner parts of my body and knit me together in my mother's womb. Thank you for making me so wonderfully complex! Your workmanship is marvelous—how well I know it. (Psalm 139:13-14).

O Lord … you know everything about me … You know my thoughts even when I'm far away … You know what I am going to say even before I say it, Lord. (Psalm 139:1-4). 
He has the power to fix any and all circumstances that affect me–if He thinks they need fixing. (Often I'm the one that needs fixing!)
Then Job replied to the Lord: "I know that you can do anything, and no one can stop you." (Job 42:1-2).
When I need "someone with skin on," that person is Tim. He is the first person I want to share my wins and my losses with. I don't think I would be in this place had it not been for my experience years ago. Oh, yes … it hurt. But what I gained far outweighs what I lost.
I still enjoy quality friendships. But I do so differently now.
I have many precious women friends. Some are very close. I love them. I pray for and with them. I am transparent with them. Each of them is unique and has a special piece of my heart.
But I save my deepest, heart-tying emotions for the Lord and for my family.
I don't think that's a bad thing. I think it's very good. For a few years, I longed for deep, intimate friendships with women like I used to have. But God kept reminding me that He is enough.
I recognize that not everyone will be on the same page with me on this. And thats OK. For me, the great thing about this is, because my heart is securely anchored to God, I can love others freely. My love for them doesn't depend on what I think they think about me, because I am completely loved by God. And when things go awry, as they certainly will, love and forgiveness can flow freely–which deepens the relationship.
When our hearts are securely anchored to God, we can love others freely!
I believe this is the way God intended relationships to be. When we are full with His love, we can share it freely with others–and experience rich and meaningful relationships.
We love each other because he loved us first. (1 John 4:19).
As iron sharpens iron, so a friend sharpens a friend. (Proverbs 27:17).
So I must ask … Who is your best friend?
Is there anything (or anyone) between you and God's best for you?
If you are married, I truly hope that your earthly best friend is your spouse. I understand that sometimes … even when you do everything you can to make it so … it just isn't. My heart grieves for you, and I would love to pray for you. (You can email me here.)
Check back next week for a follow-up post with some examples of friendship in action!
Image: Pixabay(TanteTati)
(Visited 687 times, 1 visits today)