I used to think that multi-tasking was the only way to get things done. Not only that, I was foolish enough to think that I was the world's best at it–efficiently accomplishing more than anyone else I knew. Recently, however, I've noticed that I can become hyper-focused on whatever task is at hand. If I'm in my groove working on something at my desk, a blog post, or even something as simple as a text, I can be oblivious to other things going on around  me.
I'm not the only one in my family with focus issues. We've had several family meetings to discuss how we can better give appropriate attention to one another. All of us need to work on this. There is nothing that says, you aren't important, more than doing something else while someone is trying to talk to you. It's worse when what has your attention is a glowing screen. In the same way, nothing says you are more important than everything else, than when you drop everything else and look someone in the eye while they are talking to you.
Eye-to-Eye Attention
Giving and receiving undivided attention comes down to two things. First, a common courtesy that begins with an excuse me. In turn, the other person quickly gets to a stopping point, turns around, and looks them in the eye while they are talking. Even though it may be important, physically setting aside what you are working on, helps to remove mental distraction as well. Allowing you to be free to focus on someone else. Honestly, there is no task that is more important than giving someone you love the attention they need.
How can we listen attentively when our eyes are somewhere else?
This is very basic stuff. Giving each other our full attention shows love and respect. It's one more way we can put the needs of others ahead of our own.
Although we can't see God eye-to-eye, He has His eyes and ears in our direction.
The eyes of the Lord are on the righteous, and his ears are attentive to their cry. (Psalm 34:15 NIV)

I will instruct you and teach you in the way you should go. I will counsel you with my loving eye on you. (Psalm 32:8 NIV)
Setting the Example Sets the Stage for God to Work
We give our children undivided attention simply because we love them. The example we set will be replicated by them in their relationships with others–including their relationship with God. We want our children to pay attention to us, to pay attention in class. Most importantly, as the writer of Proverbs says, we want them to pay attention to God's voice!
My child, pay attention to what I say. Listen carefully to my words. Don't lose sight of them. Let them penetrate deep into your heart, for they bring life to those who find them, and healing to their whole body. (Proverbs 4:20-22)

My son, pay attention to my wisdom; listen carefully to my wise counsel. (Proverbs 5:1)
Ultimately, may our hearts, and the hearts of those we love, echo that of the psalmist when he prayed,
Teach me your way, Lord, that I may rely on your faithfulness; give me an undivided heart, that I may fear your name. (Psalm 86:11 NIV)
And …
Therefore, since we are surrounded by such a huge crowd of witnesses to the life of faith, let us strip off every weight that slows us down, especially the sin that so easily trips us up. And let us run with endurance the race God has set before us. We do this by keeping our eyes on Jesus, the champion who initiates and perfects our faith. (Hebrews 12:1-2)
==> Added: A friend left a comment on my Facebook post. Her daughter has Asperger's and it is difficult for her to make eye contact. I asked my friend what she does to make sure her daughter knows she has her full attention. She said she sits beside or in front of her and looks at her face when she talks to her. But her daughter does not look at her in the eyes. Her eyes track across her face, rarely holding her gaze.
Clearly, this is a difficult situation. If you have a special needs person in your life, what do you do to ensure that they know they have your full attention–or that they have priority over other things in your life
This is the third in a 4-part series on Deepening Relationships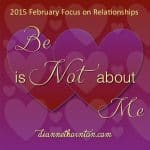 (Visited 231 times, 1 visits today)