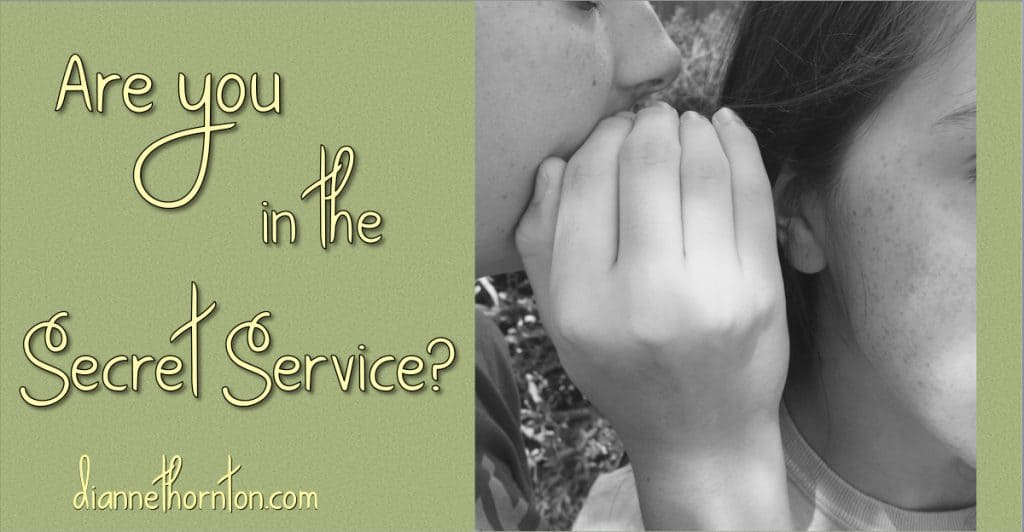 The Bible Study I'm leading this year is on spiritual disciplines – using Jan Johnson's  Spiritual Disciplines Companion:  Bible Studies and Practices to Transform Your Soul. Today we are finishing the section on "Service & Secrecy," which focuses on serving without others knowing about it.  Sometimes we can serve without a human soul knowing.  Other times, the one we serve does know.  But we don't tell anyone else.
While reviewing my notes, I was reminded how difficult it is to keep a secret in our current culture, especially for those of us (ahem) addicted to Facebook. We feel compelled to spill our every activity and thought into our newsfeed. So when the Lord prompts us to serve someone secretly, we fight the temptation to let the world know.  And when we resist that temptation – often, the grateful recipient tells the world.
Recently I thought about secretly serving a friend of mine in a special way. I had done something similar in the past, and "received Facebook accolades" for it. I didn't want that this time.  But it wasn't appropriate to "do my thing" without letting my friend know where it came from. So I passed on the opportunity. Was that right?  Was it wrong? I don't know. I do know, however, that I'm looking at my opportunities to serve differently right now–and reconsidering the appropriateness of posting even the sweet things done for me.
Whether between you and the Lord alone (or one other person), being privy to a secret is the essence of intimacy–something cherished. We lose that treasure when we tell the world.
Do you have any secrets worth keeping?
So when you [serve], do not announce it with trumpets, as the hypocrites do in the synagogues and on the streets, to be honored by men. I tell you the truth, they have received their reward in full. 3 But when you [serve], do not let your left hand know what your right hand is doing, 4 so that your [serving] may be in secret. Then your Father, who sees what is done in secret, will reward you … [and] when you pray, go into your room, close the door and pray to your Father, who is unseen. Then your Father, who sees what is done in secret, will reward you. (Matthew 6:2-4, 6 NIV)
(Visited 155 times, 1 visits today)