I love sunrises, especially over water.  It means getting up early—really early; but it's worth it. The eastern sky is barely blue, but the fact that light is coming is clearly evident. Eventually, and very slowly, the colors of the clouds begin to change.  Hints of pink and purple slip out from behind them.  Purple turns to red, then to orange. Soon the edges take on that golden, fire-like quality.  All of the clouds in the sky, even those to the west, reflect the glory of the sun to some degree.  But the clouds that are closest to the sun reflect its glory even more.  They are absolutely brilliant!
Just like the clouds in the sky reflect the glory of the sun, God wants us to reflect His glory.  The closer we are to Him, the brighter we shine.  God's ultimate purpose for our lives is for us to become like Christ (Romans 8:29).  Not because he wants a bunch of "cookie-cutter Christians" walking around.   Neither does He have an insatiable need to control and manipulate.  Instead, He wants us to draw people to Him because of the way we live.
---
In the following verses, underline the words and phrases that demonstrate God's character and His desires.  Why is this meaningful to you?
For I am convinced that neither death nor life, neither angels nor demons, neither the present nor the future, nor any powers, neither height nor depth, nor anything else in all creation, will be able to separate us from the love of God that is in Christ Jesus our Lord. (Romans 8:38-39)

Dear friends, let us love one another, for love comes from God. Everyone who loves has been born of God and knows God. Whoever does not love does not know God, because God is love. (1 John 4:7-8)

The Lord is not slow in keeping his promise, as some understand slowness. Instead he is patient with you, not wanting anyone to perish, but everyone to come to repentance. (2 Peter 3:9)

[God] wants all people to be saved and to come to a knowledge of the truth. (1 Timothy 2:4)
---
What do the following verses tell us about why God wants us to become like Christ?
A new command I give you: Love one another. As I have loved you, so you must love one another. By this everyone will know that you are my disciples, if you love one another. (John 13:34-35)

For the Lord is the Spirit, and wherever the Spirit of the Lord is, there is freedom. And all of us have had that veil removed so that we can be mirrors that brightly reflect the glory of the Lord. And as the Spirit of the Lord works within us, we become more and more like him and reflect his glory even more. (2 Corinthians 3:17-18)
God's desire is for everyone to be saved.  How will they know if we don't tell them?  How does being a Christian look attractive if we don't show it by the way we live?
This "becoming" is not an overnight process.  God uses life circumstances—some extremely painful—and His Word to mold us into the people He wants us to be.  When our hearts are pliable, what does the process of suffering produce in us?
Consider it pure joy, my brothers and sisters, whenever you face trials of many kinds, because you know that the testing of your faith produces perseverance. Let perseverance finish its work so that you may be mature and complete, not lacking anything. (James 1:2-4)

In all this you greatly rejoice, though now for a little while you may have had to suffer grief in all kinds of trials. These have come so that the proven genuineness of your faith—of greater worth than gold, which perishes even though refined by fire—may result in praise, glory and honor when Jesus Christ is revealed. (1 Peter 1:6-7) 
---
Read the following verses and underline the words and phrases that show the purpose of God's Word in our lives.
All Scripture is inspired by God and is useful to teach us what is true and to make us realize what is wrong in our lives. It corrects us when we are wrong and teaches us to do what is right. God uses it to prepare and equip his people to do every good work.  (2 Timothy 3:16-17)  

Christ loved the church and gave himself up for her to make her holy, cleansing her by the washing with water through the word. (Ephesians 5:25-26)
For further reflection:
Ps. 119:105; Rom. 12:2; Heb. 4:12
---
The time that you are spending right now in God's Word washes you clean from the grime of the world.  Sometimes we don't feel that we are doing a very good job of reflecting Christ to the world.  Maybe we don't feel that we ever will; but we can be encouraged.
Being confident of this, that he who began a good work in you will carry it on to completion until the day of Christ Jesus. (Philippians 1:6)

For it is God who works in you to will and to act to fulfill his good purpose." (Philippians 2:13)
God will not leave His work undone.  He is the One who gives us the desire and ability to be become fully devoted followers of Christ.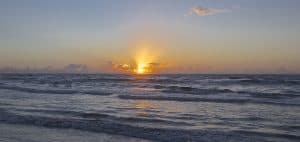 All of mankind reflects God's glory.  Because we are made in His image, we exhibit the glory of God's creation simply by our existence.  All that man engineers and designs is a display of the creative energy God gave to him.  When we choose to be clay in the Potter's hands, He will build His character into our lives.  Then we have the great privilege of radiantly reflecting that in a unique way to a hungry, watching world.
---
"

Those who look to [the Lord] are radiant; their faces are never covered with shame." Psalm 34:5 "
Have you ever watched a sunrise?  If you have, what thoughts went through your mind as you watched the transformation of the sky?  If you haven't seen one, plan on seeing one soon!
A friend reminded me of something late risers will appreciate.  Howard Hendricks once said, "If God had intended for us to see the sunrise, He would have scheduled it later in the day."  
(Visited 180 times, 1 visits today)