Two weeks ago, my dad and I headed off on a road trip together to attend the funeral of his older brother. Although the reason for the trip was a sad one, the time I shared with my dad was a treasure. When I was young, our family took lots of trips together, arriving at our destinations late into the night. For this trip, we originally scheduled two days of driving, so that we wouldn't do that and then be too tired when we arrived. By dinnertime, however, we decided that in this case, it was best to push ahead so we would be more rested the next day, rather than tired from driving. I knew I needed strength that only God supplies.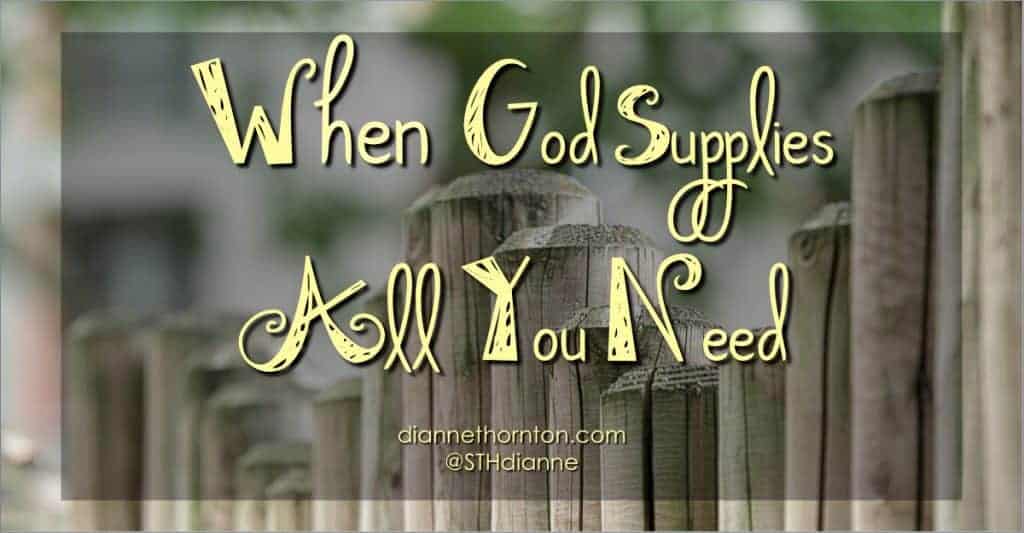 It was one of those things that was like … we've been on the road for 10 hours already with at least another 5 to go … but amazingly … no, miraculously … I wasn't tired.
So that's what we did. Errr … that's what GOD did. We finally arrived after midnight, got tucked into our rooms, rested well and were then ready for time with family.
On my own, I never would have been able to travel for 16 hours. (We did stop and take breaks.) But GOD knew that we needed to arrive in one day–and so GOD met my need for energy, alertness, and safe driving (even with out of date GPS maps!).
I experienced the truth of this Scripture:
And my God will meet all your needs according to the riches of his glory in Christ Jesus. (Philippians 4:19)
I spent some extra time looking at the details of this familiar verse, and God opened up some truth for me. Maybe some of it will be new for you, too.
The Greek word for "will meet" is pleroo. It means to fill completely, to the full measure–or the brim.
The Greek word for "according to" is kata. It means after the same manner, or in the same way.
The Greek word for "riches" is ploutos. This is an abundance of possessions, owned by God for man. These are His gifts of blessings.
I looked at these words for a while and asked myself, What kinds of needs do I have?
Sometimes I have physical or material needs, like energy and alertness to drive the last 5-6 hours in the middle of the night after already having driven 10 hours. Sometimes we need the basics of survival–food, clothing, and shelter.
We have mental and emotional needs. During a time of grief or anxiety, we desperately need the Presence of God and His sustaining strength. We need the Prince of Peace to come and rule over our minds and emotions.
We have spiritual needs. We need discernment and wisdom to see and understand what's going on beneath the visible surface.
There are a couple of parallel ideas in Philippians 4:19.
First, Paul is telling this church that his God … is their God. The same God that takes care of him, will take care of them. And He takes care of us, too.
Second, Paul tells them that from the abundance of God's riches, God fills up their need-buckets with an abundance of resources. He does the same for us!
God fills our need-buckets with abundant resources from His own abundance!
When we have physical needs, God supplies:
He gives power to the weak and strength to the powerless. Even youths will become weak and tired, and young men will fall in exhaustion. But those who trust in the Lord will find new strength. They will soar high on wings like eagles. They will run and not grow weary. They will walk and not faint. (Isaiah 40:29-31)

That is why I tell you not to worry about everyday life—whether you have enough food and drink, or enough clothes to wear. Isn't life more than food, and your body more than clothing? Look at the birds. They don't plant or harvest or store food in barns, for your heavenly Father feeds them. And aren't you far more valuable to him than they are? Can all your worries add a single moment to your life? (Matthew 6:25-33)
When we have emotional needs, God supplies:
"Don't be afraid, for I am with you. Don't be discouraged, for I am your God. I will strengthen you and help you. I will hold you up with my victorious right hand." (Isaiah 41:10)

Jesus said … ""I am leaving you with a gift—peace of mind and heart. And the peace I give is a gift the world cannot give. So don't be troubled or afraid." (John 14:27)
When we need spiritual strength, God supplies:
If you need wisdom, ask our generous God, and he will give it to you. He will not rebuke you for asking. (James 1:5)

I pray that from his glorious, unlimited resources he will empower you with inner strength through his Spirit. (Ephesians 3:16)
Like Shadrach, Meshach, and Abednego, sometimes we walk through fire and persecution. We hope and pray that God will deliver us from it.
And sometimes He does. But sometimes He doesn't. Shad, Mesh, and Abe said this to the King Neb:
Shadrach, Meshach, and Abednego replied, "O Nebuchadnezzar, we do not need to defend ourselves before you. If we are thrown into the blazing furnace, the God whom we serve is able to save us. He will rescue us from your power, Your Majesty. But even if he doesn't, we want to make it clear to you, Your Majesty, that we will never serve your gods or worship the gold statue you have set up." (Daniel 3:16-18)
When God does not deliver us from our physical trials, it's because He is fulfilling His purposes through a greater need–to bring glory to Himself so that others may know Him personally. Even then, God supplies all we need as we yield ourselves fully to Him.
Image: Pixabay (Michael Schwarzenberger)
(Visited 410 times, 1 visits today)