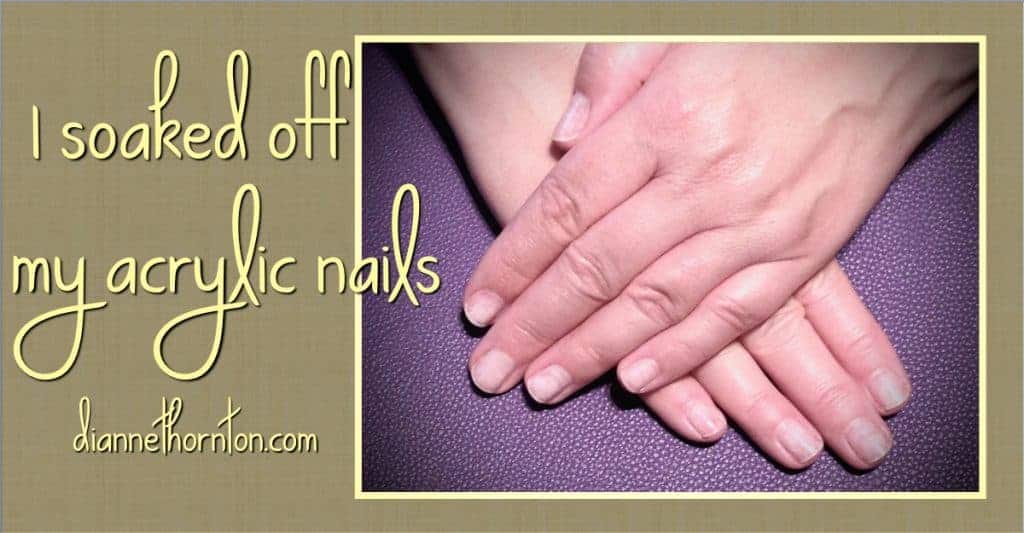 I soaked off my acrylic nails today. I've been wanting to do this for a while. They don't look so great right now. In fact, it will be at least four months before most of them are completely grown out and strong again.
I love having lovely nails. But I do not love the time it takes have them maintained. Plus, the refill process has been more painful lately. :/
I have felt increasingly uncomfortable my last several visits to the nail salon. Sitting at the manicure table having my acrylics refilled, I observed the women in the pedicure chairs. Two or three sat there, feet soaking in warm, sudsy water, lovely Asian women trimming away cuticles and massaging their aching legs. A couple of them had another woman applying acrylic or gel polish to their fingernails.
The last time I was there, I was the woman at the pedicure station with two women attending to my every nail need. And it felt strange.
I think it's totally OK to enjoy a manicure and a pedicure. But my mind keeps wandering … to people on the other side of the globe.
People—even children—who are dying without food or water.
Yet my feet soak in "disposable" water once a month.
Persecuted Christians who are dying for their faith.
Yet I enjoy the freedom of fellowship and worship as often as I want it.
As Peter and Paul instructed, these persecuted Christians are standing firm, not wavering.
Resist him, standing firm in the faith, because you know that the family of believers throughout the world is undergoing the same kind of sufferings. (1 Peter 5:9 NIV)
Be on your guard; stand firm in the faith; be courageous; be strong." (1 Corinthians 16:13 NIV)
Therefore put on the full armor of God, so that when the day of evil comes, you may be able to stand your ground, and after you have done everything, to stand. (Ephesians 6:13-14)
Here I go again …
Comparing my comforts and convenience in this Western culture, with desperate and hurting souls in the Middle East. Honestly though, I'm surprised. Because …
I don't want to know how they are hurting.
I don't want to feel the grief they endure over losing their loved ones.
I don't want to see the images of martyred believers.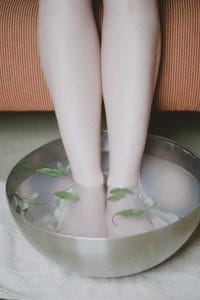 I go out of my way to avoid all that. I would rather …
Have lunch with my girlfriends.
Watch my daughters spin their flags, rifles, and sabers.
Listen to my son play his guitar.
Enjoy a quiet evening with my husband.
Soak my feet in warm, sudsy water.
But the Lord is changing my heart. My mind wanders once again to those who are standing firm for their faith and paying the ultimate price.
They knelt.
They laid down their lives. They experienced physical death, but then they were with Jesus!
They found Life when they laid theirs down.
Can you imagine? Were they afraid? I don't know. Probably.
But did they know? Absolutely!
Knees on the sand, they knew that within moments, they would be with the one they were giving their lives to. And in that moment—I know—their spirits soared. Can you imagine what it must have been like to be in their place? 
Their precious families? Oh, how their hearts must ache. I can't begin to understand the depth of their loss and grief.
Lifting Them Up … 
If you've been reading my blog, you know I'm praying for persecuted believers and their families every time I sign my name. Although I want those held captive to be released, and I do pray for that, the probability that they will be, is remote. So I pray according to Scripture …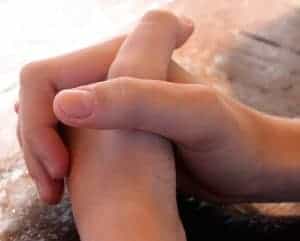 I pray that as they speak, God's purposes would be accomplished (Isaiah 55:10-11).
I pray that those suffering would continue to be bold and share the Gospel with their captors. And as a result, other believers would also be bold! That lives would be changed for eternity! And to know that whatever happens–it's worth it!
When Paul was imprisoned, he wrote to the churches:
…everything that has happened to me here has helped to spread the Good News. For everyone here, including the whole palace guard, knows that I am in chains because of Christ. And because of my imprisonment, most of the believers here have gained confidence and boldly speak God's message without fear. (Philippians 1:12-14)
And pray for us, too, that God may open a door for our message, so that we may proclaim the mystery of Christ, for which I am in chains. Pray that I may proclaim it clearly, as I should. (Colossians 4:3-4 NIV)
That their families would experience deep comfort.
There are no earthly words that adequately comfort families suffering from the seemingly senseless death of their loved ones. Only God can reach truly their hearts. And that's my prayer.
That He would reach them in the way only He can.
That they would know their loved one's sacrifice was not in vain.
That the lives of their loved ones counted for eternity.
That their bravery gives others courage to be bold, also.
Why? So that the lost will be found! So the lost won't spend eternity separated from the God who loves them!
What about us?
Surrender–Finding Real Life When We Lay Ours Down
Falling to our knees at the feet of Jesus–in total surrender.
Real Life begins when we give our lives to Jesus. We lay down the emptiness of doing life on our own, and exchange it for a life overflowing with love and meaning because we do life with Christ. Do you know Him? If not, you can find out how here.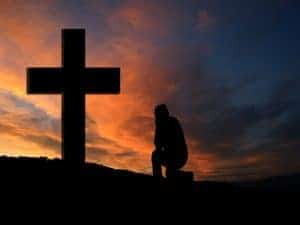 We continue to experience real Life when we surrender on a daily basis. It's easy to get caught up in a lifestyle that seems meaningful, when in reality, it's just busy.
Sometimes we are so focused on a goal, that we miss the life that happens along the way.
But God is GOOD and MERCIFUL! Even when we miss real Life, He "sweeps us up in His love again." And we can "dance on the wings of forever." This is the picture of a restored love relationship!
What in the world does this have to do with my nails?
Exactly! Not. A. Thing.
Being pampered in a nail salon is the total opposite of how most people live on the other side of the world from me. This is one more reminder of how easily I take comforts, conveniences, even luxuries–for granted, while other people are dying for things of eternal value. It also serves as a challenge for me to make sure that, as much as possible, everything I do counts for eternity.
What in my life counts for eternity?
Make it Count!
The Asian women at the salon I go to? They … are … precious! Their little Buddha sits in the window at the front. But the women are just like me. They have husbands at home, kids in school. Some are afraid of the diagnosis they may get at the doctor that week. I love them.
You know what? My time at the nail salon can count for eternity, if I let it.
I can make a friend, taking a genuine interest in her life.
I can encourage her. I can pray for her. I can share Jesus with her. (Yep, it's scary!)
I will continue to go to my nail salon. It is something I enjoy, especially when I take my girls for a special occasion. But it's important to me to be mindful of its place–and to take advantage of opportunities to make it count for eternity. I did not soak off my acrylics because I felt it was wrong to have them. I was tired of them. God used the environment of the salon to wake up my heart to the real needs of hurting people.
=> What in your life, apart from your ministry, counts for eternity? What every-day events can God use to wake up your heart to the needs of others around you and across the globe? Do you have ordinary activities that can be changed into extraordinary. Who can you share Christ with today?
Images:
Footbath – Pixabay (graceie)
Praying hands – Pixabay (Adriano Gadini)
Kneeling before cross – Pixabay (Gerd Altmann)
(Visited 2,377 times, 1 visits today)