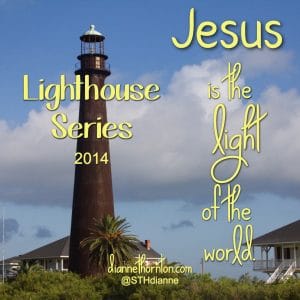 My husband and I love lighthouses.  When we are on vacation, if a lighthouse is within a few miles of our route, we make a point to go see it.  Recently, we were driving through Port Lavaca and saw the old Half-Moon Reef Lighthouse on the side of the road.  Of course we pulled over. That day I decided to write my first blog Series–Lighthouses and the significance of "Light" in the Bible.  Here are the posts!  Enjoy!
Half-Moon Reef Lighthouse — On Vacay for a Bit
Lydia Ann Lighthouse in Port Aransas — Light Up the Night!
Biloxi Lighthouse — Light for Life!
Pensacola Lighthouse — Light Dispels Darkness!
Old Point Loma and New Point Loma — JESUS is the LIGHT of the World!
Bolivar Point and Galveston Jetty — What is Your Candlepower?
(Visited 460 times, 1 visits today)