Newsflash! No two people are alike! (I know. This is not new information.) It's easy to think that is the case when we look at some romantic couples. They appear to be perfectly compatible. Even the individuals who make up what seems to be "the perfect couple," have different interests.
One of the many things that makes a marriage work is learning to adjust to and appreciate each other's differences.
When I was young and beginning to date, my dad gave me some timeless wisdom– take an interest in the things your guy likes. It will give you things to talk about and more time to enjoy one another. 
I didn't date a whole lot, and had a fairly short engagement. But I did take my dad's advice during the short time I dated Tim and the early years of our marriage. That has opened doors to all kinds of fun and quality time together.
My man is a gear guy. If it has gears, an engine, and goes—he loves it! He worked for a NASA contractor for 25 years, and some of our first conversations were about an issue he was working with on the Space Shuttle—moving from a 17-inch to a 14-inch disconnect. He talked about it with great passion. No, I didn't understand much about it, but I showed an interest and asked questions. It paid off. He asked me out! Eventually I got to marry the greatest guy ever!
Since then, I have discovered my own favorite engines. I love the Apache helicopter, otherwise known as the AH-64. It looks fierce when facing it head on, with its two machine guns and two missile launchers poised for attack. One of the coolest things about it is the helmet the pilot wears. When in attack mode, the guns fire in whatever direction the pilot looks.
And who doesn't love an F-14 Tomcat? (If you're not sure what I'm talking about, think "Top Gun.")
My love for these has given me great appreciation for the F-18 Super Hornet.  We have attended countless air shows, and our first stops are these flying machines. If you've never seen them in action, you are missing out on a real treat. Look for an air show in your area! If you're lucky, you might get to see the Thunderbirds or the Blue Angels!!
Tim has a 1969 Stingray. Oh, the fun we've had in that. He first showed it to me when we were dating. I asked him what its name was–he just stared at me. 🙂  There's almost nothing better than a sunny afternoon drive in the Vette with the T—except for maybe a nap! I have driven it a couple of times, as you can see. But it kind of scares me. I'm much more comfortable in the passenger seat.
It goes both ways. Tim loves the things I love, too. When we first married, he was not a "coffee guy." But he learned to enjoy it with me. You see, it's not just the coffee, it's who you share it with. Not only does he enjoy good quality coffee, he's a pretty decent barista! He makes a great 4-shot, decaf, non-fat latte.
Tim eagerly helps me fix dinner, and often handles dinner on his own. I enjoy cooking, but it's better together. We love riding bikes together.
Although we occasionally enjoy a sporting event, it's not a favorite pass time for either of us. But our girls, who are in Color Guard, are involved in every aspect of their school's football program. So we attend the games and love our Pearland Oilers. Not because we are football fans, but because our girls love it. It's what you do for those you love.
Tim & I share very similar tastes in music—although it didn't start out that way. Tim learned to love Jazz. Now, our most romantic evenings and the nights we cook together in the kitchen, include music from our favorite Jazz artists.
We've been married for almost 25 years, and there are still things that neither of us enjoy–regardless how much the other one does. Tim doesn't love to go shopping, and I would never ask him to love it. But occasionally he will go with me and do it cheerfully. When he senses that I'm needing some space, he sends me off to decompress–either by myself or with my friends.
We enjoy doing things together. Not just talking, although communication is very important. We choose activities, and in the midst of those activities, some of the most meaningful conversations occur.
Loving your love's loves is one key to a great marriage relationship. It's grounded in Scripture too.
Don't look out only for your own interests, but take an interest in others, too. (Philippians 2:4)

Love each other with genuine affection, and take delight in honoring each other. (Romans 12:10)

 [Love] does not demand its own way. (1 Corinthians 13:5)
One of the sweetest gifts you can give those you love, is taking an interest in things they love. It pays great dividends
This is the first of a 4-part series on Deepening Relationships.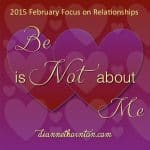 (Visited 358 times, 1 visits today)