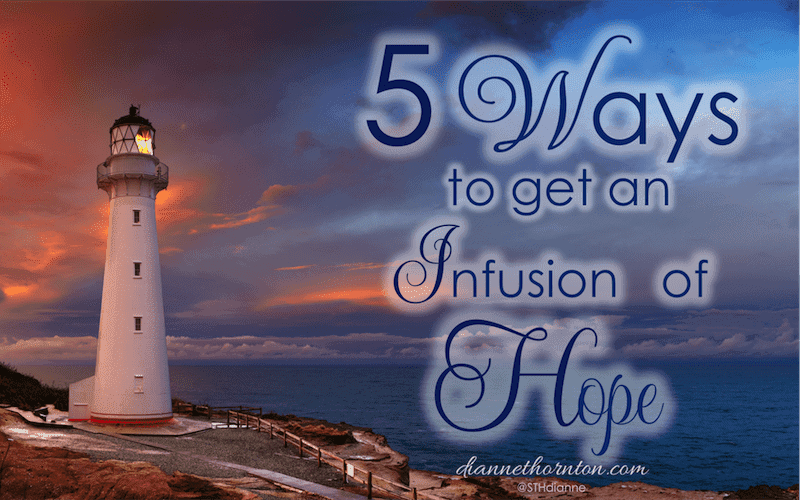 We work our bodies hard to build strong muscles. We eat the right foods to keep our body systems healthy. And to stay spiritually fit, we feed our hearts and minds a healthy diet of God's Word. But we are still human, not immune to one of the most common maladies: a sense of hopelessness. Sometimes even the strongest of us may find ourselves in need of a fresh infusion of hope.
1. Infusion of Hope When You're Feeling Unappreciated
And endurance develops strength of character, and character strengthens our confident hope of salvation. And this hope will not lead to disappointment. For we know how dearly God loves us, because he has given us the Holy Spirit to fill our hearts with his love. (Romans 5:4-5 NLT)
When others don't value the sacrifices we make, either physically or emotionally, we may feel unappreciated. One way to overcome these feelings is to receive an infusion of love. Sometimes those we crave love from the most don't show it. But there is One Whose love is deep and constant.
But you, O Lord, are a God of compassion and mercy, slow to get angry and filled with unfailing love and faithfulness. (Psalm 86:15)

See what great love the Father has lavished on us, that we should be called children of God! And that is what we are! (1 John 3:1)
Your Heavenly Father loves you and those you love more than you can imagine. He sees everything you do. He sees all you give. He understands sacrifice—because He gave the greatest sacrifice—His Son for you (Romans 5:8).
When our hearts are full of God's love, it's easier to continue the hard work of service to others.
Let's get a fresh infusion of hope from the Source of Love—God Himself!
2. Infusion of Hope When You're Tired and Weary
Even youths grow tired and weary, and young men stumble and fall; but those who hope in the Lord will renew their strength. They will soar on wings like eagles; they will run and not grow weary, they will walk and not be faint. (Isaiah 40:30-31 NIV)
How often have you said, "I'm going to finish this up and then head to bed"? Only to find one more (and then another, and another) task to finish up. Finally getting horizontal an hour or more later.
And that's just the easy stuff.
Life can throw us curves that leave us completely depleted, and we need a fresh infusion of energy. Thankfully, God's strength for us is never in short supply.
The Bible says those who "hope in" or "wait on" the Lord will have new strength. They will "soar on wings like eagles."
So what does it mean to hope in or wait on the Lord? And if I figure this out, will I really have endless energy?
Confidently trusting in the Lord and remaining faithful to Him in the midst of unsure times, strengthens us emotionally and spiritually. When the battle is won in our hearts and minds, we can move forward physically. This translates into endurance. We may not have the energy to run a 5K (or farther), but we will have all we need, to do all we need to do.
3. Infusion of Hope When Your Heart Is Fragile
We now have this light shining in our hearts, but we ourselves are like fragile clay jars containing this great treasure. (2 Corinthians 4:7 NLT)
Have you ever felt like a fragile, clay jar?
You know the days I'm talking about. Troubling days when you're …
Exhausted from being up all night with a hungry infant or a sick child
Frustrated by an email from the school's grading system, alerting you to another unsatisfactory grade
Heartbroken because someone you love keeps you at arm's length—or further
Often, it's trouble upon trouble that brings us to a place of frailty. Our jars might already have a crack or two running through them. We feel like one more troubling event, and we'll shatter completely.
Here's some good news. We don't have to try and be strong! It's a good thing when life takes us to the end of our reserves. The Apostle Paul knew what it was like to be physically and emotionally depleted, yet also know the power of God.
Like Paul, we understand God's grace and power (2 Corinthians 12:9). With God's power in our weakness, we are able to …
Stay awake when we are exhausted from caring for our family
Keep from losing our cool over that unsatisfactory grade
Keep loving—even when it hurts
Those cracks in our fragile, clay jars? The treasure in our hearts (the light of Christ) shines through them. The watching world sees the power of the Gospel at work in our lives.
It's ok to be fragile. Let the light of Christ be a beacon of life to those around you!
4. Infusion of Hope When You're Discouraged
Why am I discouraged? Why is my heart so sad? I will put my hope in God! I will praise him again—my Savior and my God! (Psalm 42:11 NLT)
We've done all we know to do, yet it seems we fail in our significant assignments.
As parents, we've prayed for our children, had daily devotions with them, and taught and modeled consistently. Yet they make choices we taught them are wrong.
Maybe we've agonized over a project, only to have it lost to a hard drive crash. Or even had the project cancelled by a manager.
We've put in the hours of hard work for our craft or sport and were then sidelined due to an injury
We've all experienced discouragement—great and small. This is where our faith is tested, and a watching world gets to see if our faith is real. Will we spin around in discouragement? Or will we hope in God?
The Psalmist of Psalm 42 was one of Israel's worship leaders and knew this level of heart-pain. His answer was hope and praise! He laid all his troubles and his broken heart before God (Psalm 42:4).
In deep discouragement, he remembered God and sang songs in the night. And the Lord poured His unfailing love upon him. God didn't necessarily change the circumstances, but He encouraged the Psalmist's heart—strengthening him to endure.
Is your favorite worship music on a playlist? Do you have your favorite encouraging Scriptures handy? If not, take time to get your praise and worship at the ready.
When your heart is broken, praise can give you an infusion of hope! 
5. God's Word Is The Answer
For everything that was written in the past was written to teach us, so that through the endurance taught in the Scriptures and the encouragement they provide we might have hope." (Romans 15:4 NIV)
When we step out in faith and hope in God, He meets us there–and gives us endurance. The endurance we need to finish the race well.
Guess what. Those in our circle of influence need hope, too. We can only give what we have received. So we must abide in Christ (John 15:1-5).
When we are in the Word every day, the Life of Jesus flows from Him, through us, to those around us.
When we have infusions of hope, we can give transfusions of hope!
Like faith, hope grows as we practice it. For the believer, our ultimate hope is eternity with our Savior! Just because we live a hope-filled life, does not mean we live an easy life. In fact, it's in difficulty that hope grows the strongest.
Endurance develops strong character.
Strong character strengths our hope.
Hope does not disappoint.
Because … we know how dearly God loves us (Romans 5:4-5).
Transferring the hope of salvation to others is the most significant thing we can do. Let's hope well so we can pass it along well.
---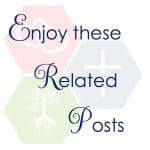 Hope That Does Not Disappoint
We Are Not Without Hope
It's NOT ok!
(Visited 733 times, 1 visits today)