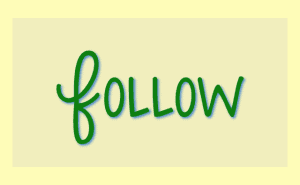 It's time for Five Minute Friday–a beautiful community of women who free-write for five minutes and share their musings and encouragement with one another.
I've been buried under a mountain of work at my desk for the last three days. When I climbed out last night, I realized that it was time for the #fmfparty, and got excited that I would actually be able to participate.
Given the prompt and what the Lord laid on my heart, it is no coincidence!
Kate's prompt for this week …
FOLLOW
Start …
My sweet, ninety-something mother-in-law suffers from dementia. Both she and her husband get to live at home because my equally as sweet sister-in-law lives with both of them, ensuring that they receive the care they need. Not an easy job. My husband and I are grateful that she does it with such a sweet spirit.
These days find my MIL following my SIL at her heels—everywhere—all the time—throughout the house, making basic household chores difficult to finish. It is in this place that my MIL feels the most secure. Separated from my SIL, she feels frightened and alone. Although endearing, it can be frustrating.
I can't help but think, this is what the Lord wants from me: to be at His side, following Him constantly, throughout the day.
Where He is, I am.
What He's whispering, I can hear clearly.
What He's doing, I'm doing.
His Presence—my place of security.
Apart from Him, I'm nothing.
But I get distracted.
Squirrel. Squirrel. Squirrel.
From the time I get up in the morning until I go to bed at night, it seems there are always things that need my attention. (This is the role of a mom, so what's the big deal?)  When I get focused on something, I practically shut out everything else. What captures my focus, holds my focus. So much so, that I am almost unaware of other things around me. Often including the gentle promptings of the Holy Spirit.
Writing about this makes my heart squeeze in so many ways. For one, seeing my teens in the place of my MIL, desperate for my attention. Yet, I'm too busy to give it to them. (Lest I mislead, my SIL gives my MIL all the attention she needs!)
I can say that when I start my day with the Lord, I am closer to Him throughout the day. But even then, it is easy to get so focused on the details of life with busy teenagers, that I fail to sense the Lord's presence and what He wants me to do.
I want to be captivated by the Lord Jesus Christ!
I want Him to capture my focus and hold it, so that I follow Him as closely as my sweet mother-in-law follows her daughter.
Stop …
Now as Jesus was walking by the Sea of Galilee, He saw two brothers, Simon who was called Peter, and Andrew his brother, casting a net into the sea; for they were fishermen. And He said to them, "Follow Me, and I will make you fishers of men." Immediately they left their nets and followed Him. (Matthew 4:18-20 NASB)

 Yes, I am the vine; you are the branches. Those who remain in me, and I in them, will produce much fruit. For apart from me you can do nothing. (John 15:5)
"Captivate Us" — by Watermark
(Visited 106 times, 1 visits today)