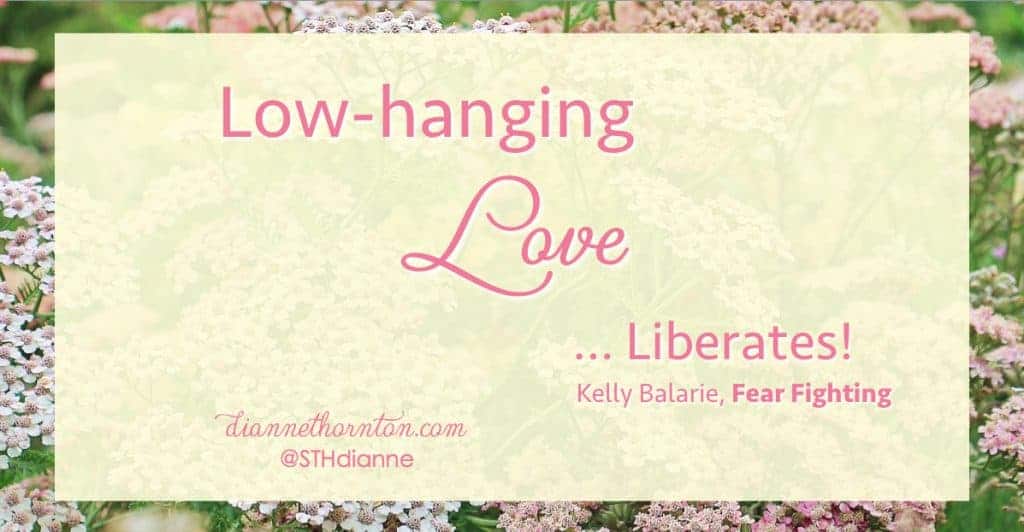 I've known Kelly "virtually" for a couple of years through her blog and periscope posts. But I met Kelly personally at a conference in Dallas last summer. She's the real deal–the same in person as she is online. Beautiful smile, filled with energy and a deep love for God.  I was tickled when she invited me to be a part of her launch team. In her new book, FEAR FIGHTING, Kelly shares, with gut-level honesty, stories about herself and others and how they overcome fear.
Notice I didn't say overcame. Kelly doesn't claim to have fear licked, but she has learned a ton and and freely offers her insight in her book.
All of us experience fear. It's part of our fallen, human condition. As Kelly explains, at least eight things induce fear.
Believing Satan's lies
The need for control
People pleasing
Worry
Comparison and Competition
Waiting …
Rejection
The Past
Kelly covers each of these in separate chapters–each filled with bite-sized nuggets of truth to carry you from one moment to the next. At the end of each chapter, she includes meaty chunks for you to meditate on as you transition from fear dweller to Fear Fighter.
Fear Inducer — The Devil and his lies
I especially like her chapter on The Devil and his lies, for it is the foundation of every other fear inducer. He can send trials (which God allows), and he'll feed our minds with incorrect thoughts about our circumstances, the ones we love, those we don't love so much, and our past. Kelly nails it when she says,
…the one we listen to is the one we're prone to follow. If we can't hear the truth, we won't follow it. And if we only hear lies, we'll live by them. (Kelly Balarie, Fear Fighting, pg. 63)
The solution? Turning toward the heart of God …where lies can't stand in the face of His love. At the end of this chapter, Kelly leaves her readers with a list of Ten Things the Devil Wants You to Believe (pg. 75) and juxtaposes those lies with truth from God's Word.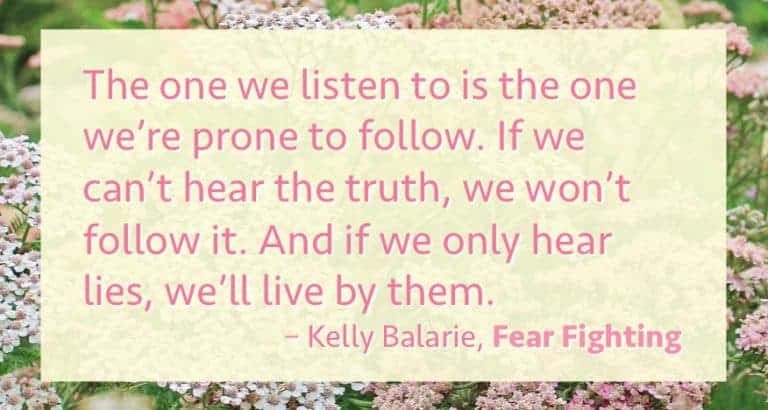 Fear Inducer — Rejection and Opposition
Kelly's chapter on Rejection is also treasure. She talks about "low-hanging love" … contrasting how we sometimes go to extreme measures to gain the love of others and how God's love is hanging (like a branch laden with fruit) right in front of us. All we have to do is reach out and grab it. She shares a list of Scriptures that tell how deeply God loves us.
She asks the question, "Who are we to be adored?" And then answers, "No one, really. But God made us with this desire because He desires to fill it."
Love Liberates
We can let fear control us and immobilize us. But that is not God's plan. God's plan for us is freedom. The picture on the front of Kelly's book is an empty birdcage with the door wide open! Freedom is the opposite of fear. Kelly wants you to know … when you KNOW that you are perfectly loved by your heavenly Father, you no longer fear what people think about you, what the future holds for you. No longer are your caged by striving, worry, and anger. Instead, you discover that "love liberates."
You don't have to fear where you are going. Because when you know "you are His and He is yours … wherever you are going with Him, the real destination is joy."
Low-hanging love ... liberates! @kellybalarie #fearfightingbook
About Kelly Balarie:
Kelly is both a Cheerleader of Faith and a Fighter of Fear. She leans on the power of God, rests on the shoulder of Christ, and discovers how to glow in the dark places of life. Get all Kelly's blog posts by email or visit her on her blog, Purposeful Faith. You can also find a variety of resources for your fight against fear here.
(Visited 283 times, 1 visits today)