New believers ask the best questions! Not only do they add excitement to Bible study meetings, but they challenge us to understand what we believe and why we believe it. Concepts that seem simple to understand for a seasoned believer are easy to take for granted. Just when you think you can answer one of their questions, you realize it may be more difficult to explain than you realized. Our small group is experiencing this right now, and it is refreshing! My husband and I are pondering this: What is the difference between praise and worship? At first, it seems like a simple question to answer, but my mind went somewhere else. My quick answer was the common distinction between praise and thanksgiving:
We praise God for who He is.
We thank God for what He has done.
I think Scripture bears this out, but this doesn't answer the question our friend asked. Which begged me to amplify the question to what is the difference between praise, thanksgiving, and worship? They are all similar; but each has a nuance that makes it unique. To clarify my understanding, I launched on a quick study. And I learned some surprising things!
Understanding Praise, Thanksgiving, & Worship
The concepts of praise, thanksgiving, and worship are closely tied. There are clear examples in the Book of Psalms, so this is where we will focus. We will learn some simple definitions* and how each is used in Scripture. Then we will use the New Testament to tie everything together.
Praise
The English word praise that we read in our Bibles is translated from a lot of different Hebrew words. My favorite is when the following two words are used together:
hālal–a verb meaning to praise, to commend, to boast, to shine
yāh–a shortened form of Yahweh
Do you see how when used together, they form the word we know as hallelujah! Other Hebrew words translated praise mean to kneel or to bless; to sing or play an instrument; or to give appreciation, adoration and thanksgiving to God for His character.
We read the phrase praise the Lord in a couple of ways. First, as an imperative, or direct command. Praise the Lord means, you praise the Lord. It is also an interjection that expresses feelings, like when someone says, Woohoo! My Bible study software does the work here and shows how both are used in the following short psalm.
1 Praise the Lord, all you nations; extol him, all you peoples. 2 For great is his love toward us, and the faithfulness of the Lord endures forever. Praise the Lord.
We see praise three times in this psalm. The first occurrence is God's instruction for us to praise Him. The second is part of the psalmist's response as he describes God's attributes of love and faithfulness. Finally, he can't help but say, Praise the Lord!
Then there are those times that we don't really feel like praising the Lord. The psalmist who wrote Psalms 42-43 knew this well. In spite of his misery, he instructed his heart to praise the Lord.
Thanksgiving
The Old Testament uses two Hebrew words to describe thanks and thanksgiving:
thanks–yāḏāh: a verb meaning to acknowledge, to praise, to give thanks, to confess, to cast. The essential meaning is an act of acknowledging what is right about God in praise and thanksgiving

thanksgiving–tôḏāh: a noun describing an offering of thanks or a sacrifice of thanksgiving [emphasis added]
Once again, in the verses below, the command to be thankful is given in Scripture, followed by the expression (or offering) of thanksgiving.
Let them give thanks to the Lord for his unfailing love and his wonderful deeds for mankind. Let them sacrifice thank offerings and tell of his works with songs of joy.
Indeed, it can be confusing! What I know is this. Loving and grateful hearts respond to God's goodness with both praise and thanksgiving. Like the psalmist in Psalm 117, sometimes we can't help but respond with praise and thankfulness. Other times, it is an act of obedience.
Which brings us to our next word.
Worship
Modern ideas of worship are many. The following are each rooted in Scripture.
Any gathering where we sing together and listen to a leader give a message (Hebrews 10:24-25)
Singing songs that elevate God, whether corporately or alone in our cars (1 Chronicles 16:23)
Raising our hands in surrender to God (Psalm 134:2)
All are expressions of worship. Once again, let's look at our Hebrew definitions.
shāchāh: A verb meaning to bow down, to prostrate oneself, to crouch, to fall down, to humbly beseech, to do reverence, to worship.
ʿāḇaḏ: A verb meaning to work, to serve.
yārēʾ: A verb meaning to fear, to respect, to reverence
When we consider all of these together, we may learn that worship carries with it a far different sense. It's two-fold. We elevate God, and as a result, we intentionally lower ourselves in deep reverence.
Come, let us bow down in worship, let us kneel before the Lord our Maker. (Psalm 95:6) 
Outside of liturgical settings, kneeling or lying prostrate isn't practiced commonly today. I rarely do this. It hurts my knees to kneel, and I don't like the feel of carpet fuzz in my face. Somehow in my mind, I excuse myself because I have "older, achy" knees–knees damaged from running, etc. (I'm feeling the ouch! And not the physical kind, but the conviction kind!)
Kneeling before God is a physical act of humbling ourselves before Him. It's good for our egos to choose lower. In fact, God draws near to the humble (James 6:4-8).
Living a Life of Praise, Thanksgiving, and Worship
Now that we know what praise, thanksgiving, and worship actually are, let's look at these in light of the New Testament, which will amplify our understanding.
I'm including some journaling opportunities for you!
Living Out Praise
In the "Lord's Prayer," Jesus taught His disciples to first "hallow" God's Name, which means to keep His Name holy and sacred (Matthew 6:9-13). Throughout the New Testament epistles, the writers urge us to live lives which reflect Christ in us. Our lives become an offering of praise simply by living in a manner that is worthy of our calling (Phil 1:9-11; 1 Peter 1:6-7).
Going back to what we learned about praise … we praise God for who He is and His righteous character.
Read and meditate on Psalm 103.
New Testament cross-references: Romans 5:6-11; 2 Corinthians 4:16
How have you experienced God's character as exemplified in these verses?
Journal a praise-filled response.
Let everything that has breath praise the Lord. Praise the Lord. (Psalm 150:6)
Living Out Thanksgiving
Throughout his letters, the Apostle Paul exemplified thankfulness. He always thanked God for his friends, their gifts and service to him, as well as for the privilege of serving them. He constantly reminded his readers to be thankful. 
With thanksgiving, we present our requests to God. (Philippians 4:6)
We are thankful for the people in our lives.
(1 Timothy 2:1)
We are thankful for God's gifts
(1 Timothy 4:3-4)
Being thankful is a way of life.
Are you getting the sense that praise, thanksgiving, and worship are incredibly similar? If so, you are tracking with me!
Read and meditate on Psalm 107. It is a retelling of Israel's history and how God rescued them time and again.
New Testament Cross-References: Matthew 8:5-13; Matthew 8:23-26
How has God intervened in your life?
Journal a thankful response.
And whatever you do, whether in word or deed, do it all in the name of the Lord Jesus, giving thanks to God the Father through him. (Colossians 3:17)
Living Out Worship
In order to worship the Lord appropriately, we need to understand how different He is from us. I think it's easy to consider Him as greater than us, but He is SO MUCH GREATER than we can imagine. Jerry Bridges describes this in his book, I Exalt You, O God.
When we think of God's holiness, the first thought that usually comes to mind is moral purity…But when the seraphs called out "Holy, holy, holy," they meant something far more profound and fundamental…R. C. Sproul uses the word transcendence to describe this holiness:

When we speak of the transcendence of God we are talking about that sense in which God is above and beyond us. It tries to get at His supreme and altogether greatness…Transcendence describes God in His consuming majesty, His exalted loftiness. It points to the infinite distance that separates Him from every creature.2
–R.C. Sproul by Jerry Bridges
We are human with finite understanding. Keeping God's "otherness" in mind helps us elevate Him to His rightful place in our thinking. In addition, we add the following element to understanding of worship:
Therefore, I urge you, brothers and sisters, in view of God's mercy, to offer your bodies as a living sacrifice, holy and pleasing to God–this is your true and proper worship.
As with thanksgiving, worship is a way of life. We offer our entire selves to God as a "living sacrifice." That word sacrifice gets me every time. It means putting God and His plans for my life above my own desires. Sometimes (probably a lot of times!) I don't want to do that! Pleasing my flesh screams loudly. But when I love God with my entire self (Mark 12:28-31), this is what I will do. In fact, the more I follow God, the more my heart wants the things that He wants. God designed us this way.
Read and meditate on Psalm 96.
New Testament cross-references: Mark 16:15; Hebrews 1:3; Jude 25
Where do you see God's majesty displayed?
Journal a worshipful response.
Love the Lord your God with all your heart and with all your soul and with all your mind and with all your strength. (Mark 12:30)
Summary
Taking a second (or third, or fourth, or fifth!) look at topics we think we have a good understanding of is a good thing! Our study of God's Word will always reveal fresh truth. That's the miracle of God's Word.
Each of these topics show us a way to live. Praise is "a way of life." Thanksgiving is "a way of life." Worship is "a way of life." Thanksgiving is a form of praise. And bowing low (whether physically or in spirit) is essential for true worship. All are the response of a heart that knows its Creator and recognizes the great privilege of being a child of God.
---
Treats For You!
Journaling pages to go along with the journaling prompts in the second part of this article. These are free for you! Two formats are included. One is an 8 ½ x 11 sheet. The other is a half-sheet. And … some lovely bookmarks! Enjoy!!
I couldn't help but write a mini Bible study. For five days, immerse yourself in songs of praise, thanksgiving, and worship in both the Old and New Testaments. Along the way, journal your own responses. The journaling pages and bookmarks are included. You can find these in my Etsy shop!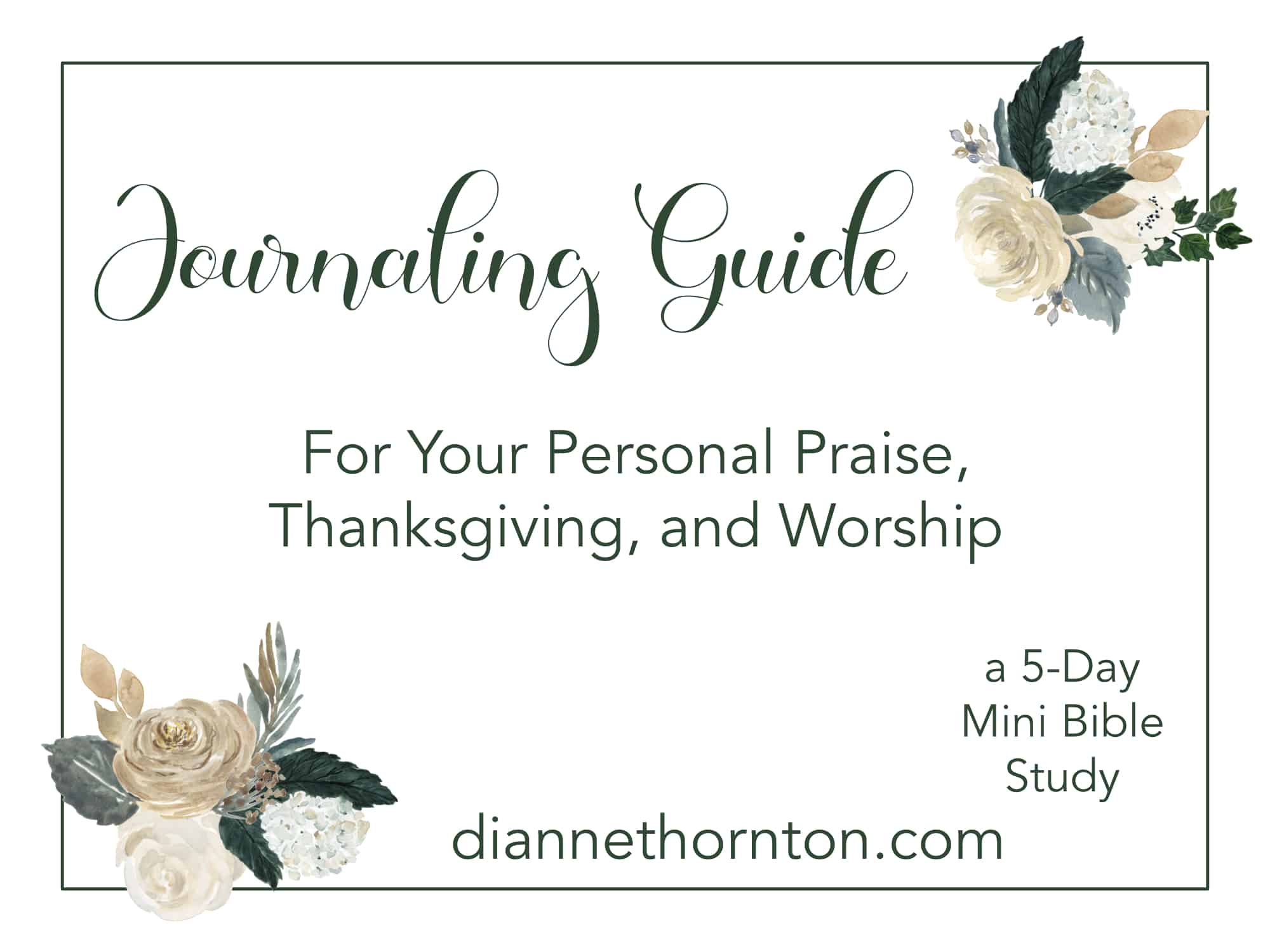 ---
Endnotes
1All Hebrew definitions taken from: Warren Baker and Eugene E. Carpenter, The Complete Word Study Dictionary: Old Testament. Chattanooga, TN: AMG Publishers.
2Bridges, Jerry, I Exalt You, O God: Encountering His Greatness in Your Private Worship (Colorado Springs, CO: WaterBrook Press, 2001), 69–70.
---
Read More …
(Visited 140 times, 1 visits today)