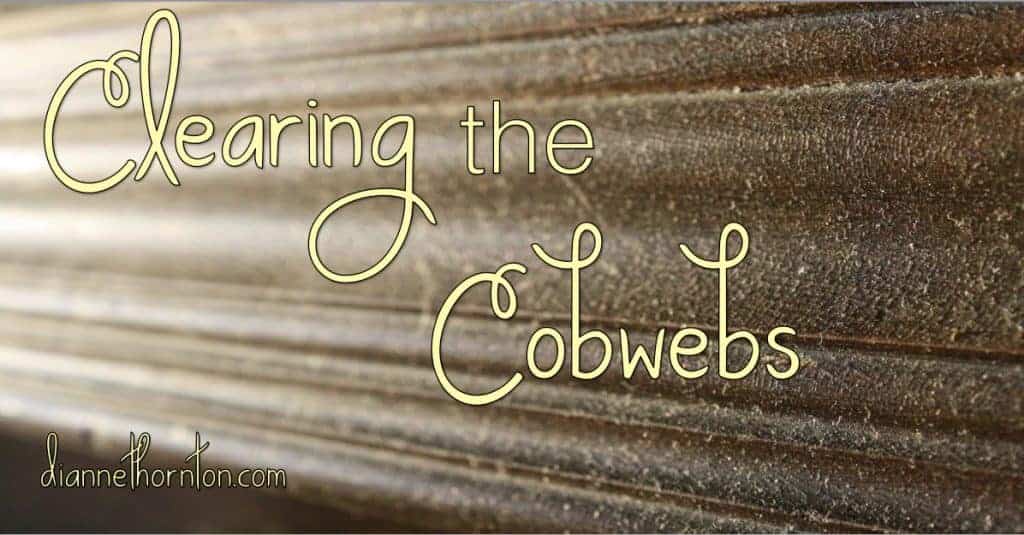 I wish I could pinpoint why it's been so difficult for me to write lately.
I feel like my mind is mush. Full of stuff, yet nothing of substance. Some of the non-substance is the list of rooms that need to be dusted. Mine in particular. My name is Dianne. I can't remember the last time I dusted my room. (Yikes!) I kept hoping one of my kids would want to make a few bucks, and do it for me. I guess they detest this particular chore as much as I do.
This weekend, I got to it. We have a lot of furniture, so it was a huge job. I dusted bookcases, dressers, a TV stand (don't ask about the dust behind it–I didn't look!), a treadmill, baseboards, and windowsills. Then there was the bathroom with its own dust bunnies–some visible, some hidden. I felt so much better when I was finished!
The next morning while getting ready for church, I reached under the sink cabinet and found … wet stuff. *Sigh* Blessedly, Tim repaired the leak, which included replacing faucets and drains. Of course, everything under the cabinet had to come out. I only thought I was finished. Thankfully, it didn't take too long to clean and put back after Tim took care of the repair.
In the midst of all the dusting and cleaning, I couldn't help but think of my friend who is downsizing from a good-sized suburban home to a much smaller house in town. She is simplifying her life. (If you want to read about how God renovated her heart, and now her home, you can check out her blog at Front Porch Family.) All of my stuff accumulates dust that I hate cleaning. Gena will certainly have less to maintain when she is all settled. I'm thinking there is a lesson for me.
While I scrubbed my bathroom floor, I thought, Lord …
What are the cobwebs in my heart and mind that keep me from thriving spiritually?
Oh … there are many.
Our family has been living in crisis mode for a couple of months now. Unexpected doctor's appointments, major family illnesses, car woes, and other "surprise" challenges (like the leaky sink and the mess left in its wake), have my mind whirring. When one crisis seems to be wrapping up, another one is hot on its tail.
Maybe it's the fog of being fifty. Hot flashes and the accompanying insomnia often leave me dull–and sometimes unpleasantly sharp. Heightened emotional sensitivity and the inevitable crying over even slightly tender moments, leave me exhausted.
I'm sure part of it is my busy schedule. (I don't feel like I'm doing a very good job of Be-ing.) Then again, Be-ing does not mean you aren't busy. Be-ing doesn't mean you are immobile. It's who you are in the midst of busyness, in the midst of crisis.
Or maybe … there is just one, large cobweb cluttering my heart.
Caught up in the now, I forget the forever.
On the way to church, I prayed, Lord, I cannot live like this! I can't think. I can't focus. What am I supposed to do?
He reminded me in the sweetest way, as He always does.
Worship!
The right song at the right time moved my heart and mind from cluttered and constrained–to free! Music has a way of doing that. What a gift it is!
Appropriately, our pastor shared Scripture after Scripture about spiritual freedom. He ended by saying, "Our freedom is not in our political system, but in our relationship with God."
By the end of the morning, I felt like a new person. My heart and mind were renewed by worship and time in the Word of God. My eyes weren't on my circumstances any longer. They were focused on the Lord–the Creator of Forever.
Worship is not limited to the songs we sing, although that's a big part of it. It's also how we live our lives.
And so, dear brothers and sisters, I plead with you to give your bodies to God because of all he has done for you. Let them be a living and holy sacrifice—the kind he will find acceptable. This is truly the way to worship him. (Romans 12:1)
Worship and time in the Word do not change our circumstances. We still have to live through whatever we are going through. But they do change us.
Living it Out
A little while ago I was looking for a friend online. One thing led to another, and I found a different friend whom I hadn't seen in many years–except it wasn't his Facebook page I found, it was his obituary.
Enter, Grief.
And then the thought, Lord, You are taking me along the edge of the emotional spectrum … doubt, despair, frustration, anger … and now grief? Can we slow down a bit?
After sobbing for a little while, the Holy Spirit prompted me, "Now, just how are you going to handle this curve I've thrown you?" I turned on my music and sobbed some more as I worshiped the Lord. Honestly, worship didn't make the hurt go away. In fact, it may have deepened it. But it was different. God's Holy Presence was with me.
One of the songs I heard today put things in perspective for me. Lauren Daigle's song, "First."1 It's based on the following verse.
But seek first his kingdom and his righteousness, and all these things will be given to you as well. (Matthew 6:33 NIV) [Emphasis added.]
A lyric video is included at the end of this post.
Inevitably I get it backwards. I stew, I pout, I (yell? sometimes?), I sob. I want to get to the point where I go to Him first!
With His Word to wash my mind from the cobwebs of the world (Ephesians 5:26).
With a voice and heart to praise and worship the Lord (Psalm 29:2).
Then I'm focused on the Creator of Forever, rather than caught up in my current chaos
Image: www.photos-public-domain.com
---
1Lauren Daigle. First. Centricity Music, 2015, CD.
(Visited 278 times, 1 visits today)