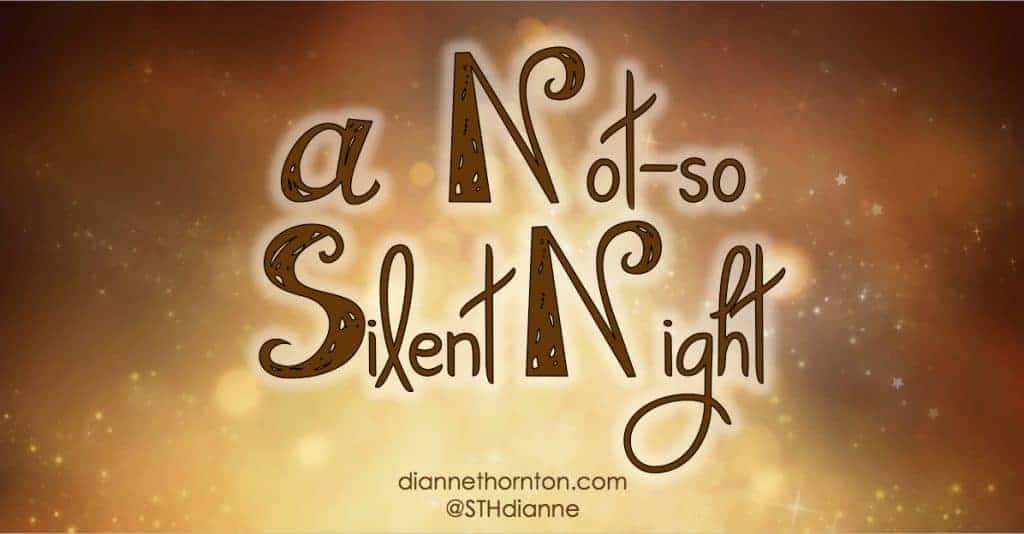 Silent night, holy night.
All is calm, all is bright.
Sounds a lot like most of the nativity sets I have in my home. Beautiful, breakable. Set just so.
I do love this old, German/Austrian Christmas carol. It's a favorite of many. As a young girl, I remember trying to slide into that high note at the end–not so beautifully–as evidenced by the adults staring and winking in my direction.
Yes … favorite, tender lyrics. But are they an accurate depiction for the night of Jesus' birth?
It most certainly was a holy night. But it I don't think it was as silent and calm as one might think. It was also a dark time politically for Israel. Israel was under Roman oppression and bucking its political system.
Bethlehem. My sentimental heart squeezes when I remember that Ruth adopted it as her home town. King David was born there. Then, God arranged circumstances perfectly, so that Mary and Joseph would be there at the right time for our Savior to be born there as well.
A small town about the size of Dime Box, Texas, Bethlehem was not a calm town. It was crowded with cranky and tired travelers, who were there to take care of required, government business. Caesar Augustus had ordered a census, with each family reporting to its ancestral city (Luke 2:1-3).
Joseph and Mary were desperate when they arrived. All the guest rooms were full–and Mary was in full-term labor. Finally, someone allowed them to stay with their animals. Mary and Joseph were alone as she painfully labored to bring her Son into the world.
Darkness Dispelled!
Shepherds, who lived in the nearby fields, were watching over their flocks of sheep. An angel of the Lord appeared to them, and the glory of the Lord shone all around them (Luke 2:9).
Think about that for a minute. You are a shepherd, sitting on the ground in the middle of the night, with only the moon and the stars for light. Suddenly, the radiance of the Lord shines all around you. What must that have been like? Calmness did not describe their night. They must have been in shock! Did they cover their eyes with their arms? Did their eyes ache from the blinding light?
Silence Shattered!
The shepherds were terrified! Breaking the silence, the angel told them …
"Don't be afraid!" he said. "I bring you good news that will bring great joy to all people. The Savior—yes, the Messiah, the Lord—has been born today in Bethlehem, the city of David! And you will recognize him by this sign: You will find a baby wrapped snugly in strips of cloth, lying in a manger." (Luke 2:10-12)
and then this …
Suddenly, the angel was joined by a vast host of others—the armies of heaven—praising God and saying, "Glory to God in highest heaven, and peace on earth to those with whom God is pleased." (Luke 2:13-14)
Their usually calm night transitioned from fear–to joy. The silence was exchanged for glorious rejoicing! In their excitement, they said to each other, "Let's go! We gotta see this!" So they left their sheep and hurried to see what the angel had told them.
The shepherds found Mary, Joseph, and the baby Jesus, just as the angels said. With news this great, they couldn't keep it to themselves. They told everyone about it! And then …
The shepherds went back to their flocks, glorifying and praising God for all they had heard and seen. It was just as the angel had told them. (Luke 2:20)
Did their hearts swell with hope as they realized the Promise foretold long ago was being fulfilled before their very eyes?
The Cry of Every Heart
Silent night, holy night. All is calm, all is bright … is the cry of every heart. For most of us, our worlds are anything but silent, calm, and bright. But Jesus came to change all that. He enters our space and …
The Light of the World dispels our darkness.
The Prince of Peace replaces our anxiety with rest.
The Hope of the world gives us a reason to rejoice!
Silent night, holy night is the cry of every heart.
The next time you sing this beloved carol, don't leave the lyrics in the manger. Bring them forward to your own heart's need, and let the Babe change everything!
Wishing you and your loved ones a beautiful Christmas.
(Visited 650 times, 1 visits today)