I thought I was finished blogging for the year with the Christmas post I published a couple of weeks ago. But then, some life happened, and God moved in my heart. This, I must share with you. Did you know that one of the best gifts we can give this Christmas is the gift of peace to those we love?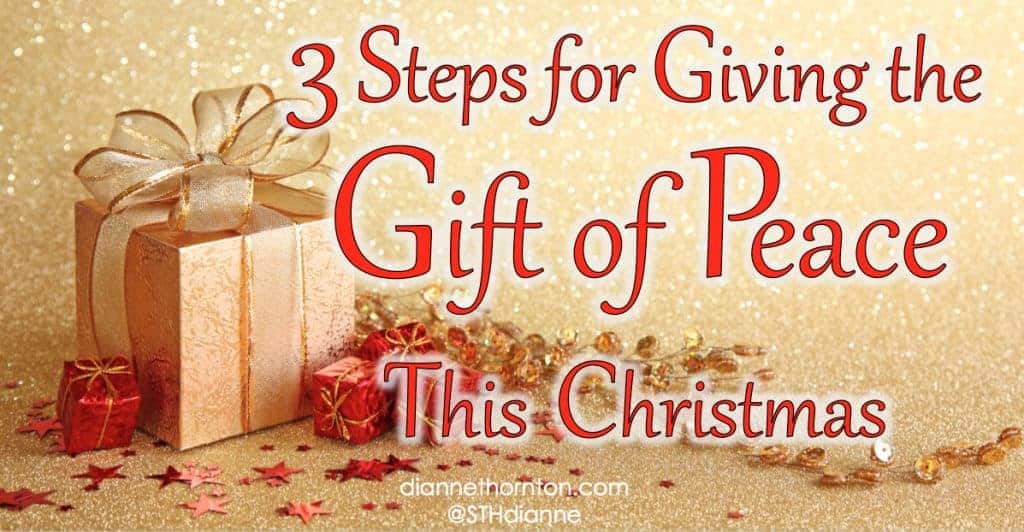 When my children were very young, one of the first things we taught them was to grant forgiveness when they were offended. A typical situation went like this:
Sibling #1 broke sibling #2's toy. We had them face each other and began the process of asking for forgiveness. As this became routine, often sibling #2 was saying, "I forgive you" before sibling #1 could confess.
We thought this was so cute! We were thrilled with how quickly our children "learned" to forgive. And maybe they did. But what didn't get taught was the importance of
humbling yourself before the one you offended…
admitting you were wrong…
and then asking for forgiveness.
We corrected this from time to time, but it never quiet took. Fast forward a teen-number of years, and I'm sorry, and I was wrong don't get said very often.
Not to long ago I observed a situation play out between some friends. Each one admitted how they were offended, but only one was quick to admit their part in the wrong. The other offered nothing. Notice, I noticed this—as I often do.
Then—this week—I was the offender. (Isn't that the way it works? We get all judgy, and then God shines a light on our own sin.)
On multiple occasions I slammed doors and said unkind words in unkind ways. Usually I am quick to apologize and ask for forgiveness. But not this week. Hoping "time would heal all wounds," I barely (if at all) admitted my part in the offenses. But each day, the Holy Spirit convicted my heart through Christmas advent devotions specifically focused on the peace Christ came to bring.
Suddenly, the angel was joined by a vast host of others—the armies of heaven—praising God and saying, "Glory to God in highest heaven, and peace on earth to those with whom God is pleased." (Luke 2:13-14)

Do all that you can to live in peace with everyone. (Romans 12:18)

And let the peace that comes from Christ rule in your hearts. For as members of one body you are called to live in peace. And always be thankful. (Colossians 3:15)
These are a few of the many verses I read this week about peace.
But my heart was hard.
Although I heard the Spirit's voice, I was unwilling to move, while the events from the earlier situation continued to play in my mind.
Sometimes God uses unexpected things to break our hearts so that we'll finally bend. While standing at the grocery store check-out counter, I read a tender email–and broke into tears and could not stop. I got in my car, and the Holy Spirit finally had His way in my heart. I knew what needed to happen when I got home.
Before the groceries were unloaded, I called a family meeting (not the first of this sort, I'm afraid). Then I explained the situation, and did the following …
3 Steps for Giving the Gift of Peace
I confessed to each person each time I had acted ugly, so they would know I knew what I did and that it was hurtful.
I confessed that I was wrong.
I asked for forgiveness from each person.
My family was loving and completely forgiving. Relationships were restored. No more yuck is hanging in the air because I would not bend.
When we hang on to our mad and don't apologize, hurt and bitterness stake their claim in our lives. The longer we wait, the more difficult it becomes. As offenders, healing happens in our hearts when we go through this process. We need healing as much as those whom we offended do.
I gave my family a gift. The early Christmas gift of peace in our household.
You can do the same. Yes, these simple steps require humility and honesty. But the result is so worth it. Won't you join me?
Join me in giving the gift of peace this Christmas!
(Visited 960 times, 1 visits today)